This article is by Brian Sherwin, regular contributing writer for FineArtViews. Brian Sherwin is an art critic, blogger, curator, artist and writer based near Chicago, Illinois. He has been published in Hi Fructose Magazine, Illinois Times, and other publications, and linked to by publications such as The Huffington Post, The Boston Globe, Juxtapoz Magazine, Deutsche Bank ArtMag, ARTLURKER, Myartspace, Blabbermouth, Milwaukee Journal Sentinel, Modern Art Obsession, Citizen LA, Shark Forum, Two Coats of Paint and Art Fag City. You should submit an article and share your views as a guest author by clicking here.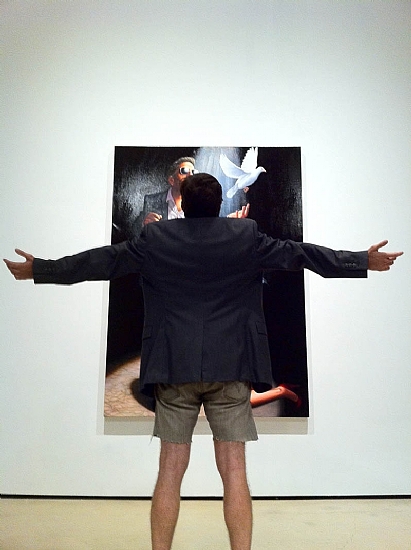 Promotional image for the exhibit POWHIDA at Marlborough Chelsea. The exhibit takes a jab at the ego-driven world of celebrity artists.
A current exhibit at Marlborough Chelsea involving an installation by artist William Powhida has me thinking about what it means to be an art world celebrity -- and social media celebrity for that matter. While these are topics that I'm familiar with in my writing I must say that Powhida is spot on in his 'living' criticism of the issue -- that being artists who are driven by ego. With the ease in which one can obtain some form of fame today it is true that ego-fueled artists are also on the rise -- there is enough of the 'do you know who I am!' mentality to go round.
William Powhida has long addressed issues involving the contemporary art industry at the expense of the art world hierarchy. With his sarcastic manner he is like a living scalpel -- always cutting away at the façade. The irony being that Powhida has gained a level of fame from being critical of how fame is established within the contemporary art world. In that sense, his work is enlightening while also serving as a contradiction unto itself. He goes against mainstream art world dictations while at the same time embracing them in his own way. I suppose that is the point.
According to the Marlborough Chelsea website the installation, titled POWHIDA, "explores an array of contemporary socio-political and cultural issues germane to the artist's role in society. In the vein of Arthur Dove's The Critic, 1925, and Ad Reinhardt's sardonic How to Look at Modern Art in America, 1946, POWHIDA unabashedly turns a mirror on the idiosyncratic machinations of the industry, allowing an established international artist to look at his role from the inside out.". With that in mind, I think all artists should sit back and think about how they are presenting themselves to the world. Is it better to be arrogant or humble? You tell me.
For the installation Powhida played on arrogance. He arrived at the opening of his exhibit in a classic car that drove through the retracted front window of the art gallery. The car stopped near a large sheet of paper that had Powhida's name written in bold. His departure from the vehicle reminded one of a red carpet Hollywood event. Powhida -- sharp dressed with shades glaring -- played the role.
A roped off VIP area -- including a couch and eventually female company-- awaited the artist. Powhida sat in his celebrity space -- his back to a stylized painting of himself releasing a dove with champagne bottle in hand and a woman at his feet-- while indulging himself with Starbursts and champagne. Is this how ego-driven artists envision themselves during an exhibit opening? Probably. Is this how an ego-driven artists present themselves when interacting with others in the arts? Definitely.
Powhida captured all the swagger of an ego-driven art star -- art celebrity at its worst. In my opinion, the installation symbolized how those who consider themselves royalty within their respected art community carry themselves. In that sense, his VIP space served more as an alter -- where Powhida presented himself for the admiration -- at least in his personas head -- of gallery visitors. Needless to say, Powhida did receive jeers from the crowd -- his outward expression of arrogance received an outward response from gallery visitors... proof that artists should really think about how they carry themselves.
Having met my fair share of megalomaniacs within the art world -- and that includes artists, gallery owners, and even art bloggers -- I'd say that Powhida's installation captures what is going on inside of the head of individuals who truly think they have ascended beyond the rest of us. This form of high arrogance does not know geographic or social boundaries. Trust me, I've seen it in small town gallery openings as well as openings in larger cities throughout the United States. Every art community -- be it physical or online -- contains these flawed gems.
Why is this form of arrogance so common today? The truth is that it has long existed within art communities and the wider art world. However, the Internet has clearly made it more common. With enough media hype and influential backing an artist can be catapulted to celebrity status -- or at least micro celebrity status -- in a relatively short amount of time compared to traditional paths. There is nothing wrong with fame itself. It only becomes an issue depending on how the artist chooses to approach it.
In closing, at no point in history has it been so easy to gain recognition for ones creative endeavors. That is positive. Unfortunately, some artists choose to approach success in a manner that is outwardly -- and one could say inwardly-- negative. People in general do not like haughty individuals. I will admit that sometimes I say to myself, "Leave the ego at the door..." when talking to an artist who has obviously allowed fame to go to his or her head. Do you want people to worship at your alter? Or do you want people to truly consider your art? Think about that -- then think about how you are presenting yourself to others.
Take care, Stay true,
Brian Sherwin