This article is by Brian Sherwin, regular contributing writer for FineArtViews. Brian Sherwin is an art critic, blogger, curator, artist and writer based near Chicago, Illinois. He has been published in Hi Fructose Magazine, Illinois Times, and other publications, and linked to by publications such as The Huffington Post, The Boston Globe, Juxtapoz Magazine, Deutsche Bank ArtMag, ARTLURKER, Myartspace, Blabbermouth, Milwaukee Journal Sentinel, Modern Art Obsession, Citizen LA, Shark Forum, Two Coats of Paint and Art Fag City. You should submit an article and share your views as a guest author by clicking here.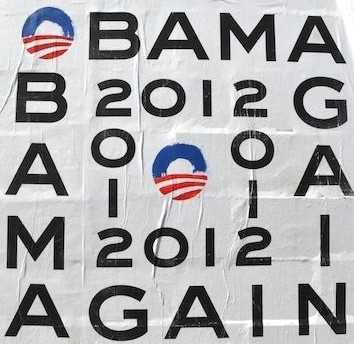 One of the few examples of street art floating around online in support of President Obama's 2012 campaign.
The 2012 presidential campaign will likely be a brutal experience for any candidate who enters the political arena for that coveted office. President Barack Obama has made it very clear that he will be running for reelection in 2012 -- yet all the hope and change in the world has done little to improve the economy overall. On top of that the American people have become dissatisfied with both the Republican and Democrat party -- based on that alone I doubt that mere promises will be enough to suffice in order to hold the highest office in the United States. While thinking of these matters I ask myself, "Where is all the art supporting President Obama?". I'm curious to find out if art will have the same impact as it did in 2008.
In 2008 the political rhetoric of hope, change, and promises lit a powder keg of support for Obama within the U.S. art community -- artists ranging from college art students to the likes of street artist Shepard Fairey made their support clear. Art for Obama and art for change reigned. I'm not certain that we will see that same level of support from the art community again... and if we do, I wonder if it will be for a different presidential candidate.
Earlier this year the Obama For America website greeted visitors by posting, "This campaign is just kicking off. We're opening up offices, unpacking boxes, and starting a conversation with supporters like you to help shape our path to victory.". These words were obviously meant to spur action among Obama supporters. However, as of the time of this writing there has been few examples of Obama Art or Obama street art acknowledged by major media sources in the spirit of 2012. That is odd considering the connection that Obama has with art.
Due to the impact art played in Obama's historic 2008 campaign you would think that 1.) artists supporting President Obama would already be hard at work spreading their visual support for his 2012 campaign online and on the streets. 2.) the media would be fueling the fires of another so-called grassroots art movement. Could it be that artists are just not as interested in politics as before? Has Barack Obama, once called the Champion of Art, fallen? I suppose only time will tell.
Perhaps the lack of art momentum within the Obama camp is due to publicist Yosi Sergant -- who helped cultivate the art initiative of Obama's 2008 campaign -- distancing himself from President Obama? Though it might be more fair to say that President Obama has distanced himself from the scandals of Yosi Sergant. Whatever the reason -- we are simply not seeing the type of supportive art for President Obama that you would have expected from the art community based on how well he had charmed the art community in 2008.
I'm sure that another Obama hope artist will rise from the battle for 2012. However, I'm not sure that art will play as big of a factor in Obama's campaign as it did in 2008 no matter how many artists use the Obama slogan within the context of their artwork. I predict this for two reasons: 1.) President Obama has failed to live up to many of the promises he made to the United States art community during his 2008 campaign -- so much so that art critic Tyler Green has openly called President Obama a disappointment to the art community. 2.) His best art asset, street artist Shepard Fairey, has personal flaws-- such as degrading his wife in public -- that could actually harm the Obama campaign if enough spin is put on it by the media or his political rivals -- which I'm sure will happen if Fairey attempts to jump into the political box once again.
With the above in mind it is clear that President Obama would do himself a favor by keeping both Yosi Sergant and Shepard Fairey out of his 2012 campaign. The campaign would be foolish to knock on Fairey's door again no matter how obedient Fairey has been to Obama in the past. As for Sergant -- his lack of professionalism while working for the NEA represents the type of corruption that the American public has grown to loathe. In fact, if Obama picks up the banner for art once again as a cornerstone of his campaign he will likely face some form of critical backlash from members of the art community-- and the public at large-- because of those two names alone.
In closing, we will likely see more Barack Obama art as the 2012 election draws nearer. That said, at the rate things are going there is just as much of a chance that we will observe anti Obama art take center stage in the media -- and on the streets. We may see other candidates embrace artists as well -- if they are smart. Will art play a role in the 2012 campaign as it did in 2008? It may. However, I doubt art will be as much of a factor as it was in 2008 -- at least for President Obama's campaign. In fact, art may play no role in the 2012 campaign unless artists start taking action in increased numbers.
Take care, Stay true,
Brian Sherwin