This article is by Brian Sherwin, regular contributing writer for FineArtViews. Brian Sherwin is an art critic, blogger, curator, artist and writer based near Chicago, Illinois. He has been published in Hi Fructose Magazine, Illinois Times, and other publications, and linked to by publications such as The Huffington Post, The Boston Globe, Juxtapoz Magazine, Deutsche Bank ArtMag, ARTLURKER, Myartspace, Blabbermouth, Milwaukee Journal Sentinel, Modern Art Obsession, Citizen LA, Shark Forum, Two Coats of Paint and Art Fag City. You should submit an article and share your views as a guest author by clicking here.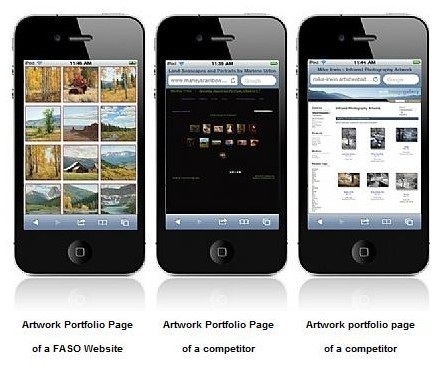 Over the weekend I took some time to reflect on one of my recent FineArtViews contributions titled, Selling Fine Art Online: Be Prepared for the Art Collectors of Tomorrow. The article focused on how art collectors in the near future will likely expect artists to have a strong online presence and will not give a second thought to buying art online. After all, one could say that the next generation of art collectors will have been raised by the Internet. The article stressed the importance of preparing today for that future by selling fine art online. Reflecting-- I thought of other ways that artists can prepare today. A recent article about mobile-friendly artist websites by FASO founder Clint Watson came to mind. FASO is ready for the art collectors of tomorrow.
Clint Watson's article, Mobile Artist Websites: Are You Ready for the Coming Growth Explosion?, made a clear case for the importance of having a mobile-friendly artist website. Point blank-- Watson feels that embracing mobile devices is vital for artists who want to stay ahead of the curve. Considering the growth of the wireless/mobile industry-- and the trends of mobile device users-- there is little room to argue against Watson's point of view on the topic.
A study last year by Ruder Finn -- one of the world's largest, independent public relations agencies-- found that the majority of Americans spend nearly 3 hours on mobile Internet daily. The study offered some interesting statistics. For example, "youth (44%) are more likely to shop over their mobile phones than the average mobile user (35%)." A 9% jump may not seem like much until you consider the fact that over 302 million people age 13 and older use mobile devices in the United States-- that is 96% of the US population. In that sense, I would suggest that my predictions-- as well as Watson's-- are validated.
The study also revealed that 62% of male mobile device users-- and 57% of female mobile device users-- conduct business using their mobile device. Those percentages alone suggest the impact that mobile devices will likely have on the online art market. Unfortunately-- as Clint Watson pointed out in his article-- many artist websites, online art services providers, and art sites in general are not prepared to embrace that direction of the market. Needless to say, those focused on selling fine art online should give strong consideration to the impact-- and popularity-- of mobile devices.
Kathy Bloomgarden, Ruder Finn co-CEO has stated, "The mobile phone is becoming the most powerful online device, and the faster businesses can adapt their services to harness consumer mobile intent, the more rapidly they can capitalize on understanding their customers to drive growth." In that sense one could suggest that artists need to provide their customers-- art buyers-- with a mobile friendly art website in order to tap into that aspect of selling art online. Thus, I have to commend Clint Watson for understanding that his customers-- artists-- need to be able to harness mobile technology. FASO allows that.
Obviously I'm excited due to the fact that all of FASO's artist websites now come with an enhanced template option that automatically creates a mobile-friendly version of an artist's online portfolio—all at no extra cost. I know that FASO customers will be able to transition that development into their broader online art marketing strategy. FASO is one of the first online services of its kind to embrace the mobile device explosion-- and if I know Clint, he will think of other ways to help his customers form online bonds with their customers-- art buyers.
In closing, mobile technology will likely impact online art marketing sooner than later-- the popularity of devices, such as the iPhone, continues to grow. This direction will no doubt shape how art is viewed and purchased online. The irony being that many artist websites and online art services have failed to take advantage of the mobile web explosion. In that sense, one could say that Clint Watson is ahead of his industry by understanding the importance of mobile devices and how they may impact online art marketing in the future. FASO artist websites are prepared for that kind of engagement-- and potential. FASO is prepared for the art collectors of today and tomorrow.
Take care, Stay true,
Brian Sherwin