This article is by Brian Sherwin, Regular contributing writer for FineArtViews. Brian Sherwin is an art critic, blogger, curator, artist and writer based near Chicago, Illinois. He has been published in Hi Fructose Magazine, Illinois Times, and other publications, and linked to by publications such as The Huffington Post, The Boston Globe, Juxtapoz Magazine, Deutsche Bank ArtMag, ARTLURKER, Myartspace, Blabbermouth, Milwaukee Journal Sentinel, Modern Art Obsession, Citizen LA, Shark Forum, Two Coats of Paint and Art Fag City. You should submit an article and share your views as a guest author by clicking here.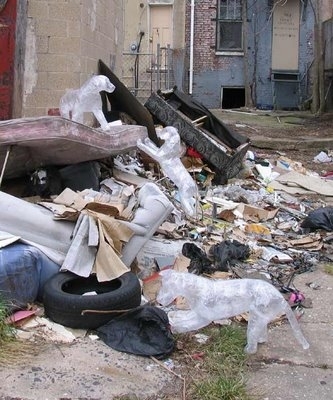 A street installation by Mark Jenkins.
Mark Jenkins is not a street artist in what many would consider the traditional sense of the label. His focus has long been the use of materials to create sculptures instead of utilizing spray paint, stencils, and other tools of expression that are most often attributed to street artists. His street installations are often created with packing tape and other materials that are traditionally not considered materials for the creation of art. These tape sculptures have found themselves placed on buildings, in alleyways, and other provocative locations throughout the world. Yet another example that there is more to street art than a cheap can of enamel spray paint and an anti-social attitude that is so often thought when street art is discussed.
Jenkins views his street installations as a form of performance art which involves anyone who comes into contact with his street sculptures.-- which are often placed in public spaces without consent from local authorities or property owners. He has described his practice as the use of the street as a stage. In that sense his artistic vision goes beyond the mere materials of his sculptural creations. Jenkins vision includes how those who stumble upon his art react to the work. One could suggest that individuals who discover Jenkins tape sculptures--and other works-- become materials involved in a much larger project-- one that Jenkins documents through use of a camera and other forms of recording encounters.
When I interviewed Mark Jenkins in 2008 he discussed the risk involved with creating art on the streets-- both physically to the artist and in regard to authorities of law. He said, "There is opposition, and risk, but I think that just shows that street art is the sort of frontier where the leading edge really does have to chew through the ice.". His point was that street artists-- in general-- are not the "bad guys". Street art is not always the creation of destructive thugs we read about in the news-- sometimes they are artists who create 'smart' art that appeals to our need to learn more about the condition of the society in which we live.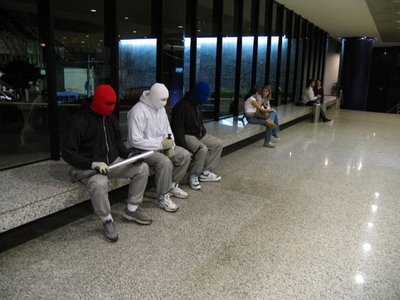 Another example of an installation by Mark Jenkins.
Obviously that can be debated depending on your view of how public and private property should be utilized no matter how valid the expression. That said, street art-- especially the caliber of street art created by artists such as Mark Jenkins-- make the daily humdrum of civic travel a tad more visually interesting. One could suggest that it is a form of public art without boundaries.
Jenkins public works often appear to be scenarios that play on trace memories the viewer may have of situations that we have all faced in our travels-- be they trivial or threatening. Tape sculpture dogs pick through trash as if to remind us that more should be done to help animals in need-- stoic gang members sit in observance as we go about our corporate lives... a life that is very different from the lives experienced by troubled inner-city youths. These street installations can be interpreted as reminders of the guilt we may have over specific issue, the fears we have of specific scenarios, and an exploration of what we see in our daily lives-- but rarely care to observe unless shown in a manner that contradicts our solid reality.
Mark Jenkins went on to tell me that the struggle over public space is a "battleground"-- with government officials, corporate advertisers, and street artists all striving to capture the attention of the public. Battleground or not, legal or not-- the break from visual monotony is a worthwhile addition to the daily grind that so many of us experience in our travels. One thing is for certain-- Jenkins will continue to utilize his societal/street 'stage'. I always look forward to the next act.
Take care, Stay true,
Brian Sherwin