This article is by Brian Sherwin, Regular contributing writer for FineArtViews. Brian Sherwin is an art critic, blogger, curator, artist and writer based near Chicago, Illinois. He has been published in Hi Fructose Magazine, Illinois Times, and other publications, and linked to by publications such as The Huffington Post, The Boston Globe, Juxtapoz Magazine, Deutsche Bank ArtMag, ARTLURKER, Myartspace, Blabbermouth, Milwaukee Journal Sentinel, Modern Art Obsession, Citizen LA, Shark Forum, Two Coats of Paint and Art Fag City. You should submit an article and share your views as a guest author by clicking here.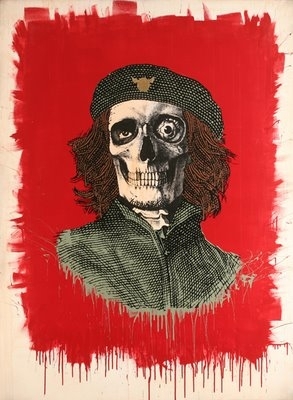 Cli Che by D*Face
Of the 500+ artist interviews I've conducted over the last decade I must say that the artists who associate themselves with the street art scene were some of the most lively characters I came into contact with. Obviously these individuals appeared to have a rebellious attitude about them-- but they also had a distinct seriousness of thought and process that I believe people often fail to attribute to this direction of art. It often seems that people like to think of street artists as individuals who are not the sharpest knife in the drawer as far as intellect is concerned. Street artists -- at least the ones I've communicated with over the years-- have far more 'going on' with their artwork than mere spontaneous urban rebellion and hostility toward authority.
One artist that stuck out happens to be the London-based street artist Dean Stockton-- better known as D*Face. Clearly Stockton's use of the name D*Face is a play on the word "deface"-- which is how many view the art of street artists in general when it shows up on public property. In that sense, Stockton plays directly into the public opinion that street artists 'deface property'. While that may be true-- street artists such as D*Face also contribute to society even if their actions may be considered legally destructive depending on how they convey their artistic vision on a surface.
D*Face is an artist who has contributed a message-- one that raises questions about consumerism and the glorification and stereotypes of cultural icons. One could say that these status symbols have become a sense of false-identity for individuals seeking to discover themselves-- when in reality they are lost in the same sea of consumer assimilation that everyone else appears to be swimming in. In a sense, D*Face captures the idea that consumerism unto itself is a form of social decay-- even if the items come in a shiny new package. .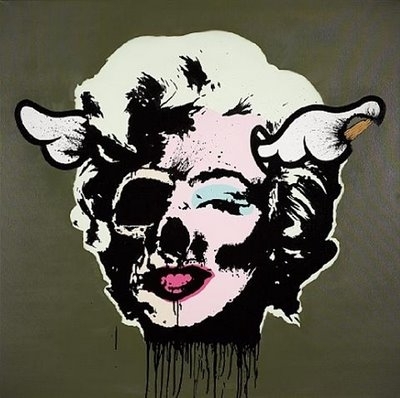 Pop Tart by D*Face
When I interviewed D*Face in 2009 he mentioned the fact that no matter how bad the economy is-- no matter how poor people are-- they will still race to stores in order to buy the latest hot item or other consumer goods that are associated with the concept of having social status. D*Face implied that individuals act as if they are programmed to seek out these status symbols-- even if it means living beyond their means people are conditioned to seek out consumer goods that make them feel accepted.
In addition, people tend to seek items that make them feel unique compared to others-- even though millions may own the same item. In that sense, the thrills fueled by acts of consumerism are a cultural lie that is enforced by corporations-- making you "different" when in reality you are no different than the other person who spent his or her hard-earned cash on the same item. In that sense, D*Face's examination of societal actions in regards to consumerism are correct.
D*Face offered me a description of this. He stated, "I was at a shopping center recently and it was strange, people were walking round the shops like zombies or vultures circling a giant rotting corpse looking for a 'bargain'. It was surreal.". His view of consumers may be morbid-- but if you ever sit back and observe shoppers at a mall or popular store his words do have a ring of truth. That said, D*Face is not exactly against consumerism-- as he told me, he wears designer shoes and drinks popular beverages. However, he also stated that if an alternative can be found it should be considered.
Obviously there is more going on inside the mind of D*Face than the urge to deface public property-- as is the case with the majority of street artists in general. The stereotypes of the 'street artist as criminal' may have their place in culture I suppose-- but you will find that many of these artists desire to convey a visual message that has real societal impact.
Take care, Stay true,
Brian Sherwin