This article is by Brian Sherwin, Regular contributing writer for FineArtViews. Brian Sherwin is an art critic, blogger, curator, artist and writer based near Chicago, Illinois. He has been published in Hi Fructose Magazine, Illinois Times, and other publications, and linked to by publications such as The Boston Globe, Juxtapoz Magazine, Deutsche Bank ArtMag, ARTLURKER, Myartspace, Blabbermouth, Milwaukee Journal Sentinel, Modern Art Obsession, Citizen LA, Shark Forum, Two Coats of Paint and Art Fag City. You should submit an article and share your views as a guest author by clicking here.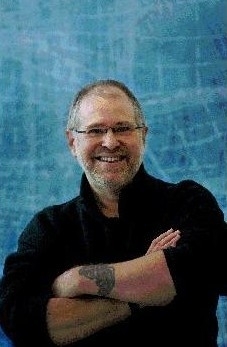 Saul Ostrow is an art critic, curator and self-described "opinionated bastard" originally from New York. Ostrow has curated over 80 art exhibitions in the US and abroad since 1987. As a writer Saul Ostrow has been published in numerous art journals and magazines-- including Art in America. Ostrow is the Art Editor for BOMB Magazine -- a quarterly art magazine edited by artists and writers that has existed since 1981. As an art instructor Ostrow has taught at The School of Visual Arts, Syracuse University, and Pratt Institute. In the past Ostrow has served as the Director of the Center of Visual Art and Culture at The University of Connecticut and as acting head of the MFA studio program at New York University. He is currently the chair of Visual Arts and Technologies at The Cleveland Institute of Art.
Brian Sherwin: Saul, you are the editor of the book series "Critical Voices in Art, Theory and Culture" published by Routledge, London and the Art Editor for BOMB Magazine. As you know, BOMB was founded in 1981 by artists who desired to record and promote public conversations between artists without mediation by critics or journalists. Can you discuss your experience with BOMB?
Saul Ostrow: Bomb represents an archeology of the diversity of critical, intellectual and personal concerns that inform our artistic culture over the last 30 years. It began in 81-82 and I didn't start to contribute to Bomb until 1985 – I was at that time still principally an artist and like a good number of other artists I also curated and wrote – I had begun to publish in Arts magazine as well. Consequently, though dedicated to artists talking to artists – and art speaking for itself – pictures of the work with no text – Betsy Sussler already recognized that the nature of the artists' conversations were changing – they had morphed swung widely from intention to philosophy to comic books. Likewise the portfolios of artists images (art on the page) began to have introductory paragraphs and introduced as part of the front work were editor's choices.
Meanwhile, Bomb has no staff writers – interviews are not assigned. The pairing of interviewee and interviewer (often but not always artists talking to artists) are determined either by an existent on going conversation, or the desire by one or both to talk to one other in those cases were they do not know one another-. Subsequently, these "interviews" are a form of portraiture, on one side, while on the other they represent an opportunity on the part of the interviewee to engage the interviewer in conversation.
BS: One could suggest that the informal interview process of Bomb Magazine is a forerunner to the type of interview content found on art blogs-- specifically bloggers based in New York. I'd say that the direction of Bomb paved the way for art writers such as myself-- writers who predominately work beyond traditional print models. Do you think there is a connection?
SO: I would say that both Bomb and Avalanche pioneered this approach in which the somewhat off the cuff conversational nature of these moments might be preserved. In some ways, this probably also has to do with the creative role that Liza Baer played in both these publications. Subsequently, I think the type of citizen journalism that blogging represents found in these precedents the type of non- academic informality that permits for the sense of personality and personal concerns that seemingly unmarked by commercialism are appealing to their audiences.
The great irony of course is that Bomb's interviews are edited by the interviewer, and interviewee as well as the editors at Bomb. This is done to make them readable - and takes great skill so as to preserve their spontaneity- it requires on everyone's part that real attention be paid to voice, and the nature of spoken language.
BS: In recent years digital art, video art, and other forms of new media have gained ground in the mainstream art world and within popular culture-- mainly due to the success of the Internet. Some have suggested that new media art, in general, will eventually surpass the popularity of traditional methods of artistic creation-- such as painting-- due to the influence of our wired society. Do you see that happening? Furthermore, what are your thoughts in regards to the Internet opening new channels and strengthening old channels of art, if you will?
SO: I took a deep breath after reading this question- Often when I'm teaching I'll ask my students do they know the work of Barnett Newman – almost all of them will raise their hands, then I ask them who has actually seen a Newman – almost all the hands go down – I then ask a student who knows Newman's work but who has never seen it to describe it – they basically know the Newman as a nearly monochrome rectangle with various vertical stripes, I then ask the student who has seen one – they talk about the qualities of these elements, surface, changes in color and the scale of the work.
I start my answer here because 10-15 years ago there were wild claims being made about the potential impact of the digital on the visual arts. At that time many felt that all other forms would wither away before the onslaught of this new democratic art form. Seemingly, the art apocalypse spearheaded by the digital has not been realized in part because there are two digital technologies-- which requires that we differentiate between medium and media-- that is between making and distributing. People were worried about nothing.
Consequently, I understand digital technologies as a mode of simulation-- it's a copycat as a medium-- it reproduces the effects identified with other mediums. For example, photography becomes the photographic-- with each iteration something is gained and lost. Subsequently, the digital has fallen victim to the conventions of the mediums that it seeks to simulate. In other words, where in the 70s we found all types of experimental video-- today video in the mainstream is a cheap way to make movies. Rapid prototyping has become little more than 3D printing-- while robotics, programming, interactivity are subsequently best developed in gaming.
Meanwhile, the internet as a media, while it is good at delivering some forms– video for instance, photographic images, animation, performances that are dependent on low levels of remote interactivity –these things given that digital is still not fully developed in terms of its potential to simulate subsequently robs all of these of presences and reduces them to image. Thus, in exchange for access we loose information and embodied experience. In other words, I do not at this time see new media art, in general-- even with respect to the influence of our wired society, displacing many traditional forms of art at this time. However, new media art obviously will have influence on traditional forms of art as the digital aspects will continue to be one tool among many available to the artist.
BS: I've been involved with a few debates lately that focus on the potential for social/political bias within the mainstream art world. As an art critic would you say that bias of that nature exists in some circles of the mainstream art world? For example, would you say that artwork that explores conservative themes is less likely to end up in a museum than artwork that explores liberal themes? Does political, social, religious bias exist within the mainstream art world?
SO: The roots of the mainstream art world as we know it today lay in a ghetto originally built by a small group of marginalized collectors and artists in the late 19th and early part of the 20th century. It took this entity approximately 70 years to become mainstream-- sometime in the 40-50s-- and represented the triumph of the liberal middle classes. What it displaced was an establishment that privileged religious and socially conservative values.
Today that art world represents -- 1.) a arena in which radical political opinion and views may be harmlessly expressed -- 2.) for those on the right it represents the frivolousness and decadence of liberal values -- 3.) it represents a business opportunity as one of the last unregulated commodities markets. As such today's mainstream art world is defined by political, social, religious bias. As for the art itself-- I find that a significant amount of the artwork that is done these days to lack a bias – even the stuff that claims to represent social and political views.
BS: Another issue facing art criticism-- and the art world as whole-- is the issue of sexism, ageism, and racism. The gender gap has been a long debated topic, the concern over ageism has reached a boiling point in the last decade, and some writers have suggested that racial labels-- such as addressing an artist who happens to be African American as an 'African American artist' is inadvertent racism. After all, you never see a white artist described as a 'Caucasion artist', 'white artist'. Is there cause for concern?
SO: While I think it is important to address these questions, I think it is more important to identify that the sources of such issues is rooted in our social and political order. As I previously stated – the difference between the art world, and the society that circumscribes it, is that the art world tends to be a place were such positions can be hotly debated. This is because this can be done without having much effect on society as a whole -- while at the same time creating an illusionary realm of freedom. I would suggest that concerns such as the gender gap, ageism, and inadvertent racism should be the concern of society as a whole because, in a sense, the art world is merely a reflection of our society.
BS: Having curated over 80 art exhibitions in the US and abroad I imagine you have advice for artists who are seeking exhibit opportunities. What advice do you have for artists in regards to exhibiting-- how, in your opinion, can an artist put his or her best foot forward when it comes to exhibit presentation and attracting curators? Furthermore, in regards to artists who have had a hard time landing an exhibit-- what can an artist do, aside from creating great art, to attract the attention of curators and art dealers? How should they market themselves during that 'down time', so to speak?
SO: I'll be blunt-- there are too many artists these days with a short-term, and corporate, view of the art world. As such they develop strategies with the goal of cynically being an overnight success. They believe this all depends on gaining access to those in positions of power-- be they collectors, dealers, critics or curators. Most of the overnight successes I know have worked in semi obscurity for 10 years-- some even longer. Unfortunately, many artists don't 'see' that when another artist becomes a huge success apparently overnight. My advice-- don't rely on being 'discovered' and be prepared for a long, and often difficult, road when it comes to exhibiting.
Artists who were true overnight successes seem to disappear as fast as they appeared. So, I guess my advice to younger artists seeking an opportunity to exhibit is to build viable and sustainable alternate structures and networks-- don't wait for people like me to notice you. Young artists need to create their own scene and opportunities and they need to make work that is challenging rather than a pastiche of what is in the market – the art world is really very entrepreneurial if you scratch the heart of it. Artists need to think on those terms.
BS: Vanity galleries have been on the increase-- vanity art fairs are starting to pop up as well. Artists who are lured to these vanity venues often pay several thousand dollars and end up with very little to show for it. As an art critic do you have any concerns about vanity art exhibits in general? Can participation in pay-to-play exhibits harm an artist in regards to how he or she is viewed by professionals working within the art world?
SO: Vanity galleries like vanity presses do nothing for the artist except feed on their desire to have exposure. If exposure is all you want then fine-- but remember that vanity galleries lack quality control. Consequently, if you want a career the thing to do is develop long-term strategies that focus on quality. There is a rich history of co-op galleries-- and other alternative spaces-- and it is time for that history to be used as a resource.
BS: What are you thoughts on how the Internet is changing the 'landscape', if you will, of art criticism. Several 'voices' have made an impact beyond traditional print publications-- that said, one could suggest that they are not held to the same standards as an art writer or critic who works in print. Does that concern you-- or would you say that there is a need for art criticism to take several directions... even beyond print?
SO: I differentiate between criticism, art journalism and commentary. What I mean by criticism is writing that is concerned with substantiating a particular point of view or evaluation. Criticism is about evaluation, and judgment-- not just opinion-- and is methodologically diverse in that it is an act of pointing to what is considered to be of aesthetic or social value. Its object (that which it analyzes, evaluates, and judges) also takes differing forms, which in turn are circumscribed ideologically, culturally, or materially.
Thought of in this manner, criticism is part of a process that is committed to defining, constructing and maintaining society's virtual, collective subject by examining the differing models that employ or challenge our existing systems of standards, values, and criteria. As such the audience for criticism and art journalism is self-selecting-- yet in the moment there is little criticism being published.
There are numerous explanations for this ranging from that of technological determinist, to those who believe that the collapse of Modernism's master–narratives has resulted in proliferated cultural practices and values to numerous to account for or address. In part the spectacle created by mass-media created this situation in that as a society we have become immured by its ability to present, preserve and reproduce disembodied images.
As for media, I see digital media as a print medium – subsequently, I think David Cohen of Art Critical and Art Review are highly professional online magazines built on the older print model. Meanwhile, various bloggers, such as yourself, have played an important role in the journalistic sense-- by generating lively commentary, and raising issues and critical points of view.
BS: Do you have any advice for artists in regards to gaining exposure online-- or selling art online? Should artists have a personal website? Is it viable to explore the online aspect of the art market in your opinion? Would you suggest that art writers, in general, have come to expect artists to present themselves online with a website as well as social media?
SO: Yes, artists and writers should have personal websites. I often go to such sites to get an idea of what an artist is doing. As for marketing-- short of multiples, photographs, and prints-- I would never buy a work of art online. I need to see the art in person-- too much information is lost in reducing artworks to their image in my opinion.
BS: As you know, the world of art criticism and exhibit reviews is a very tough field to break into professionally. With that in mind, what advice do you have for art writers who are just starting out?
SO: Ironically, I know very little about how one moves into this field today-- sorry.
BS: In closing, is there anything else you would like to say about art criticism today-- or the direction of art in general as you see it?
SO: Perhaps I should close on an optimistic note not so much concerning art criticism, but criticality per se– in that I believe that culture, though it now appears to be a series of diverse entities each with their own criteria and codes, still holds the promise of being a unifying social mechanism. As such, I assert that "criticism" offers a framework by which to assess, identify, index, and propose the standards, values and criteria by which concepts come to be circulated and made manifest. The alternative to this leaves us adrift in a world in which we would be incapable of imagining a collective self, or of addressing the contradictions and dichotomies inherent in our social and cultural lives.
Take care, Stay true,
Brian Sherwin