This article is by Brian Sherwin, Regular contributing writer for FineArtViews. Brian Sherwin is an art critic, blogger, curator, artist and writer based near Chicago, Illinois. He has been published in Hi Fructose Magazine, Illinois Times, and other publications, and linked to by publications such as The Huffington Post, The Boston Globe, Juxtapoz Magazine, Deutsche Bank ArtMag, ARTLURKER, Myartspace, Blabbermouth, Milwaukee Journal Sentinel, Modern Art Obsession, Citizen LA, Shark Forum, Two Coats of Paint and Art Fag City. You should submit an article and share your views as a guest author by clicking here.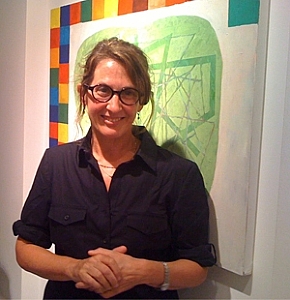 Sharon Butler beside one of her paintings during a recent exhibition at STOREFRONT Gallery in Brooklyn, NY. Photo by Steven Truax.
As a writer Sharon Butler maintains the award-winning art blog Two Coats of Paint, is a contributing writer at The Brooklyn Rail and blogs at The Huffington Post. Through an affiliation with Culture Pundits, Two Coats of Paint has been sponsored by The Museum of Modern Art, The Whitney Museum of American Art, The New York Studio School, The Pulitzer Foundation and many other arts organizations.
As an artist Sharon Butler has received several grants and awards, including a Pollock-Krasner Foundation grant, Pocket Utopia residency, Connecticut Artist fellowship, Blue Mountain Center Artists' fellowship, Vermont Studio Center residency grant, a Red Cinder Creativity Center residency, and Connecticut State University research grants. Her work is included in private collections in New York, Los Angeles, Boston, Baltimore, Tampa, Philadelphia, Providence, London, Berlin and Kyoto. Butler is an art professor at Eastern Connecticut State University.
Sharon recently offered her time and experience to FineArtViews in order to discuss her art blog, advice that she has for artists, and other issues.

Brian Sherwin: Sharon, you have been writing at Two Coats of Paint for several years now. In fact, I'd suggest that you have made a name for yourself among core art bloggers. Can you offer a brief history of Two Coats of Paint?
Sharon Butler: I discovered blogs in 2006 while I was on sabbatic leave from my teaching job at Eastern Connecticut State University, but none were specifically about painting and art criticism, so I signed up for a Blogger account and started Two Coats of Paint. At the time I was reading Winkleman, Heart as Arena, Anaba, Art Fag City, NewsGrist, Modern Art Notes, Hrag Vartanian, Joanne Mattera Art Blog, Fallon and Rosof's Artblog, Amy Wilson, PaintersNYC, and a few others that no longer exist. John Morris (former owner of Digging Pitt Gallery in Pittsburgh) organized a blogger art exhibition in New York, where I met Loren Munk (aka James Kalm), and other blogosphere veterans. The community was small and relatively obscure, so everyone was reading each other's blogs. We all knew each other.
BS: What has been your goal for Two Coats of Paint and how has that goal expanded over the years?
SB: When I started Two Coats, I didn't consider myself a writer. I hadn't written anything beyond my own (awful) artist statements and some short fiction, although I admired people who wrote well about art. Two Coats was a digest of articles about painting culled from online sources that I wanted to share with like-minded artists. The escalation of mechanized aggregation tools and Twitter have rendered the digest format less necessary, and, now that I feel comfortable as a writer, I'm interested in creating more original content. Last year I started Two Coats TV, an online channel that features videos made by and about painters, and I want to put some more time into that in the next year. I'm also using on-demand publishing to produce artists' books, and I've been invited to curate some exhibitions. Producing Two Coats of Paint has led to exhibition opportunities for my my own paintings as well.
BS: There has been debate on whether art blogs can be as vital to culture as print art publications. I can recall in years past that said debate would often turn volatile-- print published writers taking an extreme view of their importance and new media writers, such as bloggers, declaring a new approach to art writing and criticism. With that in mind, would you say that specific art bloggers are impacting art criticism and the 'landscape' of the art world directly-- is art history, at least in regards to art writing, being made with each click of the keyboard? Does the art blogging community-- in general-- have historical significance?
SB: When I started blogging, the availability of free tools to create online publication was an historic innovation, but established writers and mainstream media were slow to understand the impact blogs would ultimately have. I think the blogosphere has been particularly important for unrepresented artists, who traditionally have been excluded from the dialogue. Art critics who blog are not changing the nature of art criticism—they're simply using different tools to distribute their writing—but unrepresented artists who utilize social networking media are taking greater control—and that is changing the art world.
BS: With the above in mind-- and with consideration to the fact that you are a college professor-- is it 'dangerous' that art writers, such as Paddy Johnson of Art Fag City or Tyler Green of Modern Art Notes, have the following that they do in the sense that specific online focused art writers are arguably more known-- due to the viral nature of their articles-- by the public than art critic Jerry Saltz, art critic Roberta Smith, and other notable art writers who are generally respected for their work in print and are assumed to write under a strict professional standard? In that sense, are bloggers 'hijacking' the role of art writing as some have suggested over the years?
SB: Blogs like Art Fag City and Hyperallergic have created a newsy, more amusing type of art writing, but certainly haven't replaced the academic, long form criticism found in serious journals. We aren't hijacking traditional art writing, we're contributing a new form that has the potential to expand the audience for art in a way that dense, academic writing does not. All bloggers have different goals, education and talent, so you can't lump everyone together and say that our professional standards aren't as strict as those of mainstream art critics and journalists. For instance, Tyler Green (Modern Art Notes) and Carolina Miranda (C-monster and Gallerina) actually studied journalism in school—not art.
In academic circles, blogs still aren't respectable. Peer-reviewed journals have long been considered the most credible places to publish articles. Last year when I successfully applied for promotion to the rank of full professor at Eastern, it was a challenge for me to explain to the Art Department's evaluation committee the important role blogging has come to play in art discourse. Despite the absence of respect for the medium, I continue to blog because I feel I'm making an important contribution.
BS: You have been critical of various gender gaps within the context of the mainstream art world-- especially when fellow writers post content that appears to exclude artists based on gender. As you know, some individuals suggest that issues of sexism, ageism, and other forms of prejudice within the mainstream art world are not as 'bad' as writers, such as yourself, have claimed. Why do you think that so many individuals appear to want to avoid these topics? Furthermore, what can art writers and artists do to help bring more balance to the art world in regards to these prejudice fueled gaps?
SB: Most men don't think about gender disparity. They may also be more organically drawn to male artists because the work speaks more directly to their own experience. I don't know. My feeling is that the more women write, the more articles we'll see about women artists. When Tyler Green started his "Art Madness" tourney, I honestly don't think it ever occurred to him that there was a problem with his game. It may have been the first thing everyone else thought when they saw a list of 64 important artworks that only included three women, but it never crossed his mind.
BS: You are also a visual artist-- a painter... I've noticed that some individuals feel that visual artists should stay clear of writing about art criticism or should avoid publishing reviews of art exhibits. The idea being that an artist who is also a published art critic will show professional bias more so than an art writer who does not consider himself or herself an artist. I can recall an individual who told me that art writing published by a practicing visual artist is nothing more than a contradiction or a professional jab rather than a serious examination of art. What would you say in response to that?
SB: I'm proud to be part of a long tradition of artists who write. Reviews written by artists are often more insightful because the writing is informed by a deeper understanding of the artmaking process. Contemporary artist-writers I admire include Carol Diehl, Laurie Fendrich, Stephen Maine, Tom Micchelli, Carrie Moyer, Mario Naves, Peter Plagens, Mira Schor-- and nearly all the writers at The Brooklyn Rail.
BS: How do you divide your time between creating art and writing about art? Is there ever a conflict? Or would you suggest that writing about art informs your creative process in painting?
SB: Writing/ blogging helps clarify my thoughts and articulate my ideas, so it's become an integral part of my art practice. The biggest time pressure comes from teaching—but I'm lucky to have a position that enables me to pursue various projects and still pay the bills. I've been at Eastern for eleven years.
BS: I, for one, think that more artists should focus on writing about their art as well as the art of others. Unfortunately, I'm apt to find artists who procrastinate on writing their own artist statement-- writing detailed articles about their practice or the practice of their peers is the furthest thing on their mind. When I think of recent art history I think of all of the informative essays that famous artists, though not famous at the time, offered-- specifically those written between the 1940s and 1950s. That said, would you like to see more artists today writing about their art and the art of their contemporaries? Is it important? I think there is historic significance to it in the sense that said writing can serve as documentation of the thoughts surrounding art during our relatively short existence-- do you agree?
SB: Rather than hounding critics to review their exhibitions, artists should start writing about each other's work. My advice: write honestly and you can't go wrong. Don't try to write like a critic—be creative and develop your own voice. The most important thing is just to sit down and do it no matter how hard it seems. Maintaining a regular writing practice will make anyone a better writer. I highly recommend reading Strunk and White's The Elements of Style.
BS: As an artist you have received several grants-- including a Pollock-Krasner Foundation grant. Do you have any advice for artists who are seeking grants? For example, would you advise artists to hire a professional photographer in order to improve presentation?
SB: Grant funders have so many applicants that getting funded is often compared to winning the lottery. High quality images are extremely important, so if artists can't afford a professional photographer, they should make sure that the work is evenly lit. Invest in a set of portable lights that can be set up in the studio. Make sure to have someone else read the proposal. Writing about our own work is challenging, so getting perspective from an outside source is helpful. But honestly, if funding is crucial to the success of a project, I would recommend a Kickstarter campaign rather than applying for grants.
BS: What advice do you have for art writers who want to gain exposure for their art blog? For example, should they join an art blogging network?
SB: Posting regularly is crucial to developing an audience. Draw attention to your blog by becoming an active member of the online community. Read other people's blogs, make intelligent comments, and add plenty of links. But mostly, post interesting content.
BS: In closing, is there anything else you would like to offer to our readers-- any advice... insight?
SB: Be generous and contribute to the community. Follow your instincts. And, most importantly, don't let the gatekeepers break your spirit.
To learn more about Sharon Butler and Two Coats of Paint please visit -- www.twocoatsofpaint.com
Take care, Stay true,
Brian Sherwin