This article is by Clint Watson, former art gallery owner/director/salesperson and founder of FineArtViews. You should follow Clint on Twitter here.
Did you know that accessing the Internet via mobile devices is the fastest growing part of the growth of the web today?
The Mobile Web is Exploding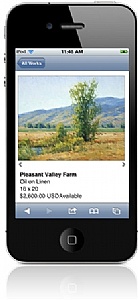 The iPhone truly did change everything. With its amazing screen, ease of use, and great web browser, it changed accessing the mobile internet from an exercise in frustration to a manageable and, often enjoyable, reality. While Apple's iPhone blazed the trail through the mobile wilderness, competitors including Google's Android and Microsoft's Windows Phone are now following that trail and, in the case of Android, actually overtaking the iPhone. I see it every day as people I know increasingly use or purchase a smartphone...including the most computer illiterate person I know. And he not only has a smartphone, he actually uses it. I had never received an email from my friend that his assistant didn't type and send for him...until he got an iPhone. Like I said, the iPhone changed everything.
What does the Mobile Web Mean for Artist Websites?
Respected art blog, The Crafted Webmaster explored this topic not long ago with the article Art Marketing: Why Is 5% a Big Deal?- The Continuing Rise of the Mobile Web and later, in a somewhat related article titled The Decline of the Old School Website. [1]
Your art website should be mobile friendly. Here's why: Let's take myself as an example. I love finding and purchasing great art and, increasingly, I find myself looking at art on a mobile device like my iPod Touch (which is essentially an iPhone without the "Phone"). I am actually more engaged in looking at art on a mobile device because mobile devices are inherently consumption devices, while desktop computers are production devices.
In essence, when I want to write an article, develop software, or do accounting, I go to my desktop computer. When I want to read, view/purchase art, play games or listen to music, I grab my iPod. Many of your customers probably are the same way.
Mobile Art Websites: Best Practices
Granted, these "best practices" are based on what I would like to see, and on what I've observed by visiting countless well-designed mobile sites and apps. Here's what I find myself wanting each time I, personally, look to purchase or view art on a mobile device:
1. The process of viewing the art should be delightful.
2. The images of the art to be as large as the screen reasonably allows.
3. Don't make visitors do a lot of "pinching and zooming."
(I'm often using only one hand...usually drinking wine with the other :-)
4. The "feel" of the website should be reasonably "mobile native".
5. It works better if the layout and design are simplified greatly from a full website.
6. The text should be sized appropriately for a small mobile screen ... so we can read it.
7. Navigation should be simple and visitors should be able to click navigational links without having to zoom.
I find myself having less and less patience for hard-to-use websites when on a tiny screen. I suspect many mobile device users are the same.
Be Mobile Ready the Simple Way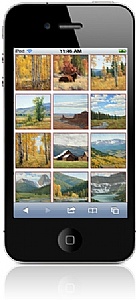 Fortunately, if your artist website is provided by FASO, you are, as usual, positioned ahead of the trend.
The image to the left shows the art portfolio page of a standard out-of-the-box FASO site as it appears automatically when visited by a person using an iPhone.
Remember above where The Crafted Webmaster cautions artists against having "old school" websites? FASO art websites are not only definitely NOT "old school", but are about as cutting edge as an artist can get. [1] In fact, that's how we've been all along: when many artists were paying their webmasters to add artwork to their websites, we were empowering artists to manage their own websites. That is a tradition we've continued for the past decade. A few recent examples include Facebook integration, email newsletter integration, integrated blogs (which we've had since 2006), SEO-friendly designs, and now...mobile ready sites. We pride ourselves in continually adding and doing our best to simplify and integrate technologies that are useful for our artists while avoiding (and helping artists avoid), if possible, wasting time with hype.
So if you're already a FASO customer: good news, you're ready for the coming mobile web explosion (we do advise though, if you haven't already, that you upgrade to one of our enhanced templates - it only take a couple of clicks and does not incur any additional charges).
What About YOUR Art Website?
You might be wondering, what does your art website look like on one of these devices?
Obviously, I can't know what your website, specifically looks like, but let's review a few examples.
As I stated previously, the image above is the standard portfolio page view of a FASO site. Here it is next to some sites produced by a couple of our competitors as rendered on my iPod touch:
Artwork Portfolio Page

of a FASO Website

Artwork Portfolio Page

of a competitor

Artwork portfolio page

of a competitor
While the iPhone does a great job trying to make a regular website presentable, you can see how much better a truly mobile formatted portfolio looks. Of course, you can always "pinch and zoom", (and you would have to pinch and zoom a lot to see the thumbnails of those two sites on the right), but any iPhone user will tell you, that zooming gets old as soon as the novelty of doing it wears off in the first 60 seconds.
Another Example: Richard Schmid's Website on an iPhone
I'll pick on Richard Schmid for a minute because he can take it, and because he's so successful already that he won't care that his site doesn't render on an iPhone anyway. But his site does provide another example of a site that requires zooming just to read the text or navigate.
If you're as famous and sought after as Richard Schmid, feel free to ignore the mobile web.
Everyone else: keep reading.
Some Great Artist Websites that Aren't Mobile Enabled Yet
It is entirely possible to have a fantastic "regular" site but need a little polishing up on the mobile front. For example: another respected art blog, The Abundant Artist, posted an article a few weeks back titled 9 Great Artist Websites. There were some nice-looking websites in that bunch for sure! For grins, I wondered what a couple of them looked like on an iPhone.
| | | |
| --- | --- | --- |
| FASO Website | Great website A | Great website B |
Get you're pinching and zooming fingers ready! I had to zoom way in to even click on the navigation links of some of these sites.
Wordpress is Not Necessarily a Turnkey Solution
It looks like some of these sites use Wordpress to drive their sites. I know that there are ways to make Wordpress mobile-friendly, but the self-hosted version (the version most Wordpress gurus recommend for artists) does not appear to be ready to go "out of the box." (Aside: Wordpress is not SEO-Friendly out of the box, either). There may be an upgrade or plug-in that is needed. Or you may need a theme designed with a mobile version. If you are self-hosting Wordpress - have your webmaster double-check that. It does appear that Wordpress.com (the commercial version) is mobile ready - but, keep in mind that Wordpress.com isn't as flexible as the self-hosted version, so you may not be able to format the site the way you should for a proper art website. (Quick Sidebar: If you prefer Wordpress, you need a host who knows how to do Wordpress correctly and securely - you don't want this happen to your site. So if you're a Wordpress "fanboy", contact me, I know the owner of the best Wordpress hosting companies - he knows how to make a Wordpress site correct, fast, and secure).
Some Examples of Mobile Ready Art Webpages
Whether you host with FASO or not, the screens below will give you an idea of how a mobile art website should look: native looking, easy to see images, navigation links you can click with a finger-tip, text that you can read. Of course, always give the visitor on a mobile device the option to see the "regular" website as well.
Here are a few more screen shots from the website of FineArtViews' very own Keith Bond.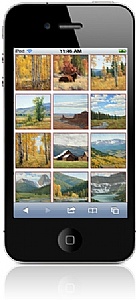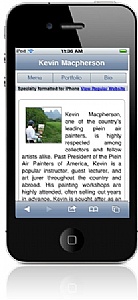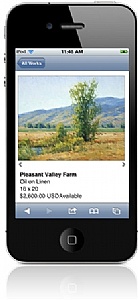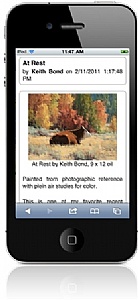 Screenshots from Keith Bond's smartphone-ready FASO artist website.
What to Do Next
When you're ready to get your artist website mobile-ready, I suggest you or your web designer spend some time looking at well-designed mobile websites. Take a look at native apps too - they'll give you ideas for the best kinds of layouts and functionality on a mobile device. And please hurry, so all art buyers like me can quit pinching and zooming so much and actually purchase some art!
Sincerely,
Clint Watson
Software Craftsman and Art Fanatic
--------
Footnotes:
[1] I probably shouldn't reveal this yet, but on a somewhat related note - what about managing your website from a mobile device? You know, things like adding artwork to your website? If you're a FASO customer, here's a little teaser about another way FASO is definitely leading the "new school" trends - we anticipate that the app shown in screenshot below will be a released for Apple's approval in the next six weeks (with Android to follow):