This article is by Brian Sherwin, Regular contributing writer for FineArtViews. Brian Sherwin is an art critic, blogger, curator, artist and writer based near Chicago, Illinois. He has been published in Hi Fructose Magazine, Illinois Times, and other publications, and linked to by publications such as The Huffington Post, The Boston Globe, Juxtapoz Magazine, Deutsche Bank ArtMag, ARTLURKER, Myartspace, Blabbermouth, Milwaukee Journal Sentinel, Modern Art Obsession, Citizen LA, Shark Forum, Two Coats of Paint and Art Fag City. You should submit an article and share your views as a guest author by clicking here.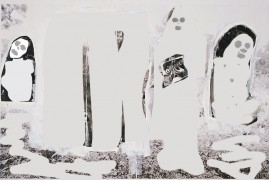 Cat Weaver 'de-approriates' Patrick Cariou's images from an image created by Richard Prince. Prince has suggested that his image can stand alone without Cariou's images. You decide-- looks rather blank to me.
I read a fascinating article by Cat Weaver on Hyperallergic that showed what one of Richard Prince's images would look like had he not appropriated images from photographer Patrick Cariou. Weaver described her approach as 'de-appropriation'. Weaver's article struck a nerve with me because it shows exactly what would happen if "fair use" continues to be interpreted widely-- especially if legal precedent is established in the form of Richard Prince winning an appeal over the ruling in favor of Patrick Cariou. Individuals-- and corporate entities-- would be re-working, and profiting from, artwork hailed in mainstream galleries without fear of legal ramification. The current strength of art culture-- which I feel depends on the validity of the art market within our consumer driven society-- would be lost.
Many individuals within the mainstream contemporary art world have shown support for Richard Prince. Strong voices in the US art community-- including New York art critic Jerry Saltz and notable art blogger Joy Garnett-- view the court ruling against Richard Prince as an attack against creativity. They view the use of Patrick Cariou's images as 'transformative' under the concept of 'fair use'. Obviously the judge who ruled in favor of Patrick Cariou did not-- which has spurred individuals, such as Garnett, to suggest that the judge does not understand art. In my opinion, the judge clearly understands current copyright law-- which protects the business of art in my opinion. I for one support that business-- I support the market for art.
It fascinates me that so many individuals who rely on the art market professionally are against strong copyright. As I suggested in a past FineArtViews article-- every level of the art market would be at risk if the strength of copyright were beaten down to the point that any mere change to an image of a work of art is considered 'transformative'. In my opinion, the art market-- the business of art-- as we know it would cease to exist and the cultural value of art, in general, would be lost if copyright is weakened by wide interpretations of 'fair use'. Look at the artwork that is honored in the halls of art museums worldwide-- most of those works, specifically contemporary works, of art found success within the art market first.
I realize that many individuals don't like the impact that the art market has on shaping the history of art-- I've been skeptical about certain aspects of the art market as well in regards to what is documented for future generations. That said, specific art critics and gallery represented artists-- individuals who are very much apart of the art market-- who have shown support for Richard Prince take the 'art is not about money' stance when championing wide interpretations of 'fair use'. If that is so I challenge those art critics to stop earning profit from their art writing-- and for those gallery represented artists to leave their galleries and take their art out of the market. They should put their money where their mouth is if it is "not about the money". If not, they are simply contradicting themselves.
Others who support Richard Prince have stated that the history of art itself has not always relied on business-- and that securing the business of art today should not be placed before securing what they view as creativity. I won't argue that things were very different in the past-- but if we are to deny current law in regards to ownership based on 'the way things once were' we might as well void out all law. Using history as a defense to support the choices of Richard Prince in the face of current copyright law is reckless in my opinion. After all, slavery was once an accepted practice-- does that mean we should accept it today? No. History can support a plethora of choices and actions-- but that does not mean that it is right.
The Pro-Prince and Anti-Copyright camp selectively dodge the fact that profit is the real issue at hand-- going as far as to suggest that images found online or elsewhere are just "materials" that all artists should have access to in order to spur creativity. Richard Prince made a choice to profit from images owned by Patrick Cariou. Had Prince explored his creativity without including a price tag he and his art dealer, Larry Gagosian, would not have ended up in court. After all, profit is decidedly more of a factor when pursuing a copyright infringement lawsuit than the distribution of images online. My point-- Richard Prince could have used Cariou's images-- and most likely shared them with the creative community online-- with barely a murmur of opposition had he not sought to profit from them.
As I've stated before-- I think it is very important for artists to take grasp of the court ruling in favor of Patrick Cariou and what it means for their artwork and business. This legal precedent will help artists to protect their copyright within the art world itself-- to protect their artwork from gallery represented artists and art dealers who-- debatably-- have more financial resources going into a case involving copyright infringement. Thus, the ruling is a major victory for all artists who want the market for their artwork secured. If Richard Prince wins an appeal over the ruling the opposite will be true-- it will be a dark day for the art market in general. Self-represented artists would be the ones to suffer the most.
In closing, strong copyright law is a vital aspect of the art market no matter what level of the market you are examining. Artists are not the only individuals harmed by weak copyright protection. Art collectors and art dealers can be harmed as well. Why invest in a work of art if it can be mass produced without restraint by any individual or company? Why deal in art if it can be creatively hijacked by a famous artist to further his or her own success at another art gallery? The art market-- in general-- would be meaningless if we continue to stand back while copyright is chipped away to the point that artists are unable to uphold their copyright in court. The selfish attack on copyright from artists such as Joy Garnett, Richard Prince, and Shepard Fairey is an attack on the art market as a whole-- and the millions of artists who benefit from copyright protection. They seek to secure their business-- while dismantling the validity of your business.
Take care, Stay true,
Brian Sherwin