This post is from our Informed Collector newsletter. If you would like to receive daily briefs about today's finest artists, visit InformedCollector.com for your free subscription.
Informed Collector Recommends:

Gary Kim
TODAY:
Thursday, March 31, 2011

The profound experience of visiting the art of the masters in a museum. Evocative series of paintings that depict the essence of how mysterious art can be.
---
COLLECTOR ALERT

Museum Trip by Gary Kim (shown below) was selected as a Finalist in the January 2011 BoldBrush Painting Competition.

---
Focal Point: Gary Kim
Visit Gary Kim's Canvoo Focal Point on the web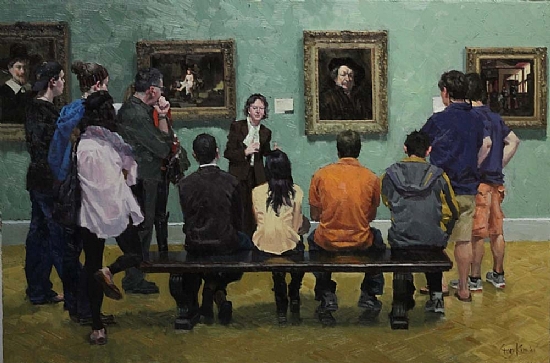 The profound experience of visiting the art of the masters in a museum. Evocative series of paintings that depict the essence of how mysterious art can be.

- Informed Collector



---
---
Other Web Pages with info about Gary Kim

Gary Kim's Main Artist Website


---
Biography


Master artist, Gary Kim was born in Korea. His outstanding artistic talent was discovered very early by his art teachers and was destined to become a fine artist. After High School Gary attended art school and studied drawing and painting and received his bachelor degree of fine art. Gary continued his education by getting a Masters Degree in an Advertising Design program in Korea. After graduating he became an acclaimed illustrator and art director for 20 years and taught art and design at art colleges for few years.

While working in the advertising field, he spent a lot of time sharpening his drawing skills by studying human anatomy and figurative.

Although a successful illustrator, he never forgot his dream of being a full time fine artist. In 1999 Gary and his young family moved to New York. To further his education, Gary enrolled in the Master program at the prestigious art school, Pratt Institute in Brooklyn. While attending there, he often visited the Metropolitan Museum of Art and saw a lot of the maser paintings in the gallery. One day he saw John Singer Sargent's master paintings and couldn't hold back his lifetime goal of being a fine artist.

At the beginning of being a full time artist he concentrated on portrait paintings and had his first huge portrait exhibition at the Chelsea Manor gallery in New York in 2003.

Since then his reputation grew as a portrait artist and has painted portraits
of prominent corporate chairpersons and politicians.

In the beginning his favorite subject were painting figurative and portraits from life, but now he spends most of time concentrating on painting to landscapes and figurative art. Today, Gary's paintings are collected by many
in Europe and America.

Gary is passionate about painting and feels painting is not work. He enjoys the long hours in front of the canvas 7 days a week at his Brooklyn studio in New York.

Master artist, Gary Kim, combines his talent and passion with a strong artistic foundation to create masterful representational art. His philosophy for art is that artist's work speaks for itself.

Fellow artist, Sir Lawrence Chrapliwy