Informed Collector Recommends:
Kimberly Casebeer



TODAY:
Thursday, January 06, 2011

Kim's work is sophisticated. Painterly, inviting and dramatic.
---
---
Focal Point: Kimberly Casebeer
Visit Kimberly Casebeer's Canvoo Focal Point on the web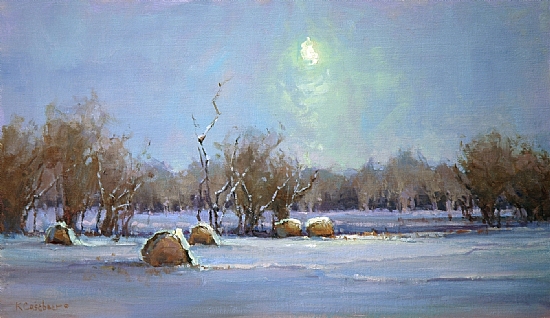 Kim's work is sophisticated. Painterly, inviting and dramatic.

- Informed Collector


Quick Facts about Kimberly Casebeer:
* Year Born: 1970
* Price Range: $800.00 - $9,000.00
* Main Website:
http://www.kimcasebeer.com
---
Artworks by Kimberly Casebeer:


---
---
Other Web Pages with info about Kimberly Casebeer
Kimberly Casebeer's Main Artist Website
Kim Casebeer: 10 Steps For Creating Better Plein Air Landscapes
---
Overview:

"New Mexico Vista" 12x12 oil

This painting plus two others are currently in the Winter Miniature Show at Sage Creek Gallery in Santa Fe, NM, held Nov. 26 - Jan. 2. For more information, visit www.sagecreekgallery.com.


---
Biography
Kim Casebeer was born and raised in Kansas on a family farm. As part of a fourth generation farm family, she has been connected to the land for a long time. Kim still lives in Kansas and draws her inspiration from the simplicity of the Flint Hills, an area of wide open ranch land. "It's a simple landscape," she says. "It's not grandiose. You have to spend some time and let it speak to you." Now days Kim also feels at home painting in Colorado, New Mexico, Arizona, and Wyoming. "I think the simplicity of the Kansas landscape has helped me find the essence of other places. I'm able to focus on what's important in a composition. It's as much as what's not in the painting as what is."



Whether painting mountains or plains, Kim's goal is to capture the quality of light and atmosphere that draws her to a location. First and foremost, it's about having an emotional connection. Kim gathers her subject material by traveling and painting plein air studies throughout the western United States. She uses these studies as a starting point, focusing on light and color to convey the emotional reaction she has to her subject.

Kim has been painting since grade school, and sold her first landscape through a 4-H event for $20. Art continued to be a part of her life through high school, and she received her Bachelor of Fine Arts Degree from Kansas State University. She worked as a graphic designer and art director in order to pay the bills, while spending evenings and weekends painting until 2002, when she was able to make the leap to full-time artist. Kim has continued to study with artists such as Albert Handell, Scott Christensen, W. Scott Jennings, Michael Albrechtsen and Elizabeth Mowry.

Kim's work has been featured in magazine articles in American Artist, American Art Collector and The Pastel Journal, and has been published in a book titled Living the Artist's Life. She is a signature member of the Pastel Society of America and an associate member the Oil Painters of America. She was recently invited to become a Master Signature Member of the American Women Artists. She has received awards through these organizations, as well as the Salon International Show, the American Academy of Women Artists, Scottsdale Artists School Best and Brightest, the Pastel Journal's Pastel 100 Competition and The Artist's Magazine Competition. Kim has participated in museum shows such as the C.M. Russell Masters in Miniature Show, the American Art in Miniature Show at the Gilcrease Museum, and the Miniatures and More Show at the National Wildlife Museum. Her work was included in "Homage to the Flint Hills," a 3 year traveling exhibit ending with a show in the Senate offices in Washington D.C.

Kim has work in many private, corporate and museum collections throughout the United States. She is represented by Galleries West Fine Art in Jackson, Wyoming; Rive Gauche Art Galleries in Scottsdale, Arizona; Leopold Gallery in Kansas City, Missouri; Strecker-Nelson Gallery in Manhattan, Kansas; and Silver Heron Gallery in Depoe Bay, Oregon.



---

Other Web Pages Kimberly Casebeer Recommends
(These pages are not necessarily about Kimberly Casebeer)

American Women Artists

Brian Slawson Fine Art

Cally Krallman - Prairie Sage Studio

Glaser Frames

Mid America Pastel Society

Oil Painters of America

Pastel Society of America

Rocky Mountain Plein Air Painters

Signature Canvas - Artist Canvas Supplier