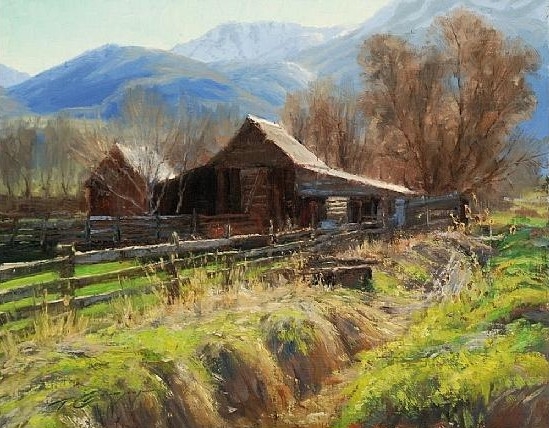 The Old Tack Shed by Trent Gudmundsen
Brian Sherwin: Trent, you are a September 2010 finalist of the BoldBrush Painting Competition -- selected by juror Daniel Keys. Why did you decide to enter the BoldBrush Painting Competition? Can you describe your reaction upon learning that you had been selected as a finalist by judge Daniel Keys?
Trent Gudmundsen: I've entered the BoldBrush Competition quite a number of times over the past couple years, and tend to do so in spurts for some reason. I had quite a number of good reactions from trusted artist friends regarding my entry for September, so I figured it would fare well.
It was several years ago that I discovered Daniel's beautiful paintings, and I've been a fan ever since, so, yes, I'm very pleased to have gained his stamp of approval on one of my paintings. I think feedback from peers is very helpful and important. It's always fun to see my name "in lights", too. I think everyone probably loves that.
BS: As you know, the BoldBrush Painting Competition is run by the people behind FASO artist websites. Have you used FASO's service? What attracted you to FASO Artist Websites in general?
TG: Well, I taught myself html code by trial and error about 15 years ago when I decided to build my own website. I went with a service that gave me full control. I didn't know about FASO at the time (probably because they didn't exist yet). But let me tell you, I realize now from a "code standpoint" how powerful FASO's websites are, and they do indeed give the artist full control (and also a lot of easy-to-use template options for those who would rather spend their time painting than learning code).
Luckily, I've gotten my website to the point where I can easily update things, but if I had found FASO back then, I would have definitely gone with them. I mean, the websites are specifically geared to helping artists, and created by a guy who has really been there selling art in a successful gallery! I feel like he (Clint Watson) really knows his stuff regarding art, marketing, and computers.
BS: The saying, "Painting is dead." often pops up in debates about art-- specifically in mainstream discussions of the direction of art today. Obviously painting is alive and well-- is there anything that you would like to add to that?
TG: I've never heard that saying, but I believe I know the type of person to whom that refers. I think this is a case where the very vocal minority is having a heyday trying to convince people of their own new-age views, when in reality most people have a tendency to prefer painting and other "old" methods of creating art.
It's kind of the "emperor's new clothes" scenario: most people see the value of painting and tried-and-true methods and principles, but many will not say anything (in public at least) for fear of looking ill-educated. But let me stand up and say unequivocally that painting is not dead; for I paint, and I'm very much alive, thank you very much. On the same note, it's nice to know that when the power goes out, I'm still employed.
BS: In regards to art marketing online-- do you have any advice that you would like to share with fellow artists?
TG: I'd say that having a good website and keeping in regular contact with your collectors (or future collectors) are the most important things for online marketing; however, a lot of people make the mistake of putting out sub-par work just so they can have something to put on their websites or send to their mailing list. I'd recommend not putting up any art that you don't feel is at least an 8 on a scale of 1 to 10. Occasionally, a "10" will even come along...and then you'll be famous.
BS: Tell us about your art background-- for example, do you have formal training in art or do you consider yourself self-taught?
TG: I strongly believe in God-given talent (which in my definition largely refers to the blessing of being interested in something enough to improve it). My parents have always been big advocates of the arts, and I also have an uncle and grandfather who are artists. Because of that, I grew up being surrounded by artsy things, which probably made it easier for me to decide on art as a career.
When I was 12 or 13, I met Valoy Eaton, a prominent local painter (who also happened to be a nationally-award-winning artist). I was able to learn from his example just how important it is to be true to myself as an artist and also how important it is to fine-tune my tastes for good art by constantly studying from life and from the works of master artists of the past and present.
BS: Can you tell us about your creative process and your studio practice in general?
TG: I created a studio in my basement, which is a little smaller than I'd like, but I have good light (natural and artificial) down there, and I'm working on a big shed out back to house all my supplies and finished paintings that are now taking up a lot of space in the studio. I am usually the first to wake up each morning, but am quickly joined by my wife and our three kids, who are welcome in the studio anytime (I literally have no door, which is intentional). After breakfast, I try to get a good solid eight hours in the studio each weekday (sometimes more or less, depending on what I have going).
I paint using a fairly limited palette, and look at my photos on a computer monitor when in the studio (I plein-air paint or study outdoors as often as occasion will permit...usually averaging one whole day per week). Nearly all my figure work is from photos, although I enjoy sketching my family for fun.
BS: How has society influenced your art? Would you like to discuss the social implications of your art?
TG: I don't enjoy the fast-paced, God-less direction of society today, and yet I also feel that we live in a very exciting time that offers many opportunities. I enjoy simplicity and believe in working hard for what I get, and I try to make those things a part of my life as much as possible.
I'm inspired by a huge variety of subjects ranging from restaurant interiors to barns and horses, but I find that most of what inspires me is somehow related to what I knew as a kid, and I was certainly not a city boy; I think the subjects I paint tend to reflect the ideals that are part of that kind of life. I prefer honesty and simplicity in my art to any sophisticated modern idea.
There's enough ugliness in the world, and I'm trying to shine a light on the better things that are all around us each day; things that in all reality are much deeper than modern social problems, and in fact are the antithesis of those problems; indeed, the solution to them.
BS: What are your artistic influences? Has anyone inspired you directly?
TG: Valoy Eaton (the artist I met when I was young) is still a huge influence, regarding both my practices and my subjects. On a more world scale, Sargent, Zorn, Sorolla, many Soviet impressionists, and many 19th century artists continue to be highly influential. There are also many contemporary masters whose work influences my thoughts.
I have large collections of computer print-outs and magazine clippings of the works of other artists, past and present, and I simply look through a section of them each day. I'm amazed at how much there is to learn from the works of other great artists.
BS: Are your past experiences reflected in the work that you create today? If so, how?
TG: My experiences continue to shape who I am as a person, and therefore who I am as an artist. I'm heavily influenced by my love for nature and man's relationship with it. I intentionally choose my experiences to shape who I want to be both personally and artistically (which is the same for me).
BS: When people view your artwork what do you hope that they take from the experience? In other words, is there a specific message that you strive to convey?
TG: I hope people see the beauty that I saw in the everyday situations that I capture. Beauty can be found in unlikely (and sometimes seemingly ugly) places. Beauty is also very subjective, but I feel that some of the things that make certain situations and scenes "beautiful" are universal, and those very powerful influences are all around us, and I strive to honestly convey that idea. When I say "honestly", I mean that I'm not contriving cutesy or saccharin situations, but instead raising simple, common subjects to the level at which they will be noticed more readily.
BS: Is there anything else that you would like to say about your art or the goals that you have?
TG: I suppose I'm pretty pleased with what I've accomplished so far, but I also see how far I have to go (which is especially evident every time I begin to compare my work to the greatest masterpieces of the past). I enjoy always having a goal in mind, be it to a short-term goal to get a certain number of paintings to my galleries in a certain period of time, or a constant goal to simply have my next painting be my best one.
I'm very goal and project-oriented, and seem to thrive off of constantly having something better to work toward. My life as an artist is very much entwined with who I am personally, so my goals and aspirations are similarly entwined.
To learn more about Trent Gudmundsen, visit his website at trentgudmundsen.com. To learn more about the BoldBrush competition, please visit canvoo.com/boldbrush.
Take care, Stay true,
Brian Sherwin