This article is by Keith Bond, Regular contributing writer for FineArtViews. You should submit an article and share your views as a guest author by clicking here.
THANK YOU! Thanks to everyone who contributed to the conversation about Abstract vs. Representational art. I appreciate everyone's point of view. The conversation was great. And as promised, this week I will summarize your comments and add mine.

Summary of some of the themes in the comments
I can't list everything here ? there's well over 200 comments and counting, but I found these themes interesting and/or prevalent. It would be well worth your time to read everyone's responses if you haven't yet.

- Most Appreciated both Abstract and Representational Art
I found it interesting how many appreciated both camps. Many of you even work in both.

- All Art is Abstract
A common thread throughout the conversation is that all art is really an abstraction. When using shapes of color or value to represent an idea, it is abstract, regardless of how representational or non-representational the final result is.

- A Number of You Felt the Other Genre was Harder
Many of you had a great respect for artists who could do what you couldn't do.

- Quality is More Important than Style
This came up time and again. It is more about how well the artwork is done. Both abstract and representational art has examples of really strong work and some really bad work.

- Abstract vs. Representational is a Continuum
Most art lies somewhere along the continuum between the two. It is often difficult to know where one label ends and the other begins.

- Few Disliked the Other
A few of you disliked the other genre. The reasons seemed to be primarily because there was no or little emotional connection. It had little to do with the style itself (with a few exceptions).

- As Artists Mature, They Become More Abstract
Hmmm? I found this notion interesting. Many of you brought this idea up in one way or another. I don't completely agree with the argument. An underlying assumption with this statement is that abstract must be superior ? for as an artist grows, she becomes more abstract. Thus, growth = better artist = abstract. I don't think abstract is superior. Neither is representational art. When authentic and with skill, both are powerful and moving. When inauthentic, or lacking in skill, both are crap! But, I digress?

My Take
First, look at the following works of art: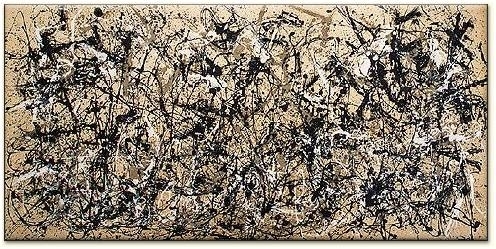 Autumn Rhythm, #30, Jackson Pollock, 1950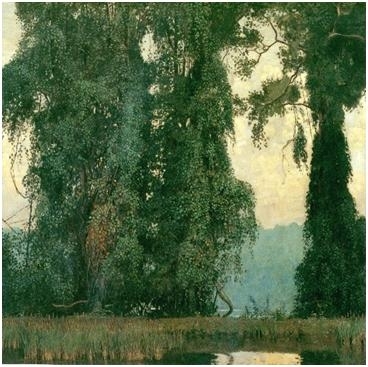 Towering Trees, Daniel Garber, 1911
Which painting is abstract? Pollock's of course. And Garber's is clearly representational.

Let's look again at the statement we're addressing: as an artist matures, he becomes more abstract. The argument is that with greater understanding of the underlying abstract design, over time, there is less need to render detail. This is because the abstract qualities of the design begin to dominate. With even more time, the abstract design possibilities begin to lessen the need to represent any actual motif. Thus the work becomes strictly about the abstract qualities.

Look again at the two paintings.

Which has the stronger abstract design qualities?

The Pollock is certainly abstract. But there is little or no form, design, composition, etc. in his work. It is about randomness and movement. There are other qualities of abstraction which are prevalent in his work, but not design.

Garber, on the other hand, had a very strong sense of design which served as the foundation to his paintings. Regardless of the amount of detail, the painting is striking in its simple (yet powerful) abstract shapes. He also had a keen sense of value and color harmony.

But his understanding of the abstract didn't cause him to paint abstractly ? or I should say, non-representational. Rather, he used it as a foundation to strengthen his work. The abstract framework was simply a place to hang his detail work on. Art history has many examples of such master artists.

Thus, the blanket statement that representational artists become more abstract when they mature is, in my mind, false. Sure, some do. But certainly not all.

I must qualify this, though. It is true that many artists strive to say more with less. If one were to isolate individual passages within the composition, there is much abstraction. Even in Garber's example above. But, this does not necessarily mean that an artist becomes more abstract in terms on becoming non-representational.

An artist who is a perpetual student will improve. To improve means to be better able to express oneself. For some, this means gravitating to another style or genre. But for others, improvement and maturity simply takes them further down the path they were already on.

So, yes, a representational artist might become more abstract with maturity. But the representational artist also might simply master the fundamentals of design, color, drawing, values, etc. and still work in a representational manner.

Likewise, the beginning abstract artist isn't automatically more mature than the representational artist. The beginner in abstract must also learn and grow and develop. Will this artist become more abstract as he matures? Perhaps. Maybe not. But the artist will likely get better.

It matters not whether the artist moves laterally as she matures. Moving laterally along the continuum does not necessarily equate to maturity and improvement. What does matter is that the artist moves upward. This and only this is a sign of growth. Any lateral movement is simply a matter of finding the voice from within. Some find it earlier and never deviate. Others find it later. Some have more than one way to express that voice ? being in both camps. But to move upward is to express your voice with greater proficiency and skill.

Best Wishes,
Keith Bond