We've always had a page for guest posters to submit story ideas for publication in FineArtViews . The submit page is here .

But now, if you have a FASO blog, there's an easier way.

After you decide to publish your FASO blog post by clicking the "Save and Publish as Public Article >>" button, you will now see the following screen: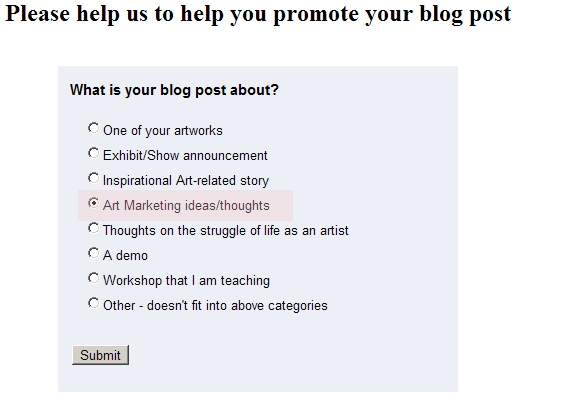 In this example, I've highlighted that my post is an "Art Marketing " post - the perfect type of story for FineArtViews .

After submitting the article type, you will see the following screen: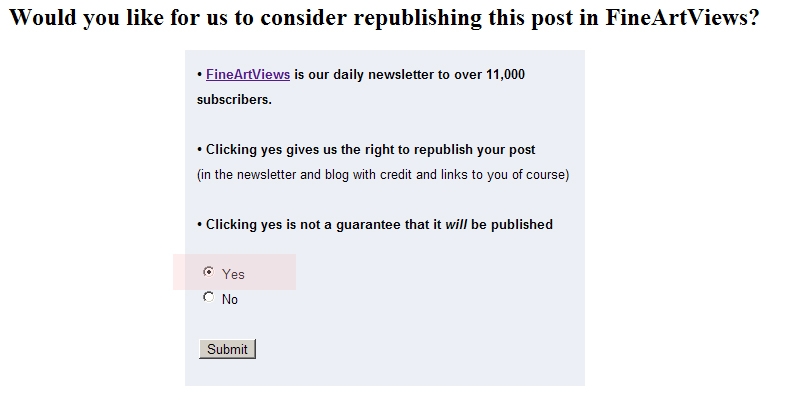 All you have to do here is click "Yes" and then click the "Submit" button.

Your post will, at that point, publish to your blog normally.

It will also, at that point, be put on a list for the FineArtViews editors to review for possible inclusion .

If we do choose to publish your article in FineArtViews , it will benefit from exposure to over 11,500 subscribers. Best of all, you still retain the copyrights to your post, all you're granting us is a license to use it online. So when you're ready to write your best-selling book, all your rights are intact!

Our editors are looking for stories about art marketing, inspiration, struggles that artists face and fine living.

We won't publish things like exhibit announcements, daily paintings, workshops, demos, etc. If you're a FASO member we have other ways to promote those types of posts, so please don't submit them for FineArtViews .

We're looking forward to expanding our community and including more of your insights in the main newsletter!

Have fun.

Now, go change the world,

Clint

PS - even if we don't pick up your post for republishing, a link to it (if it's marketing or inspiration) will appear in FineArtViews, in the "FASO bloggers" section.

PPS - If you're blogging via a non art-community-integrated, generic blogging platform like Wordpress or Blogspot, it's OK, you can still submit your artistic insights with our
old guest submission page
.