This post is from our Informed Collector newsletter. If you would like to receive daily briefs about today's finest artists, visit InformedCollector.com for your free subscription.


Informed Collector Recommends:
Dorothy Boyer



---
---
Focal Point: Dorothy Boyer
Visit Dorothy Boyer's Canvoo Focal Point on the web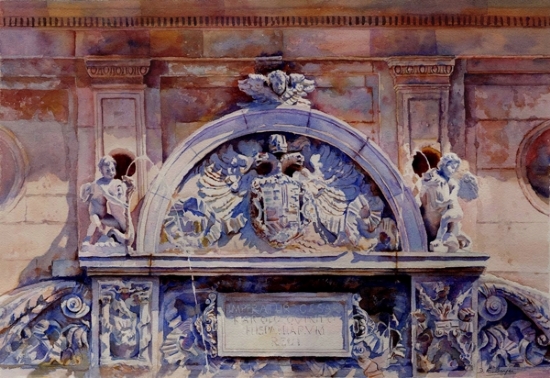 Exquisite attention to detail and fabulous color are her trademarks!

- Informed Collector


---
---
Other Web Pages with info about Dorothy Boyer
Dorothy Boyer's Main Artist Website
---
Biography
'It is thrilling to be able to communicate through painting with people as culturally varied as I have had the pleasure to meet.'
'My work does not take an ideological or moral stance but rather seeks to describe the wonder created by the effect of sunlight falling on the fragile old buildings with their powdery wooden shutters in the Jeddah souq: or the glorious seductive quality of the sunlight on coconut palms, the drama of filtered light on fabulously interesting people and that never ending source of inspiration, 'still life'
It is a visual response to the light and how it changes the simplest objects into fascinating forms that shimmer and seem to melt.
We all glorify the light, for without it there is no life and no joy, and that is what I paint. I want people to feel that uplifting joy.
This singular vision is what unites, inviting everyone to see and appreciate what we all have in common, a need to be uplifted
For me, painting is a passion making ordinary life more vivid
My aim is to follow in the tradition of great artists before me who have so eloquently portrayed life beyond their own shores, bringing people together to share what we have in common and embracing different cultures.
Although diverse in content, my work is a celebration of what I find beautiful, exotic, and interesting in my surroundings, either in Saudi Arabia or during my extensive travels.'
Dorothy has been painting murals and carrying out all aspects of decorative work for over 26 years, 17 of which have been in Saudi Arabia.
She has taught one day workshops in the art of trompe l'oeil painting at KLC Design College in London.
She conducts workshops in all aspects of 'faux finishes' at Darat al Binzagr in Saudi Arabia.
She also compiled the art curriculum for the Darat, in drawing and painting.
She trained first as a teacher at Strathclyde University (Jordanhill), in her home country of Scotland and then as an Interior Designer at The Inchbald School of Interior Design in London, winning the award of 'Designs with the most client appeal'
She became a specialist paintier in the early 80's and then later, when she opted to develop her own work rather than commissioned murals, she attended master classes run by Charles Reid the renowned American watercolour artist and Jenny Jowett the botanical artist (UK).
She has travelled extensively having spent many years in Argentina when first married. She now divides her time painting in Spain, the Middle East and the UK.
Her family are her greatest fans.
Strathclyde University: Teaching and Education
The Inchbald School of Interior Design London : Interior Design.
Short Courses:
Furniture decoration with Roger Newton
Plaster and organic finishes with Kevin McLeod
Fantasy gilding and antiquing The American Academy of Decorative Arts.
Trompe L'Oeil painting with Ian Cairnie .
Masterclasses with Charles Reid the wonderful American watercolourist
*Finalist and selected 'Outstanding Watercolour' by the Fine Art Views Jury Feb.2010
*Finalist and publsihed in The International Artist Magazine August /Sept 2008 no 46 Favourite Subjects
*Finalist in The International Artist Competition, September 2007 no 41 Flowers and Gardens
*'Designs with the most client appeal' at the Inchbald School
Published in the International Artist Magazine 2008.
The Saudi Airline inflight magazine AhlanWasahlan Dec. 2007 written by Bizzie Frost (cover page below)
The Arab News (English and Arabic) 'In Pursuit of Light' by Roger Harrison.
The Saudi Gazette., The East Anglian Weekly, The Chichester Gazette
The Complete Book of decorative Paint Techniques by Annie Sloane (Trompe l'Oeil chapter)
Solo Exhibition 'Bridging Cultures' Al Alamia Gallery 2007 Jeddah.
By Invitation 'Saudiaat' Al Alamia Gallery' 2009 Jeddah
By invitation 'Saudiaat' Dar Al Hekma 2006 Jeddah
Group '6X6' The Rosenthal Gallery Jeddah
'Perspectives' The Rosenthal Gallery Jeddah
'Reflections de France' The Rosenthal Gallery Jeddah
The Royal Institute of Painters in Watercolours. The Mall Galleries London
The Federation of British Artists. The Mall Galleries London
The Royal Botanical Society. The Mall Galleries. London
Clients include:
Leylaty Ballrooms 1 & 2 , Saudi Arabia: Hani Al Attas
Villas & Palaces: Saudi Arabia
The Crypt, Chichester, UK: Louise Gibbon
Former President Gowan of Nigeria , London
Sir Andrew Lloyd Webber, London: Robert Kime
Sting (musician)London: A.G. Designs
The Spanish Club, Cavendish Sq., London
The People's Museum .Norwich:The National Heriitage.
Private Yacht ,Hamburg ,Germany. Jacqueline Thwaites (Inchbald)
Town & Country Houses (15th century to 20th century) UK
Roger Harrison of the Arab News wrote;
'The expectations of western European society require that people of a 'certain age' quietly disappear into non-productive obscurity, take up crochet and rot decently in an atmosphere of genteel decay with a bus pass and endless reruns of soap operas. Not however the artist Dorothy Boyer. She is infinitely more likely to be up to her elbows in linseed oil and titanium powder or in a Jeddah souq hunched agaist a wall with a pencil and pad catching the atmosphere in a few deft strokes'
---
Other Web Pages Dorothy Boyer Recommends
(These pages are not necessarily about Dorothy Boyer)
Derek Macintosh photography
Gregor Gall
Inchbald School of Design
The PSP or (Progressive Supra Nuclear Palsy Association)