This article is by Lori Woodward, a regular contributing writer for FineArtViews. She is a member of the Putney Painters, an internationally known group of a dozen artists who paint under the mentorship of Richard Schmid. Lori authored and illustrated step-by-step articles for Watercolor Magazine from 2007 to 2012. She has taught art marketing seminars at Scottsdale Artist School and at the 2012 Oil Painters of America national convention and show.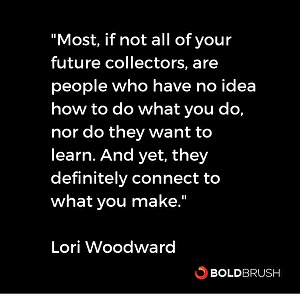 I've observed that much of artists' time on social media is typically spent showing work to their peers. Ideally, that time would be better spent posting to interested parties who don't paint. While "preaching to the choir" may feed your confidence, it isn't the most efficient way to build a sizable following online that will eventually buy your work.
There are ample, untapped audiences for your work that you may not yet have considered... by selling to those who have a hobby or interest that relates to what you make. Most, if not all of your future collectors, are people who have no idea how to do what you do, nor do they want to learn. And yet, they definitely connect to what you make.
Let me use my own work as an example: I paint the places that I know and love best. Two of those places are Acadia National Park in Maine and Parks in Arizona, especially around Tucson where I lived as a young adult and now visit whenever I get the chance. Not only have I spent considerable time walking in and painting these places, they appeal to me on an emotional level, so it's doubtful I'll ever tire of painting them. In fact, I fell in love with Sabino Canyon on my very first visit in 1974.
Sabino Canyon is situated in the Catalina Mountain range north of Tucson. Nearby are wealthy communities, golf courses, and country clubs. Not only are the residents and winter visitors familiar with Sabino Canyon, they likely adore walking and hiking there. I'll show you later in this blog how I'm targeting this potential market for my "Sabino" paintings using Instagram.
Finding and Courting Your Future Collectors
The bulk of art sold now satisfies the individual tastes and interests of the buyer. A few of those buyers are building an art collection. As I mentioned in my previous blog, that is a mighty small group of people and growing ever smaller. Today's art buyers motive's are different than the avid collector, and those motives are diverse. Sometimes their reason for buying is as simple as beautifying their home or office, yet many times their reasons expand well outside the bounds of their decorative tastes and relate to their special interests, hobbies or line of work. Artists who are making a living right now by their sales are well aware of these trends, or at least their gallerists are.


Selling To an Unsaturated, Niche Market
Our brains are designed to stop and take notice only when something is out of the ordinary, which is why it makes sense to show our work to those who don't make art and haven't recently been looking at a lot of it.
Let me explain... When our brains are saturated by seeing a stream of familiar images, we unconsciously tune them out. That's why we don't often remember driving by something we pass every day. If there's suddenly something new or unexpected, we take notice.
Think about how you stream through your Facebook timeline of your artist friend's posts. Here's what I do: Look, hit the like button, look... hit the like button. If the artist is a friend of mine or the artwork stops me in my tracks, I comment. But every once in awhile, I stumble upon something that's a little different than the rest - that's when my brain says, "Whoa, hold on a minute; what was that?"
For this very reason, we get more attention for our work from folks who are not artists, especially when they connect to the subject matter we paint. Furthermore, when our work is the only art they can see, there is no comparison and they are likely to spend more time looking at it.
Research Your Future Collectors on Instagram
Let me tell you why I'm focusing my marketing efforts on Instagram. It's been easier to find and target groups who are interested in the things that I paint with the Instagram platform.
Again, I'll use my paintings of Sabino Canyon as an example. Let's say my goal is to find Instagram users who love Sabino Canyon. I begin by entering #sabinocanyon in the search box located at the top of my Instagram feed. Instagram then shows me a list of hashtags that relate to Sabino Canyon. The hashtags that are used most often appear at the top of my search results.
Now here's where the magic begins... I choose to follow the hashtag #SabinoCanyon by clicking on that hashtag and then clicking Follow. From now on, every time someone adds the hashtag #sabinocanyon in their Instagram post, I'll see that post in my own feed. So what's the big deal about that? Well, it means when someone uses that hashtag, I can click on that person's profile and find out if they truly love Sabino Canyon or if it was just a stop along the road on vacation.
When it appears that this Instagram-er (aka IG-er) takes a special interest in Sabino Canyon or related topics, I then "like" and comment on a few of their posts. My comment shows up on their timeline. Inevitably, they'll click over to my profile page and voila! Nine images of my artwork are set before their eyes along with my bio and a link to my website. If they like what they see, it is very likely that IG-er will choose to Follow my posts, which means all my posts will show up in their feed from then on. Then I can post in ways that will steer them to my website. Although I can't link to my site on my Instagram posts, I can direct viewers to the link on my profile page in that post.
So far, I've gained about 250 new followers in a little over a week with this new approach. I was delighted when a realtor couple, who sells luxury homes in Tucson, chose to follow me. When I looked at their profile, it was clear that this couple hikes the places I love to paint.
-----------------------------------------------
Editor's Note:
When you're ready to take a fresh approach to marketing your art, a professional and secure website can be your most valuable tool. And FASO is the easiest way to build and maintain a gorgeous website. We also make it easy to integrate your FASO website with social media. Get Started with FASO today free for 30 days, click here.