This article is by Lori Woodward, regular contributing writer for FineArtViews. She is a member of the the Putney Painters, an internationally known group of a dozen artists who paint under the mentorship of Richard Schmid. Lori authored and illustrated step-by-step articles for Watercolor Magazine from 2007 to 2012. She has taught art marketing seminars at Scottsdale Artist School and at the 2012 Oil Painters of America national convention and show.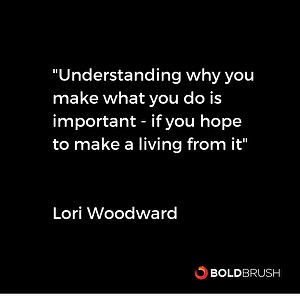 One of my all-time favorite movies is, "You've Got Mail". This movie explores the dynamic relationship between business owners whose primary objective is to make a lot of money, and those owners who sell something for more personal reasons. In the beginning of the movie, a new big-box bookstore opens in a quaint village full of sole proprietors, but this new store exists solely to trick people into buying their products. Meanwhile, a small village bookshop owner is in danger of being put out of business by the new box bookstore. While I'm using this movie as an introduction to my blog topic today, I find it interesting that while box stores took over in the 1990s, online shopping has essentially put box stores out of business. That said, I'm using the movie analogy to make a point about how artists sell work today.
Is selling art just a business transaction, or is it personal? Well, it's both.
I'm going to refer to the characters in the movie by their actor's names because their character names are escaping me at the moment, and I'm too lazy to go look them up. It's not the names that are important anyway, but how their reasons for selling their wares change over the course of the movie. It's a struggle between a business model that's impersonal and one that connects to buyers with a personal approach.
Tom Hanks' character is from a long line of wealthy bookstore owners, but way down deep, he doesn't identify with the idea of treating buyers like cattle. Although he isn't aware of this fact early in the movie, he eventually rejects the business values that his father and grandfather practice. For the first half of the movie he denies his natural empathy while cold-heartedly proclaiming his family's mantra, "It's not personal, it's business". In other words, you don't have to actually care about the people you sell to or have anything in common with them as long as they buy your stuff and you make money from them.
Meanwhile Meg Ryan's character owns a quaint, family-established bookshop in an affluent community. She runs her small business with the idea that books have appeal for personal reasons, and she makes every effort to connect with those who shop in her store. The problem arises as Hanks' new big-box store (built around the corner from hers) slowly puts her out of business. As movies go…Hanks and Ryan fall in love with each other online and eventually meet each other in real life only to discover that they both own the rival bookstores.
In the beginning of the third act, Ryan exclaims to Hanks, "Business ought to begin by being personal". Eventually they come to this same conclusion when Hanks makes his store more personal by hiring Ryan to read in the children's book section. Later, she ventures into authoring children's books.
Today, running a business is more personal than ever - Especially when your interests and art resonate with like-minded folks
And… your artwork will connect naturally to those who have deep interest in the same things you do, especially if your art is an outgrowth of those interests. You will build and engage your natural followers because they have something in common with you.
Your would-be buyers expect that you are an artist for personal reasons. So like Ryan said, "Business ought to begin by being personal". As an artist who hopes to make a good living with sales of your creations, you'll need to wear both the business and the artist hat. Finding your market is easier if you develop a niche that's connected to something you know a lot about or something you deeply care about. In upcoming posts, I'll show you how I'm connecting to a group of non-artists on Instagram, based on a subject that I care about and paint. Out of 280 new followers (in 5 days), only a handful of those are artists. Artist followers have been great for "atta girls", but I want to sell my art to qualified buyers more than I want attention from my peers. Not that I mind that, but eventually I need to find a following that doesn't do what I do… and that's paint.
Art Collectors Are Becoming a Rare Breed
Forget about marketing to professional collectors today, there are too few, and the collectors of decades past are literally a dying breed. Unless you've already been selling to this group for some time now, it's very difficult to break into that market. These collectors buy to build a museum-worthy collection which they hope will also make a good investment. There were enough of these types of collectors to support a great deal of artists from the 1990s through the great recession, but now there are more artists than ever who wish to make a living with art sales, and far fewer of these types of collectors.
The good news is that more art is being sold and bought than any other time in history, and there are hundreds, perhaps even thousands, of would-be buyers for your art. The question remains, how do you court these people and get your work in front of their eyes on a regular basis?
Understanding why you make what you do is important - if you hope to make a living from it
Today, people buy art because of who they are, not who you are. I'm hearing this not only from art marketers but marketers in general. When your art naturally resonates with a group of people, they will start to follow your posts online. But be real; don't paint something just because there's a wealthy audience for it. They can see right through that. It's best to start with who you are naturally and then connect with like-minded people. I'll show you how I'm growing a following by using Instagram in an upcoming post.
Keep in mind two things: Don't try to create for everyone because your work won't identify with everyone. Choose a niche that resonates with you and then find the right kind of people who will love your work and have the means to buy it.
Most of my recent thinking about finding art buyers has come as a result of listening to Maria Brophy's recent online videos. If you don't know who she is, you'd do well to find out. Maria is the marketing genius behind the sales of her husband's work. By nature, she's an introvert, but she has learned how to seek out niche markets in a natural and friendly way that has led to her husband, artist Drew Brophy's success. Yes, Drew paints what he wants to and in his own unique style, so he paints for himself, Maria makes it her job to seek out groups of people who will take interest in his work.
I'm providing a link to one of Maria Brophy's recent video broadcasts. She's made one daily during the last ten days or so, and I've learned a ton from hearing what she has to teach. Although you might want to watch them all, here's a link to one of them. https://www.youtube.com/watch?v=CBPJrQce5I0
---------------------------------------------------
Editor's Note:
If you want to start marketing your art, a professional and secure website can be your most valuable tool. And FASO is the easiest way to build and maintain a gorgeous website, we also include amazing marketing tools that automate many common marketing tasks for you. To sign up for a free, no obligation 30 day trial, click here.