This article is by Lori Woodward, regular contributing writer for FineArtViews. She is a member of the the Putney Painters, an internationally known group of a dozen artists who paint under the mentorship of Richard Schmid. Lori authored and illustrated step-by-step articles for Watercolor Magazine from 2007 to 2012. She has taught art marketing seminars at Scottsdale Artist School and at the 2012 Oil Painters of America national convention and show.

I posted this yesterday on my email newsletter. Just a short "diddy" on how adding lighter values to my skies changed the look of my paintings for the better.

Yesterday, I was organizing images of photo references and paintings on my computer. When I looked at a page of thumbnails on my computer screen, I noticed a visual difference between my photographs and the paintings I'd pulled off the net by other aritsts. This was most apparent when viewing photographs beside paintings done by long deceased artists.

What was the difference?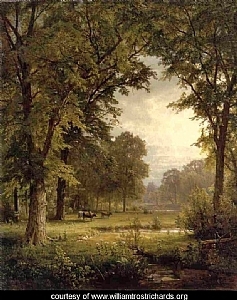 Landscape with luminous sky by William Trost Richards

The Light in the old master paintings was riveting, while my photographs displayed the entire scene with equal light. Even though there was direction of light, there was no place in the photos where part of the scene "glowed". Hmmm.... I wondered if my paintings might have the same problem - lack of luminosity in the sky and sky reflection in the water. The answer - YES - my skies were too dark and dull, making the values in the layers of the landscape close (little contrast).

We artists never really stop learning - our nature is to keenly observe life around us, color, shadow and "the way things look". Just when it seems I know it all, I make another discovery. Discoveries are useful, but they also make me feel inept. Well, I probably wasn't going to suddenly paint a masterpiece, but I decided to risk ruining a couple of existing paintings by making some changes to their skies.

Here's the before and afters: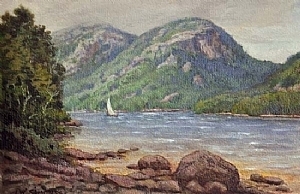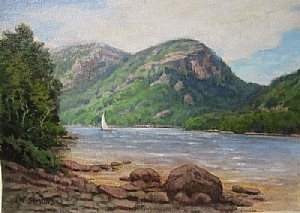 The first image shows a cloudy sky. Yes, it's a bit cropped, but I did that on the computer. In the second image, I repainted the clouds thickly and with a bristle hog brush using soft white acrylic (this painting is acrylic on 300lb watercolor paper). Soft white is on the warm side (has a yellowish tint). Then I painted in blue sky around the cloud in order to create some diagonals lines at the edges of the cloud. When composing a landscape, diagonals add distance and space, while horizontal stripes (like on a flag) make a landscape seem flat.

I used a cerulean blue (a greener blue) and white for the sky piece on the right because it is closer to the horizon, and ultramarine blue and white on the left sky area. Then I added a bit of white along the distant water/shore and a stroke of thicker soft white on the sail. Even though I didn't change the painting or value of the mountains or foreground, these areas look darker. Value is relative, and so when one area is lightened, all the areas next to the lighter part automatically appear darker. Sometimes the easiest way to darken something is to lighten the thing next to it.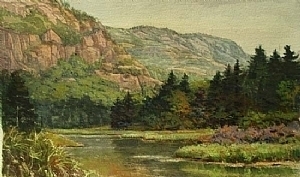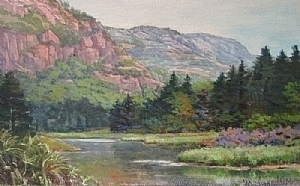 You'll have to give me some slack here because this painting was photographed a long time ago, and then again today after I made changes to the sky and distant mountain. The "changed" painting (2nd) is much closer to the original color. Anyway... I lightened the sky in the same fashion as the previous example and then brought a watery wash of soft white down over the most distant part of the far mountain in order to push it back in space. This painting is also acrylic on paper. An easy way to put atmospheric perspective into a landscape is to add a watered down glaze of white (usually soft white) on the parts you want to push back - away from the viewer.

With watermedia, this white glaze looks quite opaque when first applied, but becomes more transparent when dry. The same technique can be achieved with oil paint using white and glazing medium.

Here's one more example - yes, I risked ruining three whole paintings today! But I'm glad I took the plunge.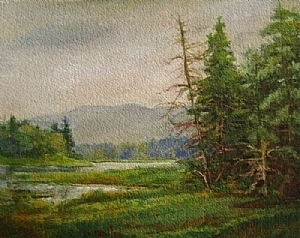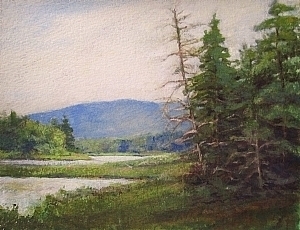 This is a small acrylic painting of Bass Harbor Marsh. The first image is the "before". As I said, I took a risk by making changes, but I need to feel comfortable with the fact that not every experiment will be successful. So what? I'm still learning, and that's more important than staying stagnant in my development. After lightening the sky, I darkened the mountain with a vivid blue. Sometimes, changes work to my advantage, and sometimes they don't. I do prefer the foreground in the first rendition.

This is probably a good topic for another newsletter, but let me briefly touch upon what could be improved with the composition above - It's simply this: Everything is leaning and sloping towards the left. The composition would feel more balanced if I were to make one of those trees on the right, a "rebellious" tree - having it lean in the opposite direction than the group. Because this is opaque watermedia, I can slightly sand down the surface of that area and re-paint it any way I wish, but probably not today...

Finally, just to make my paintings look sort of Okay... I'll include a couple of masterpieces by William Trost Richards below. He was one of the luminist painters of the Hudson River School movement. It was while I was studying his paintings, when I realized that mine could use brighter skies.


Feast your eyes on these Masterpieces: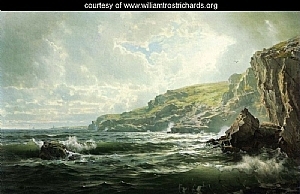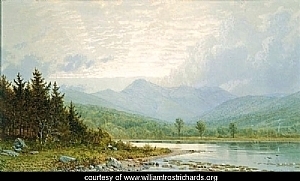 ------------------------------------------------
You can view Lori's original post, here.
---------------------------------------------
Editor's Note:
What a better way to start 2018, than with a new gorgeous FASO Artist Website to display your talent! We make it easy to put together, very easy to maintain, and there is a Positively Remarkable Support Team to help along the way. To sign up for a free, no obligation 30 day trial, click here.