Informed Collector Recommends:
Kathi Peters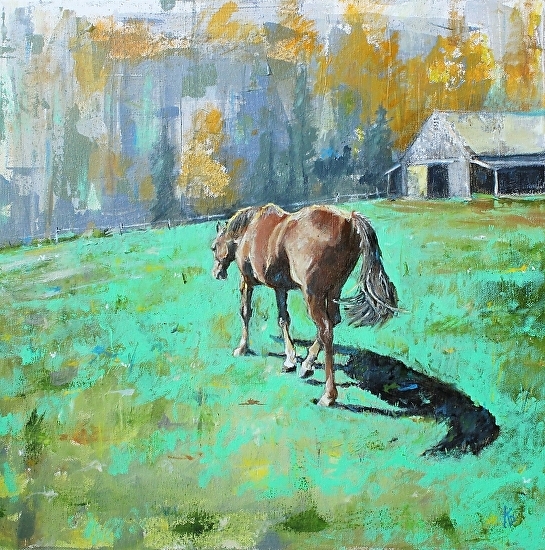 Oil 18 x 18
By Summers End by Kathi Peters was selected as FAV 15% in the September 2017 BoldBrush Painting Competition.
Biography
Categorized as an American Contemporary Impressionist, Kathi Peters' work features contrasting values, bright color and design, that heighten the emotional content of her work. A strong abstract component is evident in her work, but not at the expense of its realistic detail.
Kathi works often in casein; a milk based paint medium that is not often used by artists today. Casein was used by the masters of old, but was forgotten by most artists when acrylic paint was created. Kathi prefers the matte earthy colors and the finish that she attains with casein paint. Occasionally she might varnish a painting in casein, and the varnishing gives the dried casein painting an appearance of an oil painting. Casein does not need to be varnished, as it is an archival paint. Casein paintings that were done ions ago by the ancient Egyptians are still in existence today. The decision to varnish, or not, depends on each painting, its support, and the atmosphere desired. But as an artist who is not limited to casein, Kathi is also known for her watercolor work and oil paintings on copper substrate, and her newer mixed media works.

Kathi and her husband live in Morrill, Maine, on a small horse farm. Together, they enjoy the discipline of carriage driving with their horses. With an education background in fashion illustration and commercial art, garnered in Rome, Italy, at the Academia delle Belle Arti and at ENALC, she now devotes her talents to mostly equine, animal art and landscapes. After suffering a stroke in 2006, she still paints full time.....when she isn't in her gardens or with her horses.
Kathi's artwork has been published in numerous national magazines, including "Equine Images"," Horses In Art", "The Chronicle Of The Horse" , "Carriage Driving World", The USEF "Equestrian Magazine", "Carriage Driving West", "Riding Magazine" and "The Country and Abroad", "Polo Players Edition", "Neurology Now", The Horses Maine" and "Art Calendar" . She also has had her work featured in several books; "The Essential Guide to Carriage Driving" , "Equestrian Style -Home Design, Couture, and Collections from the Eclectic to the Elegant", "The Richeson 75 International Artist's Choice 2008",and " Ex Arte Equinus". In 2009 Art Horse Magazine showcased Kathi's artwork, along with an interview describing her lifestyle and painting methods. Her work was also featured in the 2010 June #56 issue of American Art Collector magazine. Equitrekking, Emmy Winning Lifestyle TV interviewed Kathi in their March 2011 feature. In 2011, the fall issue of "Stroke Smart" magazine featured Kathi's art on the cover with a story about her work and stroke recovery. Her art work is in hanging in art collections throughout the United States, Canada, and Europe and has hung in exhibits at the Kentucky Derby Museum at Churchill Downs, the International Museum of the Horse in Lexington, Kentucky; The Grossgate Gallery in Lexington, KY., The Wildlife Experience Museum, Parker, CO; The Salmagundi Club in New York, New York; The Marietta/Cobb Museum of Art, Southeast Marietta, GA; The Women's Museum , San Diego, CA and The Skyline Farm Carriage Museum, North Yarmouth, ME. In addition to being included in numerous juried and invitational exhibits around the country, and she has had several one-person shows in the galleries that represent her and in museums.

Statement
"From the sanctuary of our small Maine farm, to the hotbed of horse-country in Lexington, Kentucky, I have found subjects that inspire me to paint them. Light and shadow call out to be put on canvas. I move from realism to abstraction, mixing the two …. I see color, edges, movement and design everywhere I look. I need to paint them. My written word might be limited now, but my visual vocabulary is unlimited.

Casein is my medium of choice, a milk-based medium that has stood the test of time. Its earthy colors with muted hues help to capture the moment and mood I aspire to create. Yet I am also drawn to transparent watercolor with delicate luminous wash and fine line……and lately to oil paint with its vibrant colors when painted on an archival copper substrate….a substrate that seems to create an inner glow that emanates from each painting. With every painting, I am striving to tell a story, to invoke a memory and hopefully I can touch a heart."

"My treasures neither clink or glitter, but gleam in the sunlight and neigh in the night." non


Professional Memberships:
Articles: