This post is by Clint Watson, former art gallery owner/director/salesperson and founder of FineArtViews. You should follow Clint on Twitter here or sign up for his newsletter here.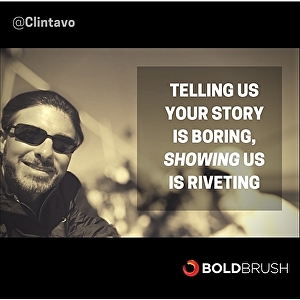 In writing, there's a rule of thumb to "Show, don't tell."
It means don't tell us a characters mental state. Don't tell us what is happening by describing, summarizing or expounding. Instead, show us through the dialogue, imagery, thoughts and action in the scene.
A famous axiom illustrates: "Don't tell me the moon is shining, show me the glint of moonlight on broken glass."
Learning From Harry Potter
I recall the climax of the Harry Potter series. The entire final book builds up to the Battle of Hogwarts. Although, by that point, Harry has accepted that he must face Voldemort, he dreads it. He also knows, that to save everyone he loves, he must allow Voldemort to murder him.
As a master writer, J.K. Rowling didn't simply tell us that "Harry was afraid, but he summoned the courage and bravely faced Voldemort. Voldemort then killed him." Even though that is, essentially, what happened. But saying it that way is boring.
Instead, she showed us a riveting series of scenes and dialogue that intricately wove together to tell a story that conveyed the same essential facts:
Think about these scenes from the book:
Harry alone in the forest, pondering if he can go through with it, tears streaming down his face
Realizing that his impending death is the solution to the golden snitch riddle "I open at the close." Shown to us when he kisses the golden snitch, which opens, and reveals the spirits of his deceased family members.
Asking the spirits of his family if death hurts.
Pausing at the edge of Voldemort's encampment, watching with his "heart throwing itself against his ribs as though determined to escape"
While facing Voldemort, Harry makes "no attempt to pull his wand."
See? Not boring.
Moving on, let's suppose, instead of writing a book, we wanted to tell this story in a different way. Let's pretend that we want to tell it, over time, with short images, videos, and text. Pretend that you have to retell this story as a serial comic strip. And in this serial comic book, you are only allowed to publish one or two frames per day. And for each of those frames, you only have a few moments of your audience's attention. What would that look like? Perhaps an image of Harry crying in the forest. A short video of Harry kissing the golden snitch...and it opening to reveal his family. A black and white photo of Harry with the quote "Does death hurt?" And so on.
What I'm describing is the proper way to show Harry's story through Instagram and Facebook.
Show us Your Story
Telling us a story is boring, showing us one is riveting. Show, don't tell your story.
Social Media sites and apps, such as Instagram and Facebook, are the world's greatest storytelling platforms for brands. And professional artists are brands. You. Are. The. Brand.
Artists often don't understand what to post, or how to build a following. But they have the raw ingredients to craft a story on social media that is far more interesting that the line items in your Curriculum Vitae. In fact, given that the best engagement on these platforms revolves around visual content, artists actually have a huge advantage compared to most brands. You have tons of visual content "built-in" to what you do every day. Be glad you're not a marketing consultant having to rely on boring stock photos.
Here are some ideas:
Did you just win an award in an exhibition or competition?
Show us a photo of you receiving the award. Show us an image of you with the winning painting.
At a workshop?
Show us where you are and what you're working on.
Are you working on a new piece that you're excited about?
Post an image, or time lapse video that gets your followers interested. Show, don't tell.
Just finish a new piece?
Post a great image of it! Show, don't tell.
Feel free to include some personal parts of your story as well. If, and only if, they remain "on brand." Have a great Halloween costume? Post an image. Out to eat with friends? Post an image. Upset about what congress has done lately? Remain silent.
Think of yourself as the publisher of the multi-media comic book I described above, trying to craft the story of your life as an artist and the resulting artworks. Now craft the scenes that show this story to the audience. Here's an example of what a well crafted story looks like on Instagram. It's a screenshot of artist, Shana Levenson's Instagram page: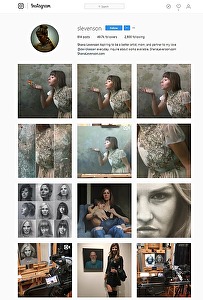 We look forward to learning more about your story on Instagram and Facebook! Follow @boldbrush on Instagram or like our Facebook page.
Sincerely,
Clint Watson
BoldBrush/FASO Founder & Art Fanatic
PS - If you need some inspiration here are a few artists who do a great job showing their stories, check these out: Shana Levenson (mentioned above), Bryan Mark Taylor, David Cheifetz, David Kassan, Kyle Ma and songwriter Sam Johnson. Notice they all show us their story, they all stay "on brand", and they all steer clear of politics.
--------------------------------------
Editor's Note:
Take the next step in your art journey, join FASO today and start displaying your artwork with a gorgeous artist website. We make it easy to build (even for non-techies) and maintain, we include SSL for all of our websites at no additional cost and we provide you with some great art marketing tools that automate many common marketing tasks for you. So what are you waiting for join our art community today, and make 2018 your year! Sign up today for a free, no obligation 30 day trial.