This post is by guest author Julia Taylor. This article has been edited and published with the author's permission. We've promoted this post to feature status because it provides great value to the FineArtViews community. If you want your blog posts listed in the FineArtViews newsletter with the possibility of being republished to our 50,500+ subscribers, consider blogging with FASO Artist Websites. This author's views are entirely her own and may not always reflect the views of BoldBrush, Inc.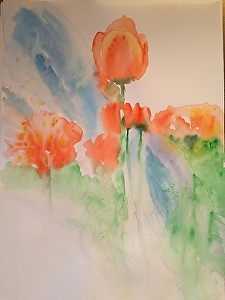 Tulips With a Blue Sky

Astonishing fact--more vinyl records were sold than downloaded music in 2016. According to Forbes magazine, "Fueled by that unique sound quality and a nostalgia wave, sales of vinyl records were up 32% to $416 million, their highest level since 1988, according to the RIAA. Revenues from vinyl sales last year were higher than those of on-demand ad supported streaming services, such as YouTube, Vevo and Spotify's free service, which only accounted for $385 million, according to the RIAA. (To be clear, though, paid subscription services and Internet radio services, like Pandora, greatly exceeded LP and EP sales.)" In this age of disintermediation (a really important word for what is happening around us), why would anyone return to all the issues of vinyl with quirky needles and expensive vinyl often with scratches and skips? I bought a turntable at year end and a number of records from 30 years ago to listen to while I paint. It's perfect for watercolor. Most sides last 20 minutes, which reminds me to quit for a bit and let the painting dry and become itself. I find myself actually listening, which I don't really do with streaming music. I just notice streaming music when it is not there.

The word hand crafted and artisan is applied in broad strokes to beer from both national and small local breweries, clothing, shoes, make-up, crafts, arts and bicycles. I'm sure somewhere there are hand-crafted Q Tips. It is definitional and deliberate marketing to appeal to the uniqueness, care and skill we all want in this automated world. Yet we demand low cost, availability and reliability. The survivors figure out how to do both. What does this mean for the artist today? We spend our time learning, painting and marketing. And we compete with art everywhere including hotel room wall art that is mass produced and hand-crafted too. How many of us notice the art in the hotel or restaurant or is it like streaming music for me? Does this cause us not to value or even see art in front of us unless we are in a place where art is supposed be noticed- galleries, art fairs and museums?

Artists spend a lot of time figuring out social media from Etsy, Facebook, IG (Instagram) and even YouTube as a sales platform. Are these venues becoming the new places that art lives? I think they are. There are no walls and admission fees. You can quickly learn about the artist and interact-become FB friends and grow a friendship. Everything is transparent on social media. From taxi cabs to pharmacies, technology is disrupting economic systems. The need for service and solutions that transcend the commonplace will keep a place for people in this world of service. Art that transcends the commonplace, even occasionally art on a hotel wall, will find its way to those who value and notice the art. And technology will allow more people to find and hopefully collect our art. Deliberate practice and thinking are all part of becoming ever better in our art and takes our art beyond the commonplace, whether it hangs in a gallery or on a Facebook wall.

So while we market, we need to keep on learning and painting most of all to become the artist we know inside.
------------------------------------------------
You can view Julia's original post here.
------------------------------------------------
Editor's Note:
Take the next step in your art journey, j
oin FASO today and start displaying your artwork with a gorgeous artist website. We make it easy to build (even for non-techies) and maintain, we include SSL for all of our websites at no additional cost and we provide you with some great art marketing tools
that automate many common marketing tasks for you.
So what are you waiting
sign up today for a free, no obligation 30 day trial.