This post is by Luann Udell, regular contributing author for FineArtViews. She's blogged since 2002 about the business side--and the spiritual inside--of art. She says, "I share my experiences so you won't have to make ALL the same mistakes I did...." For ten years, Luann also wrote a column ("Craft Matters") for The Crafts Report magazine (a monthly business resource for the crafts professional) where she explored the funnier side of her life in craft. She's a double-juried member of the prestigious League of New Hampshire Craftsmen (fiber & art jewelry). Her work has appeared in books, magazines and newspapers across the country and she is a published writer.
Take each day one-at-a-time to create big changes
Years ago, I did a series of articles inspired by a magazine article about....exercise.
Yep, you read that right. I was impressed by the list of powerful suggestions proven to help us get more physical exercise. I tried some of the suggestions. They worked!
That's when a light bulb went off (on??) in my head. Those same suggestions could also be modified to enrich our art biz and art-making practices. (I can find a metaphor almost anywhere.)
Right now, that series is lost in cyberspace, waiting for me to retrieve and republish them. (Keep your fingers crossed, I hope to do that soon-ish.)
Until then, I've revived the series, Exercise for Success, with today's article, also inspired by an article on fitness and exercise. I can't track down the article—it was a link from a link from a link, and I lost it in the shuffle. But here's the gist: A fitness trainer coached clients online to maintain their individualized fitness program. Some major life event took precedence, so he had to come up with an easier way for clients to report their progress.
He gave them a simple questionnaire, and a score sheet. It went something like this: Every day, they checked off the list of activities assigned to them. They got a score for each activity they'd accomplished. A score for each good food choice they'd made. At the end of the day, they added up their score.
So simple. So what?
Well, after a month or so, he realized his clients were actually doing better than ever at maintaining their goals. In fact, they were doing so much better with the simple self-scoring sheet, he revamped and rebuilt his entire practice around it.
He wondered about why such a simple tool created such great effects, even better than individual coaching and one-on-one check-ins. And then he got it.
The aspects that created such a profound change for his clients were:
The system was based on reward, not punishment. A one-day plan was simple, and manageable. And if clients screwed it up, all they had to do was, do better the next day.
We can do almost anything, for a day. Try to stop eating ice cream for the rest of your life? Hard. Stop eating it for a year? Still hard. Stop eating ice cream for a day? Oh hey, I can do THAT!
He realized that many successful recovery programs for issues such as addiction and alcoholism, were based on the one-day-at-a-time outlook. That is, don't even try to figure out the rest of your life. Just figure out what you can do today.
And if you mess up today, well, there is always tomorrow. Tomorrow is (literally and figuratively) just another day, another day to try, to do better.
Managing one day is...well...manageable!
In my last column on prioritizing our art-making, I heard from many artists, publicly and privately, Some felt like idiots. (I assured them that if they are, they are in good company!) Many felt overwhelmed about making major changes that would allow them to create more art, and less housework. They felt relieved that other artists, good artists, procrastinate, too.
So instead of being overwhelmed by trying to be perfect....
What if we only tried to achieve a simple goal today? And gave ourselves full points for achieving that?
I actually did try that today. Mondays have gotten pretty hectic for me. I have too many commitments, the most time sensitive of which is writing these columns.
Usually I try to do everything, and something's gotta give. Usually, it's the studio, or the gym. But today, instead of trying to get everything else done first, I simply said, "I will go to my studio for 90 minutes."
Not for half a day. Not long enough to finish everything on my studio to-list. Just an hour-and-a-half, enough time to complete one major task, and get me one step further down the road.
And it felt great.
It worked, too. I came home to work on my other deadlines, feeling lighter and much less stressed than I usually do.
Tomorrow, I won't list six things I need to do in the studio. (Or I'll put them on a weekly list instead of my daily list.) I'll just list the next step for the project I've laid out for myself, and maybe...MAYBE...one other thing. IF I successfully complete that one simple task.
I'm thinking in the days ahead, I'll make up my own "score sheet". So many points for getting to the studio. More points for attaining my set task. Extra points if I can sneak some more in! So many points for getting to the gym. So many points for taking on ONE (not three, or five, or ten) house management chores.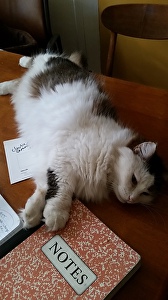 Is my cat telling me to journal?
And my gift for you today (especially you women and caretakers!), here's a poem I wrote about housework, "Song of the Vacuum." Only a wee bit of profanity, I promise.
Because our lives are a heckuva lot bigger than any to-do list.
--------------------------------------------------------
Editor's Note:
Sometimes the idea of starting a website seems like one more daunting task on your to do list, but it doesn't have to be. FASO websites are easy to setup, (even for non-techies), very easy to maintain and they also look great on desktops, tablets and mobile phones. To sign up for a free, no obligation 30 day trial, click here.