This post is by guest author Terry Cooke Hall, This article has been edited and published with the author's permission. We've promoted this post to feature status because it provides great value to the FineArtViews community. If you want your blog posts listed in the FineArtViews newsletter with the possibility of being republished to our 50,000+ subscribers, consider blogging with FASO Artist Websites. This author's views are entirely her own and may not always reflect the views of BoldBrush, Inc.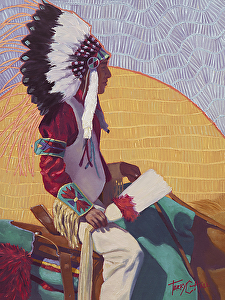 "Sitting Tall", 16" x 12" oil, shown through Buffalo Bill Art Show & Sale

Content but not satisfied. What does that statement mean to you as it relates to your art career? To me, it means that I'm content with who I am as a creator, but I'm not satisfied with where I am in my creative expression. I'm content that I'm able to create and sell pieces of artwork as a profession, but I'm definitely not satisfied with what I currently know and where I am with my creative development. If I was satisfied, that would mean I don't need to strive for growing and evolving – that I've arrived. If that's the case, I might as well pull up the La-Z-Boy in front of my easel!
Skill development has provided freedom in a lot of ways. At my current skill level, I have enough knowledge to produce works that qualify for some shows and galleries. I have enough skills to produce works that make my buyers happy. I know enough to teach skill development to others. There is some contentment in that small amount of knowledge. But I am not satisfied with the limitations of my current skills, and I want to be able to do more – to stretch and challenge – and to create excitement for my followers!
I don't want to have my work seen as the same in 2 years, much less in 5 years. There is a great danger in being known for a special style that's recognizable everywhere. The collectors look for it and buy it because it's recognizable. But should that lock you in forever? Should it be that you only have that "song to sing" until you can create no more? I was recently talking to a gallery leader about an artist who is changing his style and approach. What they're finding is that the buyers are uncomfortable with the artist's changes and are not buying his new pieces. Why should that be a challenge? Why should collectors believe that you should always stay the same? Your skills are your skills and you should be able to apply them in new ways without it being a threat. How boxed in does that artist feel with this reaction to his new works?
My hope is that he'll reject the trappings of familiarity and break away from that box without fear. Decisions like that will give all of us as creators hope that we can move forward, changing and growing, and challenging ourselves to be content, but never satisfied.
---------------------------------------------------
You can view Terry's original post here.
---------------------------------------------------
Editor's Note:
Take the next step in your art journey, join FASO today and start displaying your artwork with a gorgeous artist website. We make it easy to build (even for non-techies) and maintain, we include SSL for all of our websites at no additional cost and we provide you with some great art marketing tools that automate many common marketing tasks for you. So what are you waiting for sign up today for a free, no obligation 30 day trial. Or if you're stuck where you are, or just don't want to deal with the hassle of moving your website, sign up for ArtistEdge today to tap into our great art marketing tools.