Nancie King Mertz
by Informed Collector on 9/13/2017 8:41:52 AM
Informed Collector Recommends:
Nancie King Mertz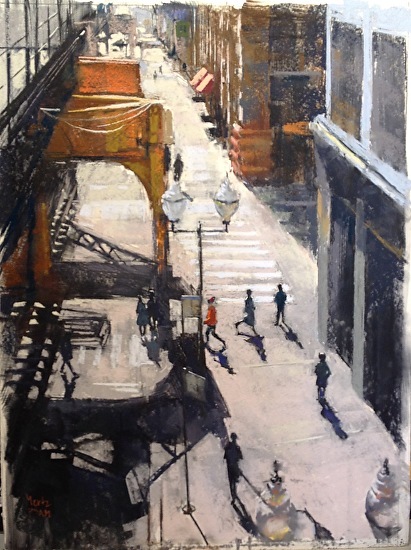 Pastel 23.00 x 19.00
Light Commute by Nancie King Mertz was awarded the BoldBrush Award in the July 2017 BoldBrush Painting Competition.
Biography
An award-winning artist, Nancie has spent her lifetime painting in oil & pastel. Education: Univ of IL--BFA in Painting, where she was a James Scholar; Eastern IL Univ--MA in Painting, served as Instructor of Art 3 years; named 2009 Distinguished Alum of the Graduate School and 2016 Distinguished Alum of the University. She was awarded the Master Circle Medallion by the Int'l Assoc. of Pastel Societies in 2015 and is also a Master Signature member of the Pastel Society of America and the Chicago Pastel Painters. She teaches across the US and internationally and is on the faculty for the Plein Air Convention and the IAPS Convention. The Jack Richeson Co. offers her Urban Set of 80 pastels thru their site and on Amazon.

Mertz has traveled to nearly 20 countries and around the US for inspiration, however, Chicago remains her favorite city to explore and paint, where she was twice named "Artist of the Year". Collectors marvel at the beauty she finds in the urban setting and have said she "softens the edges of the city". Nancie produces well over 100 paintings each year, most on-site. Her work was featured on the cover of Pastel Journal in Feb. 2015, along with a 7 page article on her work. She was the 2011 Artist-In-Residence for the IN Dunes Nat'l Park. See her work on many of the Chicago-themed TV shows. Her husband, Ron, publishes her sold originals in Giclée prints & cards and they own ArtDeTriumph & Artful Framer Studios at 2938 N Clark in Chicago, open 7 days a week.
She offers destination workshops and local demos, and serves as a juror for shows across the country.
PROFESSIONAL AFFILIATIONS:
Pastel Society of America-Master Signature Member

Chicago Pastel Society-Master Signature Member

Int'l Assoc. of Pastel Societies-Master Circle Member

Palette & Chisel Academy of Fine Arts, Chicago

Salmagundi Club, NYC

Oil Painters of America

Degas Pastel Society, New Orleans

Indiana Plein Air Painters Assoc.

Lincoln Park Chamber of Commerce

LakeView East Chamber of Commerce

Philanthropic Council Advocate IL Masonic Medical Center
AWARDS:
PSA: awards in 2016, 2015,Bill Creevy Award 2014, 2013 award

CPP: Best in Show, 1st Pl, and various awards

IAPS: First Place 2017, Award of Merit 2015, 2013 and Master Circle Recipient

Palette & Chisel: Diamond Medal and various awards since 1988

Pastel Journal, various awards, Feb. 2015 cover, and articles, Pastel 100 juror in 2017

The Artist Magazine, various awards

Plein Air Easton! awards 2010 and 2015
First Place Carmel on Canvas

OPA: 5th Pl

Degas Pastel: Honorable Mention 2015, Great American Award 2014,

IPAPA: Award of Merit 2015, Honorable Mention 2014

Boldbrush: the Boldbrush Award and Finalist awards

Distinguished Graduate Alum 2012 Eastern IL University
Distinguished Alum 2016 Eastern IL University

Inaugural Class 2013 Hall of Fame Inductee Arcola High School

LPCofC: Business Person of the Year 2008, Small Business of the Year 2000

Network of Women Entrepreneurs Woman of the Year Award 2000

IN ADDITION TO NANCIE'S ANNUAL SPRING AND FALL SHOWS, HER WORK HAS BEEN EXHIBITED BY:
Pastel Journal Feb 2015 cover Artist and 11 pg. feature story
Plein Air Magazine feature story
PSA Pastelagram 2015 feature story in bi-annual publication
FL Forgotten Coast 10-day Invitational Plein Air Paint-Out, 2015, 2014, 2013, 2012
MD Plein Air Easton! 2015, 2010
PSA Enduring Brilliance Show
Florida's Forgotten Coast Invitational 10-Day Paint Out
Boston, Voss Gallery, IAPS show
NYC, Nat'l Arts Club, PSA's "Enduring Brilliance", awards
MD, Plein Air--Easton! Utrecht Award of Excellence "Best Use of Light"
2nd Place Chicago Pastel Painters
"Best of Show" Richeson 75 Small Works Show Kimberly, WI
Univ. of IL Alumni Center, Jan-July '08
"Medical Arts as Fine Art" Rosalind Franklin University Traveling Show
studio b, Three Oaks, MI
Gallery Wright, VT
Greenhouse Gallery's Masters, TX
"Best of Show" Award, Nat'l Pastel Painters show hosted by Chicago Pastel Painters
Renaissance Hotel, Schaumburg
Cape Cod Painters
Barnsite Gallery, Kewaunee WI
Palette & Chisel Academy of Arts--18 one-person Fall shows
Edwards Heart Hospital in Naperville
Joseph Layton in Galena
Northwestern's Prentis Hospital
Chicago "One-Of-A-Kind" 10 Years
Gallery 415, Chicago
Southside Art League
Palette & Chisel Group Shows
Ottinger Gallery, 2 one-person
Ottinger Gallery, 3-person
The St. Louis Artist's Guild
Springfield Art Association
Chicago Windy City Artists, group
Midwest Pastel Society gold medal
Scottsdale Artist's League
James Thompson Center
Nymeyer Gallery
Indianapolis Athletic Club
Municipal Art League
The Claridge, 3 one-person shows
Gwenda Jay Gallery, 1& 2-person shows Gallery of Holy Covenant United Methodist, 3 one-person, numerous group shows Palette & Chisel Academy, 15 one-person, numerous group, Diamond Medal, Best of Show, and other awards
Learn More About Nancie King Mertz
Services:
FASO: The Leading Provider of Professional Artist Websites.
FineArtViews: Straight talk about art marketing, inspiration - daily to your inbox.
InformedCollector: Free daily briefs about today's finest artists in your inbox.
BoldBrush Contest: Monthly Online Painting Contest with over $25,000 in awards.
Daily Art Show: Daily Show of Art that reaches thousands of potential collectors.