One of the 7 elements in art is Texture - the "feel" or appearance, consistency or inconsistency of a surface. It can be implied or really there.
Have you ever seen someone wear something and you just had to touch it? I remember when I was a child and velour was so popular. I had to touch it! If I wore it, all I did was rub my legs. (HA) Maybe that is why we do not wear velour anymore. It is too distracting! I also remember The velvet Elvis paintings! (that is what I called them). People painted on velour, maybe we should make a comeback and plein air paint on velour. Not sure how that would go.
But painting on a textured surface, definitely adds texture to your painting. What I want to talk about, is the implied texture of a painting or art form. If the texture is really there, such as impasto style paint, (or velour) that is obvious and no one has to tell you a painting has "texture". But implied texture is more of a skill that artists learn, and add to their art.
Texture, implied or not, can create emotions, share messages, or simply add spice to your painting. Implied texture is used, in conjunction with shape and line. Van Gogh was wonderful at creating implied texture with his short brushstrokes side by side, varying in values.
This painting of my garden peppers shows implied texture. It had some impasto style work on there as well, but not much. The variation between dark shadows and light, opposing colors on the color wheel, and the splashes of cool blue, on the warmer red and orange hues, created the implied texture.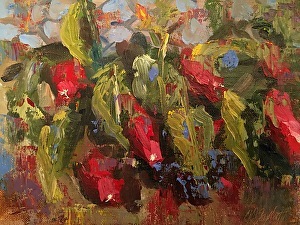 Fur on an animal is "implied texture". This painting I did for a customer shows the feeling of a fluffy dog. I hope it makes you want to brush your fingers through his hair! This is implied texture with the use of curvy lines, small brushstrokes and shapes of color. I did NOT paint every hair. If you find yourself painting every hair, or spending an eternity on a piece trying to "imply texture", go back and start it over. Unless you are a hyper realist painter. These artists can spend months on a painting implying texture. It is just preference.
So if you have questions about "implied texture", I would love to hear from you!
Happy Creating!!!!
-----------------------------------------------------
You can view Jennifer's original post here.
----------------------------------------------------
Editor's Note:
Take the next step in your art journey, j
oin FASO today and start displaying your artwork with a gorgeous artist website. We make it easy to build (even for non-techies) and maintain, we include SSL for all of our websites at no additional cost and we provide you with some great art marketing tools
that automate many common marketing tasks for you.
So what are you waiting for join our art community today!
Sign up today for a free, no obligation 30 day trial.