This post is by guest author Barry Koplowitz, This article has been edited and published with the author's permission. We've promoted this post to feature status because it provides great value to the FineArtViews community. If you want your blog posts listed in the FineArtViews newsletter with the possibility of being republished to our 48,000+ subscribers, consider blogging with FASO Artist Websites. This author's views are entirely his own and may not always reflect the views of BoldBrush, Inc.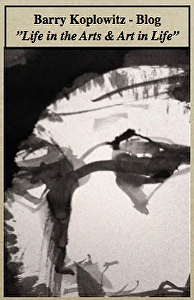 Artistic growth and managing the changes that come with that growth.
Ralph Waldo Emerson once wrote that, "A foolish consistency is the hobgoblin of little minds, ~edited~ Speak what you think now in hard words, and to-morrow speak what to-morrow thinks in hard words again, though it contradict every thing you said to-day."

Much has been written about the pros and cons of style or subject changes regarding their impact on sales and how to slowly make changes and work with galleries. That isn't what I'm writing about. This blog entry is about artistic growth and managing the changes that come with that growth.

Ask yourself the following questions:
Why do you paint?
Why do you paint the subjects you choose?
Is there something you might enjoy creating—possibly even more than what you are doing now—that you do not do out of fear?
In fact, does fear have anything at all to do with your choices regarding subject, style, or materials?

I push my boundaries, yet for the longest time it had a very deleterious affect on my work. It is best described with an example of a critique I received from a NYC Soho gallery owner in the '80s. He said, and I quote—(yes I remember it word for word), "You have a facility with paint but I don't see any commitment." That critique was spot on--and at the same time totally destructive.

In actuality, that period was one of my first big creative leaps. I was exploring lots of new approaches. But--the critique was only destructive because I received it from someone who expected me to be a finished product--and I was anything but that. I was in the middle of a major growth spurt and shouldn't have been showing those experiments to galleries.

When in such a growth period don't seek input from someone that is looking at your stuff as if it were a body of work. It isn't one. It may be the beginning of a new direction--or just a short detour where you work out new ideas. Keep such things to yourself and a circle of friends. Show it to your collectors or galleries in a manner that lets them know that you are not asking them to buy it or show it...just to give you feedback. Then take that feedback as information only, and not a verdict.

Grow and change. If it's going to be a major change you will develop a body of work that you can bring to the world--eventually. Similarly, if it is a phase where you work out ideas, you can do it with boldness and gusto without concern for salability. I wipe off or paint over nearly half of these. (Linen is expensive!) The ones I keep may be salable in the future--if only as studies--or not. It doesn't matter.

In my opinion, my "facility" with paint is helpful but it is the desire to explore that informs my work. At this point, if you see a number of my pieces hanging together the commitment is clear. Yet, each is very different from the other. My goal is for each painting to be an individual. My style is like my handwriting now. I couldn't change it if I tried. (I know because I have tried!) No matter what palette, subject or manner of handling the materials, my "handwriting" is there. It looks like one of my paintings. But so far, no two paintings are interchangeable. I'm kind of happy with the way things are turning out!
------------------------------------------------------
You can view Barry's original post here.
------------------------------------------------------
Editor's Note:
A great way to share your artwork, is with a new gorgeous FASO artist website to display your talent! We make it easy to setup, (even for non-techies), very easy to maintain and they also look great on desktops, tablets and mobile phones. So what are you waiting for join our art community today! To sign up for a free, no obligation 30 day trial, click here. Or if you're stuck where you are, or just don't want to deal with the hassle of moving your website, sign up for ArtistEdge today to tap into our great art marketing tools.