Gaye Sekula
by Informed Collector on 6/12/2017 9:33:52 AM
Informed Collector Recommends:
Gaye Sekula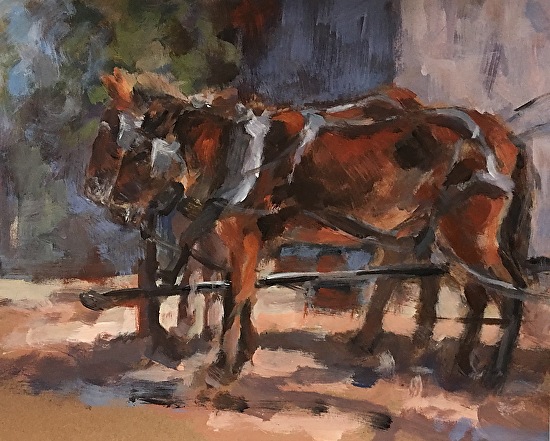 Acrylic 7 x 8 1/2
The Team by Gaye Sekula was awarded Outstanding Acrylic in the April 2017 BoldBrush Painting Competition.
Biography
Gaye Sekula enjoys painting the wonder of the fleeting moment. She feels emotion and liveliness are best captured in simplicity and finds vignettes most suitable to her style. She has studied under such masters as Carolyn Anderson, Albert Handell, Henry Yan, Jeffrey Watts and Zhaoming Wu and has been greatly influenced by Richard Schmid, Tibor Nagy, and Nicolai Fechin. Gaye has been active in the art community for almost two decades serving in various capacities on several boards. She currently serves as Texas State Ambassador for the Portrait Society of America.

Gaye was born in San Antonio, Texas. After several years living abroad, she and her husband returned to settle in San Antonio.
ARTIST STATEMENT
Painting is much like meditation. It is being present and keenly aware, but at the same time, letting go and trusting in all you have learned thus far. Whether it is described as "following the muse", "feeling the hand of God on yours", or "being in the flow", it is something indefinable, yet undeniable. The following quote sums it up quite well, "We lose ourselves in the things we love. We find ourselves there, too."
PROFESSIONAL AFFILIATIONS:
America Impressionist Society, Associate
American Women Artists, Associate with Distinction
Oil Painters of America, Associate
Portrait Society of America, Texas State Ambassador

RECENT AWARDS AND EXHIBITS:
2017, June-July, Discovery Show 2017, Milan Gallery, Fort Worth, TX
2017, April Boldbrush Competition, Outstanding Acrylic
2017, April Boldbrush Competition, Selected as part of the FAV15% (jury's favorite 15% of the entries)
2016, We the People, Keller, Texas
2015 Artoberfest, The Art Gallery, New Braunfels, TX First Place
2015 Aspiring Artists, The Art Gallery, New Braunfels, TX, First Place
2014 Emerging Artists, The Art Gallery, New Braunfels, TX, Honorable Mention
2012 American Women Artists, Tubac, AZ, Selected Artist
2011 Artoberfest Regional Exhibit, The Art Gallery, New Braunfels, TX , Honorable Mention
2011 Shades of Red, The Art Gallery, New Braunfels, TX, Third Place
2009 March, New Braunfels, TX, Artist of the Month
2009 Member's Exhibition, Coppini Academy of Fine Art, San Antonio, TX, Second Place
2008 Artist of the Month, Coppini Academy of Fine Art, San Antonio, TX, Second Place
50 COWBOYS~50 PAINTINGS
The Unveiling of 50 Original Oil Portraits
Atascosa County's Cowboy of the Year, 1966-2015
Date: March 7, 2017 Time: 5:00pm - 7:00pm
Location:Pleasanton Civic Center, 115 N. Main St., Pleasanton, TX
Services:
FASO: The Leading Provider of Professional Artist Websites.
FineArtViews: Straight talk about art marketing, inspiration - daily to your inbox.
InformedCollector: Free daily briefs about today's finest artists in your inbox.
BoldBrush Contest: Monthly Online Painting Contest with over $25,000 in awards.
Daily Art Show: Daily Show of Art that reaches thousands of potential collectors.