This post is by Luann Udell, regular contributing author for FineArtViews. She's blogged since 2002 about the business side--and the spiritual inside--of art. She says, "I share my experiences so you won't have to make ALL the same mistakes I did...." For ten years, Luann also wrote a column ("Craft Matters") for The Crafts Report magazine (a monthly business resource for the crafts professional) where she explored the funnier side of her life in craft. She's a double-juried member of the prestigious League of New Hampshire Craftsmen (fiber & art jewelry). Her work has appeared in books, magazines and newspapers across the country and she is a published writer.
Win them over to YOUR side, and you'll have a cheerleader for life!
We continue on with a series on how to get grounded, and deal with comments or questions that would otherwise throw us off balance. But before we get started, here are my guidelines for building a bridge, and growing an audience.
First, I want to start out with your highest priority in these situations: YOUR HAPPY PLACE.
Second, PRACTICE these responses. They should flow easily and naturally. Otherwise, we can be caught off-guard, and say nothing. That's better than being mean or confrontational, but not much better if it leaves you flustered and fuming.
Third, OBSERVE the results. Do they get flustered and walk away? Do they laugh nervously and leave soon after? Or do they lean in, and look deeper? Here's your easy answer for today: You want them to lean in, to stay, to look more carefully, to appreciate what you've accomplished. And eventually, to decide they need a piece of your work for themselves.
Fourth, FRAMING. No, not picture framing! When artists get lots of comments like the ones we've been talking about, sometimes it's a sign you're at the wrong show. If you're at a show that's more about EDUTAINMENT: An activity that focuses more on teaching, with an entertainment component. Demonstrating is edutainment. I was at a show, the focus of which was music, wine, and food. Partway through, I realized we artists were edutainment, an added bonus for the visitors. For the artists? Not so much.
Or the show features a lot of craftsy artisans (as opposed to fine art and fine craft). Or a lot of new artisans, new to the biz, who either underprice their work, or don't understand HOW to price their work.
Another frame: What is it you are selling? If it's a Do-It-Yourself type of thing, or something that's extremely trendy, or something that takes very little time to make, or very inexpensive materials, or extremely accessible materials, or simply has a very low price point, you should expect this kind of remark. Because DIY is all about…well, how easy it IS to do-it-yourself. You may have taken all this to another level, you may be extremely good at it, your design and color skills might be awesome. But you are still competing with everyone else who does the same kind of thing.
There are ways around all these factors, of course, and some of these work-arounds are your responses to this comment. All the more reason to practice them!
At my very first high-end retail show, a woman went crazy over my fiber collages. She ooohed and ahhhhhed for several minutes, and even asked if she could take a closer look. I said, "Of course!" She looked at the reverse, to see how I'd finished it, and made a comment. I can't remember what I said next, but her response was the dreaded, "Oh, I'm not going to BUY one! I'm going to go home and make some just like these!"
I could have made a snippy remark. I could have told her to get outta there. I could have said, "Well, sure, go ahead and TRY. Haha."
But I remembered that seminary, and I remembered the suggested remark, and I made it, calmly, pleasantly, peacefully:
"Well, these are for the people who aren't as creative as you!"
And I moved away.
She was one who was truly oblivious, and kept looking. But she eventually left. And then, several other people came up to me and remarked, "Can you believe her?! I can't believe how well you responded! You were so professional!"
And they were soon actively engaged with my work, asking about the artifacts, the stitching technique, where I got my ideas, etc.
Here is why you need to practice your responses. Remember when I said, pretend other people are listening?
These folks were either a few feet away, behind me, or arrived while I was engaged with the "crafty one". I didn't notice they were there until after I'd spoken.
If I hadn't practiced my response, if I hadn't PREPARED a response, then yes, they still would have thought the woman was rude.
But if I'd responded in kind, I would have discouraged them from asking THEIR questions. Or they would have beat a cautious retreat.
Instead, they felt safe. And so they continued to look, and ask, and listen, and engage with me.
At the next year's show, when I had my own booth, something similar happened. An older woman entered my booth and took in my work. I greeted her, introduced myself briefly, and told her if she had any questions to just let me know.
After a good look at all my work, she said she was a quilter, too. She really liked my work. She asked if she could buy a single horse artifact. She wanted to use my artifact to make her own quilt.
Wait for it.
I didn't sell my artifacts separately in those days, and I am still especially cautious about doing that. But I breathed (in, out) and calmly, quietly, said that I was honored that she liked my work. But that I didn't sell my artifacts separately. They were very personal to me. They were the very heart of my entire body of work.
Undaunted, she replied, "Well, if I bought a pair of horse earrings, I could just take them apart, and use them, right?"
Again, I breathed in, and out.
Was she being rude? Was she being disparaging? I considered this. Not really. She was simply being honest about her intentions. She wasn't really saying she could do what I do. She was saying she loved what I did, but she would like to use a horse in her own work. (I don't know why this made a difference, but it did. Subtle, I know!)
I think what really made me pause was, she TOLD me her intentions—not defiantly, not in a rude way. She was being HONEST with me. A less scrupulous person would have simply bought the earrings and gloated about how they'd put one over on me.
So I gave her the benefit of the doubt. (Wait for it.)
I told her yes, once she bought a pair of earrings, what she did with them was HER business. I said it evenly, with no rancor or sarcasm. She nodded, and continue to look around.
She stayed in my booth for over an hour. She would occasionally ask another question, about the horses, about the quilting techniques, about the story, etc. As other visitors (and customers—YAY!) came and went, she would step back to give me space, always looking, watching me interact with people, listening to the answers I gave to THEIR questions.
Sometimes I could feel my dander rise again and again, as she asked more questions: How long had I been in the League? Had I been to art school? How had I arrived at this unique fiber art?--but I always caught myself. She was inquisitive, but respectful. I would remind myself, over and over, that she had not crossed the line, really.
Finally, she stood in the middle of my booth, arms folded, standing tall (she was a very short woman) and declared, "I'll take those earrings."
I nodded and started to wrap them up, when she continued, "I think you're going to be big. What's your best piece in here?"
And yes, she bought my best wall hanging ($900!!), and the earrings. With a check that had no address or phone number on it, no less. (She did write them in for me when I asked, but I didn't even check her driver's license.) (YES, a huge leap of trust on my part.)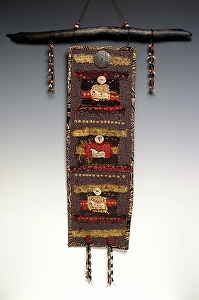 Ruth's purchase on that fortuitous occasion.
Ruth continued to come to my booth every year, for the next 14 years, except for the year her dog was dying. (She sent me a sweet notecard apologizing, letting me know why she wouldn't be in.) She bought several major pieces over the years, and always bought something—earrings, necklaces, smaller framed pieces, for herself, and for others—over the years. Her daughter began to accompany her, and SHE bought work from me, too. When they came to my open studios (several hours' drive for them), they stayed and talked, and oohed and ahhhed over my fabric stash, my drawers full of odds and ends, had a glass of wine, etc. She always asked how I was progressing with my art. And the year I left, she said when she died, she would have my work donated to a regional quilt art museum in New Hampshire.
She never took the earrings apart. Instead, she realized she could wear them in her "aquasizing" classes, as they wouldn't be damaged by the chlorine in the pool. She continued to add to her collection of water exercising jewelry til I left New Hampshire.
Stop now, and imagine what would have happened if I'd responded to her comment in a different way... !!
Her questions were her way of determining if I were someone worth investing in. Someone to encourage, to support, with her purchase. Someone who would stay the course, who had what it takes to "get big". (I don't know if I have, or if I ever will. But I do know I have what it takes, and I've done all the right things.) Ruth was my very first patron of my art. I treasure her friendship, her respect, her patronage.
Now, MY gaffe is that sometimes I share the story of that first encounter, until I finally realized she feels a little uncomfortable about it. Which shows me that she really had no idea how obnoxious it could have appeared to me. She had NO IDEA she was creating tension, or frustration, for me. She had NO INTENTION of insulting me, or using me to make herself look special.
And I am forever grateful I didn't act on my assumptions!
Okay, YOUR TURN!!
How have you handled this comment? If you share, I want you to be open to feedback, tweaking, suggestions. (If it's perfect, I'll tell you that, too!)
And, as always, if you prefer to handle this comment differently, that's your prerogative. If that's right for you, if it works for you, fine. But also understand that I prefer to choose a higher road, for my sake, if not for the customer's sake, and the other people around us.
I prefer to feel good at the end of the day. I hate it when I let go of my happy place, and seethe. Yes, my lizard brain would have enjoyed telling both of these two visitors exactly what I was REALLY thinking.
But that's the power of our choices.
We GET to choose!
P.S. Thanks to Susan Vignola, who shared this Facebook post: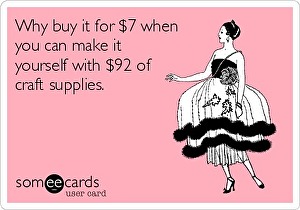 ------------------------------------------------------
Editor's Note:
Sometimes the idea of starting a website seems like one more daunting task on your to do list, but it doesn't have to be. FASO websites are easy to setup, (even for non-techies), very easy to maintain and they also look great on desktops, tablets and mobile phones. To sign up for a free, no obligation 30 day trial, click here.