Informed Collector Recommends:
Danny Griego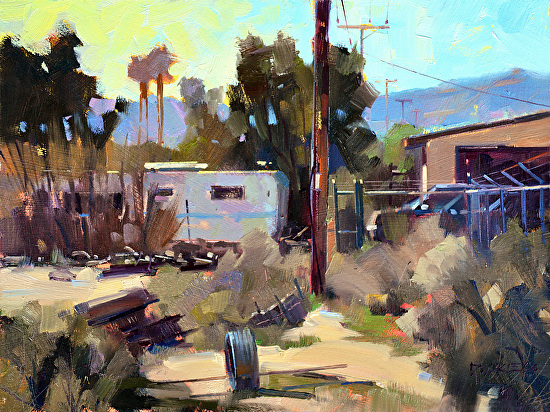 Oil 9 x 12
El Rancho Morning by Danny Griego was selected as a Finalist in the March 2017 BoldBrush Painting Competition.
Biography
I've called San Diego my home for nearly 25 years. Honestly, there is no other place I would rather live. Aside from it's beauty and prime location, it's an artist's playground - especially a plein air artist like myself. Unlike my home state of Colorado, here I can go out and paint unimpeded by rain and snow almost any day of the year.

So how did this Midwest guy end up in San Diego?

I was born and raised in Greeley, Colorado. In 1991 I received my BA in theatrical scene design and scenic art from the University of Northern Colorado. I worked about 23 years in the world of theater as a scenic artist, ten of those years as the charge artist at the Old Globe Theater located in Balboa Park, which is what brought me to San Diego.

As a lead scenic artist I painted and sculpted scenery for the stage, planning and executing large canvas drops and set pieces as background elements for musicals, comedies and dramas. As the lead artist on these productions I was required to have the skills to do any style of painting from any period in history; have a working knowledge of all the materials, tools, and products involved in prepping, texturing and painting large sets in a minimal amount of time; have fluent skills in color matching, faux finishing, carving, and tromp l'oeil; and managing a crew of craftsmen and women.

Designers and directors tapped into my skill to help them realize their visions for theatrical productions. There were hundreds of shows over the years, many of which were world premiers that went on to Broadway.

Working in theater was a lot of hard work and fun, but I had this thing called the "art bug". It's been with me since I was a child, as far back as kindergarten. It's a powerful force like nothing else. But there was competition. Later in my adult life I got the "home brewing bug", which has similar characteristics. That one I've had since 1989.

Home brewing you may ask? That's right. I was an award-winning home brewer. I made some awesome beers and I seriously contemplated a career in brewing - but my calling to Art was a force to be reckoned with.

During my time at the Old Globe Theater I had the opportunity to attend Watts Atelier to study art and I jumped at it. Owner Jeff Watts and the amazing instructors at the school put me on the road to "seeing" like an artist. Soon I was living a steady diet of working at the theater, brewing beer and going to art classes . . . life was awesome! But something had to give. I was spreading myself too thin.

I made the decision to retire from theater in 2004 and became a licensed contractor. In no time I was painting murals, doing faux finishes and decorative painting in some of San Diego's most beautiful neighborhoods and homes. Walking away from a job I could have been at for the rest of my life was terrifying - but becoming a contractor turned out to be one of the best decisions I ever made, because I scheduled my own hours, made more money, and had more time to pursue art.

Eventually my love for Art even edged out my tasty ales. I sold my two brewing refrigerators and put all my equipment into cold storage to make more room in my home for a studio. I continued take classes at Watts Atelier, and wound up in workshops taught by artists like Robert Watts, Carolyn Anderson, Matt Smith and Brian Blood. Learning from these masters was life-changing.

Now, I feel like I'm on the cusp of realizing my dreams. It hasn't been easy - life gets tough here and there and setbacks are part of the natural rhythm of things. I think most of the world can relate to that. The beautiful thing is that we all manage to GO ON - and that's what I continue to do. I don't regret leaving theater to follow my bliss.

Simply put, I love art and I'm enjoying the hell out of my career . . . and I still manage to savor a great beer now and then!

Man made and natural wonders collide!
Most of my inspiration stems from how landscapes integrate with urban settings. I find great interest in how sturdy man-made structures coexist with organic forms of nature. Alleys, freeway bridges, on-and-off ramps, shabby buildings, construction sites and subjects that don't get a lot attention are of particular interest to me. Things that evoke a bygone era, things that have a sense of history because it's been around for a while. I get a good charge out of depicting the nooks and crannies of ignored subjects that don't get a second look from the public. Through use of color and paint application I hope to convey to the viewer that these places deserve another look. I like to go where concrete, wood, and steel meet nature.