This post is by guest author Mike Barr, This article has been edited and published with the author's permission. We've promoted this post to feature status because it provides great value to the FineArtViews community. If you want your blog posts listed in the FineArtViews newsletter with the possibility of being republished to our 48,000+ subscribers, consider blogging with FASO Artist Websites. This author's views are entirely his own and may not always reflect the views of BoldBrush, Inc.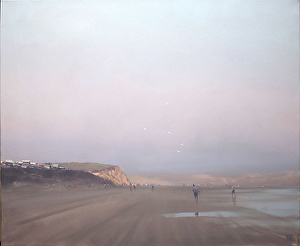 Painting, like any skill, can look easy when you see a seasoned artist at work. In certain respects painting is like driving a car. When we first get into the driver's seat as a learner, our brains are in overload with so many things to think about and that's without taking into account what is going on around us on the road. We wonder how on earth anyone can drive with confidence as they do! We have to think about every single gear change, how the clutch is working in conjunction with the accelerator and then we have to negotiate the road and other cars too. Every single move we make is a conscious tentative effort.

When we can drive with confidence, we do so without thought. We are not thinking about gear changes or mirror looking or braking. These things become secondary to what is happening on the road, with all of our concentration on safety and of course just enjoying the drive. Everything about the mechanics of driving becomes automatic and intuitive.
Painting is just like that. No matter how 'talented' we may be, no one picks up a brush or pencil and produces great art - it just doesn't happen. Every good artist you see, started off at the bottom and produced beginners stuff. Every artist that produces great work now, produced some awful stuff at the beginning and worked their way to the top. It's the same with any skill.

Just like driving, we begin our art journey over-thinking the mechanics. We wonder how to hold a paintbrush, how to obtain certain colors by mixing others, how to understand tones, how to make paintings look convincing and lots of other things. Over time, intuition takes over. We look at a color in nature and pretty well know how to get it by color mixing and not by consulting a color chart. By not having to think about the mechanics, artists can concentrate on all the things that can make a painting a good one and we can really enjoy the process without being overly concerned on how we are doing things.

So, how do we get such intuition? The answer is simple, and that is lots of painting, learning by our mistakes and reading and listening to what the experts have to say. Painting intuition or instinct can be fast-tracked by painting lots of small works and not getting bogged down in a painting that takes weeks to complete. Better a 100 one-hour sky paintings than one 100-hour sky painting. It will take 10,000 hours for the long painter to be equal in experience to the one who does 100 one-hour paintings.

Time, repetition and speed are the keys to painting intuition and that power is within the reach of all of us.
------------------------------------------------
You can view Mike's original post here.
------------------------------------------------
Editor's Note:
Having a beautiful website to display your artwork has never been easier! FASO makes it easy to setup, (even for non-techies), easy to maintain and they also look great on desktops, tablets and mobile phones. So what are you waiting for, join our art community today! To sign up for a free, no obligation 30 day trial, click here. Or if you're stuck where you are, or just don't want to deal with the hassle of moving your website, sign up for ArtistEdge today to tap into our great art marketing tools.