This post is by Luann Udell, regular contributing author for FineArtViews. She's blogged since 2002 about the business side--and the spiritual inside--of art. She says, "I share my experiences so you won't have to make ALL the same mistakes I did...." For ten years, Luann also wrote a column ("Craft Matters") for The Crafts Report magazine (a monthly business resource for the crafts professional) where she explored the funnier side of her life in craft. She's a double-juried member of the prestigious League of New Hampshire Craftsmen (fiber & art jewelry). Her work has appeared in books, magazines and newspapers across the country and she is a published writer.
It's easier to let go of stuff when it goes to a good home, AND nets you a few bucks, too!
The hardest part about a major move is letting go of stuff.
We want to believe we can take everything. Usually, that's not how it works.
If you move across the country, then everything you take has a cost, based on its size and/or its weight. If you have to move in a hurry, then everything you take will take precious time. If you have to downsize, then you will invest a tremendous amount of emotional energy deciding what goes with you, and what goes out the door.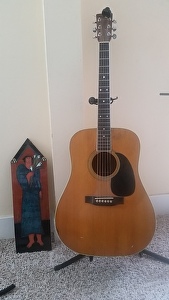 The things you leave for last are not necessarily the least important.
What's made those decisions easier for me is two-fold: Giving something to someone or some group that will benefit tremendously from your generosity. And getting some compensation back—e.g., money.
Today let's talk about the best ways to sell the stuff you can't/don't want to take with you.
It's hard to believe (or maybe not!), but the internet has drastically changed how we sell stuff. And many traditional ways aren't very useful any more.
Yard sales used to be the best way to move stuff on. Hey, in one day, people pay you money to haul your stuff away! But I've found that selling to an untargeted audience can be inefficient and frustrating. It takes time to gather up the items you want to sell, space to store them until the Big Day, and hours to price everything. (And yes, you have to price stuff, because people get tired quickly asking "How much?" and then hearing a price that's not attractive. Just like doing shows, actually….) I can guarantee that if you fairly price (or vastly under-price) a nearly-new item or a prized collectible for a quarter, someone will offer you a dime. That's just the yard sale mentality.
The worst part is, the stuff that's usually left over is even harder to get rid of. Many thrift shops and consignment places won't accept yard sale leftovers, especially with price tags. (Yep, all that time you spent pricing? Hah!) Over the years, the stuff we were sure would sell, languished. And the weird stuff sold quickly. Add on the cost of advertising it in your local newspaper, and making signs (and taking them down after), and you have an event that sucks up precious time and energy.
Craig's List used to be a great place to list your items. But although buyers may be looking for your wares, it's still a crap shoot, except for items like furniture. It takes time to list each individual item. And Craig's List sometimes attracts the wrong kind of people into your life, which is why some sellers (women who live alone, e.g.) are reluctant to list items altogether. (Artisans who work in gold or silver rarely list their home address or allow 'just anyone' to their residence.)
Freecycle was a great place to list items to give away. But it seems like it's presence has lessened over the years, and selling items is not allowed. (This may be different for other areas of the country, so do check it out for donating items.)
The good news is, there are two online venues that offer safer and more efficient ways to offload art and fine craft supplies you no longer need. And they can both help you target a specific audience, too.
The first is NextDoor.com. This online neighborhood site has been helpful in our destashing, not just for sales, but for identifying non-profit groups that would best benefit from my donations—especially since we're still pretty much new to the city here. It works sort of like Craig's List, except you can select neighborhoods rather than regions for your target audience. For example, on CL, my offerings post to "North Bay" in California—quite a large area! On NextDoor, I can talk to people in my own neighborhood or throughout Santa Rosa, and surrounding smaller towns. It just feels more "neighbor-ish".
The second resource has been pure gold for me. It's a group called The Artist Garage Group on Facebook, and it's made for destashing supplies, displays, equipment, even show items—portable cases, booth walls, lighting, etc. All items are available either for local pick-up or at shows across the country, or for shipping/mailing.
The group was started by a good friend, an artist who does major shows across the country. She and a friend had the brilliant idea of creating an annual local artists' garage sale. Artists of all kinds could rent a space for a modest fee, and sell off anything that was part of their business except for finished goods. It was hugely successful! She said the biggest problem was that after doing the show a few times, artists had pared their overstock down to the point where they didn't have anything left to sell. What a good problem to have! Fortunately, there were always plenty more artists to participate.
Bonnie inspired me to create an artist garage sale in Keene just before I left. It was hugely successful, too! Almost every artist wanted to do it again. Unfortunately, we'd moved by the next year. Also, it took so much work on my part, I didn't have a chance to sell my stuff! It made me truly appreciate the work that goes into managing a show, even a garage sale show.
A few years ago, the show expanded to the internet, and The Artist Garage Group on Facebook was formed. And it's been hugely successful for buyers and sellers alike. What sets it apart from other online destash groups is its sheer size: Over 15,000 members, and growing every day! You are sure to find an appreciative audience for almost any art and craft supply you want to sell.
There are rules, all of which have arisen from issues that arose over and over for the two moderators. When you apply to join, you must indicate that you've read and understand the guidelines. It takes a lot of work to manage a venture like this, and it's done by the two volunteer moderators. It helps to have a PayPal account for buying and selling.
But there is no charge to participate. Although only one post per person per day is allowed, you can group many items (with images) together in an album and post that. (That is actually preferred to single daily posts.) Most of the members are professional artists and craftspeople, which means they understand wholesale quantities and wholesale pricing. Some online destash sites have sellers offering such small quantities for correspondingly low prices, it's just not worth my time. Sell ten pin backs for $5? Or 200 pin backs for $50? Hmmmmmm.....
Best of all, usually you have a big audience for your stuff! Sometimes items sell within minutes of posting, which is really neat. And often, you can get a fair price for your items, which is extremely gratifying! I made more in one day selling off supplies I no longer use or need than I have doing shows.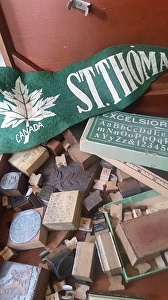 Oops. Forgot to pack these. Time to sell them??
Although not everything has to be sold, making some money from streamlining your supplies has an exhilarating effect. Someone wants your stuff and is willing to pay a fair price for it! It makes it easier to let go of so much, to the point where it's easier to donate the rest. (After all, not everything is about the money.)
And while you're busy listing and selling your own stuff, well, who's going to notice if you start shopping there, too? (Please don't tell my husband about this part.....!!)
Next time I'll share tips for donating. Just as gratifying. Just as worthwhile. And now I have to go load up the car again. Till next time!
----------------------------------------------------
Editor's Note:
Sometimes is all seems overwhelming, doesn't it? And the idea of starting a website seems like one more daunting task on your to do list, but it doesn't have to be. FASO websites are easy to setup, (even for non-techies), very easy to maintain and they also look great on desktops, tablets and mobile phones. To sign up for a free, no obligation 30 day trial, click here.