This post is by guest author, Crystal Rassi. This article has been edited and published with the author's permission. We've promoted this post to feature status because it provides great value to the FineArtViews community. If you want your blog posts listed in the FineArtViews newsletter with the possibility of being republished to our 48,000+ subscribers, consider blogging with FASO Artist Websites. This author's views are entirely her own and may not always reflect the views of BoldBrush, Inc.
I have this inner battle with fairs vs galleries. Do fairs devalue my work? Am I an established artist if I have gallery representation? Will people only buy the cheap stuff at fairs and skip the the high end work and commissions? What do I do, what do I do?
I've been in markets and fairs before. The smaller kind where tables are free or cheap. Sometimes, I sell a few, sometimes I sell none. For the most recent one I spent hours and hours sketching art cards because I knew the type of sale was more crafty than artsy where people want deals, not necessarily heirlooms. And I was right. The cards sold amazingly, but there was no profit after you consider the materials, gas to drive there, and time to make the cards. One thing I will say is that I had a lot of genuine appreciation for my work which led to serious inquiries about workshops and drawing/painting lessons. This in turn led to an actual sketch class. Cool. Sometimes, these fairs lead to future commissions which is also great, and has happened for me, but I really have to stress that if one wants to be in a craft/art show or fair with paintings, first go for fun, then go for profit. People don't like to be caught in a sales pitch but rather have genuine conversation with the artist and know that the artist really enjoys what they are doing. Of course, don't forget about your sales pitch but do be genuine.
I nearly forgot to have fun during my preparation for my last fair showing. I worked endlessly on art cards for weeks while the laundry and dishes piled up. Suppers were no more than sandwiches and all for what? A measly $100 at the end of the fair??! But while I was sketching these art cards, I realized how much fun they actually were to create. I went back to ink and watercolor which I haven't used in years, and just created simple fun pictures that people really enjoyed. I also brushed up on my sketching skills. So what if it was a measly $100 at the end of the day? I spent time in the sun, met some great people, made a few bucks, and started a sketch class. Some artist may make big bucks at fairs while others do not and that's what I mean about having fun. Regardless of how much you make, have fun. Below are some pictures of the art I had a ton of enjoyment making.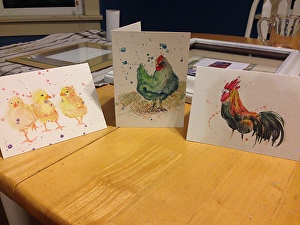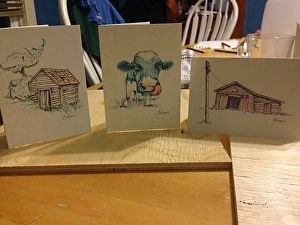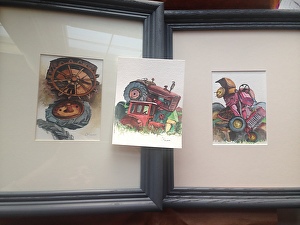 Then there's galleries. You don't have full control over your sales in a gallery nor are you able to collect buyers information to see who bought what - did a politician buy it? A business owner? A banker? Are they local, national, international? It would be sure interesting to know and great on your CV if you can write "Internationally renowned artist", or "collected by politicians, banks, and restaurants...". And if you don't know who your selling to, you cannot ensure your work doesn't get sold at auctions without you knowing for profits you'll never see. Arguably - who cares? Does a furniture maker get a cut of sales every time a table or hutch is sold? Does a contractor get a cut from every house that he/she built when they are sold? Nope. Anyway, galleries have a good potential to sell items much higher in price than an art or craft fair. But like fairs, some galleries can sell your work very well while others do not. Both fairs and galleries can be a gamble until you find the right ones that work for you.
So, if you're an artist like me with this dilemma - art fairs or galleries? Do both. Have fun. Make art. Life is short.
---------------------------------------------------
You can view Crystal's original post here.
-------------------------------------------------
Editor's Note:
Having a beautiful website to display your artwork has never been easier! FASO makes it easy to setup, (even for non-techies), easy to maintain and they also look great on desktops, tablets and mobile phones. So what are you waiting for, join our art community today! To sign up for a free, no obligation 30 day trial, click here. Or if you're stuck where you are, or just don't want to deal with the hassle of moving your website, sign up for ArtistEdge today to tap into our great art marketing tools.