This post is by guest author, Sharon Allen. This article has been edited and published with the author's permission. We've promoted this post to feature status because it provides great value to the FineArtViews community. If you want your blog posts listed in the FineArtViews newsletter with the possibility of being republished to our 48,000+ subscribers, consider blogging with FASO Artist Websites. This author's views are entirely her own and may not always reflect the views of BoldBrush, Inc.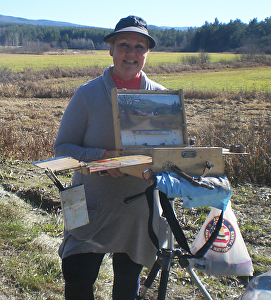 In the field ... bliss!
I don't know of a single artist who says s/he wants to spend more time dealing with the business end of art and less time at the easel. There may be some out there, but I don't personally know any of them. All of the artists with whom I'm acquainted wish that they could hire a business manager, office assistant, PR manager, inventory assistant, etc so that they could just create their art and not have to deal with business stuff.

Last night I attended a fun and, I think, worthwhile and productive "Arts & Hospitality" event which was created to put artists in direct face-to-face contact with business folks in the hospitality field: innkeepers, restaurant owners, shop owners. There were about 20 of each, artists and business owners, and after a delightful treat of gourmet pizzas and pastries the event became a "speed dating" session. Artists were to sit 1 per table and the business owners were to rotate around the room from table to table, with a 2 minute limit per swap to introduce ourselves and tell why we were there and what we hoped to gain ... that's just 1 minute per person! Most were prepared with business cards and/or brochures which made it a little easier, but wow does one have to talk fast and concisely to sell one's business/product in just a minute! It was fun, and I would do it again in a heartbeat.

This particular event was not in my area. Attendance required a drive of 1 hour and 36 minutes each way, so 3 hours out of the day without counting the 2 hours or so of the event itself and another hour or so to shower and get into non-painting clothes to be presentable for the event. That's a good chunk of time out of home and studio. And if one plans to actually gain anything from that time invested, one needs to do follow-ups, which takes more time away from the creation of art.

Knowing that I'll be out for a painting mentoring session tomorrow morning and then again on Friday to meet with artists to get paintings for a group exhibit that hangs in a week or so, I decided that I wanted to do those follow-ups this morning. I don't know if, in common day etiquette, today is TOO soon and makes me look too eager or even desperate, but I didn't want to wait until after the weekend. My thinking is that follow-up e-mails sent today show that I really am sincere in what I presented last night, and it also allows for half a chance that the business owner can still "put a face to" my e-mail. At least that's what I'm hoping.

So, in taking care of the business end of art, you can count me out of studio for another 5 or 6 hours. Yes, I created a basic form "Nice to meet you last night" e-mail to make it easier, but I had to include something personal in each one, and then there was the matter of entering all of those names and emails into my email address book. I won't take the time to add them to my art software database just yet, I'll enter each one there when I have positive response from them.

Time consuming as it is, this kind of networking and follow-up is essential if you want to expand your painting and photography locations, your exhibit venues, and your client base. And simply attending a networking session like the one last night serves no purpose if YOU do not take the initiative to follow up immediately afterwards and then again in a month or more in the future, depending on circumstance. If you take your newly acquired stack of business cards and brochures and put them in the basket on your desk, there's no reason for you to think that those folks at the other end aren't doing the same thing. Think in terms of fishing: you need to show the fish your bait and keep that bait dangling until the fish nibbles!

I still have more address book entries to do, so I have to get back to it!
So much to paint, so little time ... but reserve a chunk for marketing!
---------------------------------------------------
You can view Sharon's original post here.
---------------------------------------------------
Editor's Note:
If you want to start emailing your powerful

list of

serious

prospects,

now is the time, to

sign up for a free, no obligation 30 day trial, click here. The ArtfulMail Newsletter Platform (what we use to manage this newsletter) is included, you'll be featured in Informed Collector when you activate and, to ensure your marketing is effective on an ongoing basis, your account will include our automatic marketing through My Informed Collector as well as free monthly contest entries. Or if you're stuck where you are, or just don't want to deal with the hassle of moving your website, sign up for ArtistEdge today to tap into our great art marketing tools.