This post is by guest author, Deborah Ridgley. This article has been edited and published with the author's permission. We've promoted this post to feature status because it provides great value to the FineArtViews community. If you want your blog posts listed in the FineArtViews newsletter with the possibility of being republished to our 48,000+ subscribers, consider blogging with FASO Artist Websites. This author's views are entirely her own and may not always reflect the views of BoldBrush, Inc.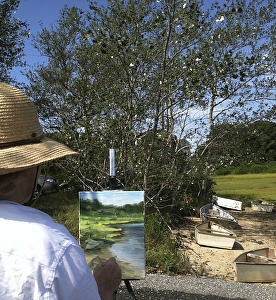 About 5 years ago, I had a post on painting plein air and recently had many requests to post it again. With the summer season upon us, many artist like myself are out painting in the gorgeous weather. And it's not always as easy and comfortable as painting in your studio.

Here is a list of tips and supplies that could help make your job easier:
1. You do not put EVERYTHING in your painting. Select and choose what is really important. Include strong elements your landscape and let a lot of the details go.
2. Use your imagination. Don't hesitate to rearrange the elements in the landscape to work in your favor for a better composition. Obviously this does not apply if you are painting a famous or Cincinnati landmark. But you do not have to follow the scene exactly.
3. Remember you are not painting a postcard scene but trying to capture the essence of the landscape.
4. Give the foreground preference. Don't paint the whole landscape in the same degree of detail. Paint less detail in the background and more detail in the foreground.
5. You are not cheating if you buy green paint. If you are using a limited palette and want to mix your green, you will get a nicer variety of greens, but it certainly is not cheating if you want to buy green paint to make your life easier.
6. Get to know how to mix good greens. The variety and intensity of greens in nature is awesome. When mixing green think, is it more blue or more yellow. And the time of day will change for the same scene. The am (morning) may have more of a yellow green cast on trees and the pm (evening) may have more of a blue green cast. Trees in the far distance seem to be more blue and purple tones.
7. Instant muted greens – To get a more muted green, use black with cad yellow or any yellow. But remember to ADD black TO the yellow, not the other way around yellow to black. It would take a huge amount of yellow to lighten a black, and you really only need a dap of black to a pile of yellow for a nice muted green.
8. Do a Series of the same scene. Think Claude Monet. He did water lilies until he was blue in the face. If you paint the same scene a few times in different light, you will not be bored, but you will start to really see the shadows more correctly.
9. Next time you are at the bookstore, pick up a copy of "Plein Air" magazine.
10. Have fun.... it will show in your painting!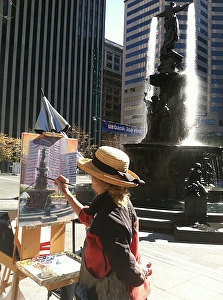 Suggested Plein Air Painting Supplies:
The limited palettes are a little easier to use outside....white, red, yellow and a blue.
Sizes of supports – Since the light changes so fast, most smaller sizes are good. 8 x 10, 9 x 12, 12 x 16 or 14 x 18.
Brushes- Brights, flats, filberts or rounds. Sizes 2, 4, 6, 8, 10
A view finder is good for selection of your scene or two corner ends of a mat held together.
A field easel. I found one at hobby lobby for $13. And love it. It is light and portable.
Paper towels and a bag for trash
Hat, sunscreen, bug spray and bottle of water
Solvent should be in unbreakable container
There may or may not be shade available, include a brimmed hat in your gear.
A folding chair or table is nice but not necessary
I sometimes use a white hook-on umbrella above my easel to keep the sun off the painting. If sun shine hits your painting, the light is too bright and will confuse you when you are mixing colors. When you are working, remember to have your canvas in the shade.
Hope this helps and happy painting!
Deborah
------------------------------------------------------
You can view Deborah's original post here.
-----------------------------------------------------
Editor's Note:
Having a beautiful website to display your artwork has never been easier! FASO makes it easy to setup, (even for non-techies), easy to maintain and they also look great on desktops, tablets and mobile phones. So what are you waiting for, join our art community today! To sign up for a free, no obligation 30 day trial, click here. Or if you're stuck where you are, or just don't want to deal with the hassle of moving your website, sign up for ArtistEdge today to tap into our great art marketing tools.