This article is by Carolyn Henderson, the managing half of Steve Henderson Fine Art. A regular contributing writer for FineArtViews, Carolyn's alter ego, This Woman Writes, publishes lifestyle articles in online and in print newspapers and on her blog site. The co-owner of Steve Henderson Fine Art with her painter husband Steve, Carolyn is the author of Grammar Despair: Quick simple solutions to problems like, "Do I say him and me or he and I?" and the money saving book, Live Happily on Less.
If a phrase or concept is repeated enough, and its message extended wide enough (two major components of propaganda), then people tend to believe it. Like this one:
The Internet is the great equalizer. Anyone can post on it, and anyone can get their message out there. It's one of the biggest benefits to free speech in all of history.
Well, that's sort of true. At the moment, in many countries that are not openly and blatantly totalitarian, the average person can create a website, post on Facebook, Tweet on Twitter, and snap away on Instagram, and their work can theoretically be seen.
In this great big egalitarian utopia, however, one is reminded of a line from George Orwell's Animal Farm, an allegorical tale of life under communism:
"All animals are equal, but some animals are more equal than others."
Or, in social media world,
"All people can post on social media, but some people's posts will receive much more attention and promotion than others."
Yes, you as an artist businessperson can – and should seriously think about – posting on social media because yes, it is free, and yes, you can "grow" your viewers and thereby increase exposure to your art. At the same time, however, it is wise to be cautious of the numbers game, something that is a major component of social media, and not be drawn into emotional discouragement or financial poverty by seeking to drive those numbers.
A meme: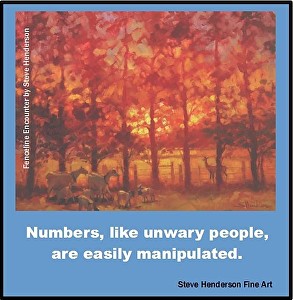 Social media numbers, as with results from advertising, are driven by money, power, and influence, and if you are not wealthy, powerful, or influential, you cannot expect to see the same numbers as when a celebrity Tweets, or a pop star posts a YouTube video, or an Influencer writes on LinkedIn, and no matter how "compelling your content," if it isn't placed on the front page or popped up in front of people's faces, it won't reach as many people. The idea that it can and does if you only work smart enough, hard enough, and savvy enough, is naive at best, and too often, disingenuously deceptive.
That being said, it's worth posting on social media regularly, tenaciously, and perseveringly – like a terrier worrying a gopher – because somebody, somewhere, at sometime will see it, and the more you post, the more somebodies, somewheres, and sometimes you have potential of reaching.
Aside from the obvious caveat of posting something worth seeing – a finished work, a well-written blog on something you know about, a salient comment, a link to a site you find meaningful – consider using two or more platforms, simply because they each have their advantages and disadvantages. All of them appear to employ an algorithm of some sort or another, "choosing" what viewers will see, but some seem more restrictive than others.
Because it's social media, we're told that we need to not just post and run, taking time to comment, like, or share other people's posts, and while this is true and generally polite, it does not appear to be the attitude that the mega-corporations, celebrities, or "influencers" take when they use the platform:
To wit: Ordinary people see a promoted ad, product, or article and comment on it, but it's rare to see the flip: a comment from a mega-corporation, major news platform, prominent blogger, or social media guru on an ordinary person's site. This is an obvious, yet not unusual example of how the rules are different for the big big guys from the little guys, yet we are all given the impression that we're using the same playbook.
We're not. Small people are small, and the way we get our voice out there is to keep using it. Social media use is a fine line between talking about ourselves all the time and interacting with others. Because we are dealing with people on some level, it is difficult to create an equation or mental algorithm of how much to do of each, but let commonsense be your guide:
Always reply to comments (unless they're troll-y ones). Make salient comments yourself on other people's posts.
Look around the social media site and see what interests you – if you find something, pass it on.
When you seek to engage people, do so because they're people, not because they're potential contacts who can advance your agenda.
Which brings us to the concept of networking, one that is fraught with issues, and which we address next time in Marketing Techniques Artists Feel Pressured to Use – Networking.
-------------------------------------
Editor's Note:
When you're ready to take a fresh approach to marketing your art, a professional and secure website can be your most valuable tool. And FASO is the easiest way to build (even for non-techies) and maintain a gorgeous website, we also include amazing marketing tools that automate many common marketing tasks for you. To sign up for a free, no obligation 30 day trial, click here. Or if you're stuck where you are, or just don't want to deal with the hassle of moving your website, sign up for ArtistEdge today to tap into our great art marketing tools.