This article is by regular contributing writer, Kim VanDerHoek. Kim VanDerHoek is an award winning artist and art instructor from California. Her work is evolving from an impressionistic style to an exciting contemporary ascetic. Kim is pushing the boundaries of her art to express more about how she sees the subject and less about the subject. While not at the easel, she is also the co-owner of Art Muse Contest, an online competition that offers artists the ability to compete at their skill level for cash prizes and opportunities for gallery representation and exhibition.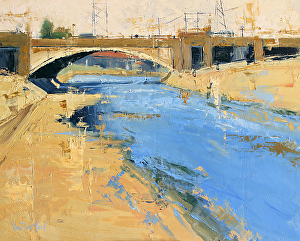 "The Channel" Oil on 16" x 20" panel
When teaching I've been asked if a painter can hide the fact that they can't draw, if they paint really loosely. Immediately an image of a magician doing a card trick pops into my head as I imagine how a painter might employ that same type of visual slight of hand.
The student asking the question is usually disappointed with my answer and they then proceed to try to prove me wrong by slapping as much paint as possible onto their canvas.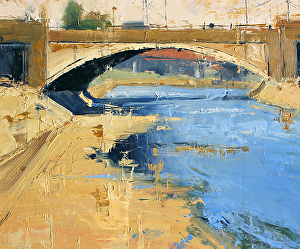 What do I tell my class when this question comes up? No, you can't hide a weak drawing by painting loosely.
The structural framework of a piece is absolutely critical even in a painterly painting. The best artists are the ones who know which edges they can obliterate and which edges are important to keep intact so that the form is readable to the viewer. Nicolai Fechin was a master at painting both loosely and accurately.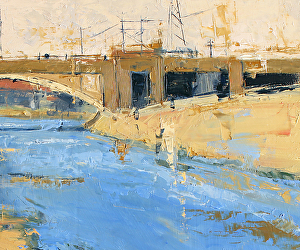 So, if you're an artist, draw. All of us need to draw more (myself included).
While I'm not the most painterly painter around I've been pushing into that territory a bit more with my Los Angeles River Bridge series. The painting above was inspired by the small plein air painting below.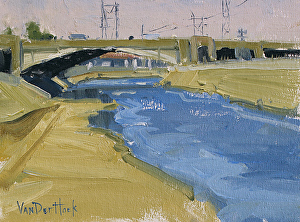 "L.A. River Bridge" Oil on 9" x 12" panel
------------------------------------------------
You can view Kim's original post here.
------------------------------------------------
Editor's Note:
A great way to share your artwork, is with a new gorgeous FASO artist website to display your talent! We make it easy to put together, very easy to maintain, and there is a Positively Remarkable Support Team to help along the way. To sign up for a free, no obligation 30 day trial, click here. Or if you're stuck where you are, or just don't want to deal with the hassle of moving your website, sign up for ArtistEdge today to tap into our great art marketing tools.