I often coach artists on the best way to market their art on the internet. An important component of this strategy is having a great looking artist website like the ones we offer here at FASO, and then driving collectors to your website to engage with your art. One of the first two questions that I typically ask the artists that I work with is how much traffic does your website get today and where does that traffic come from? The answers to both are critically important if you ever want to grow your collector base online, and here's why. Successfully marketing yourself online is an ongoing process of trial and error where you need to quickly identify what is working for you (so you can double down on those activities) and what isn't (so you can stop those activities and cut your losses). Without good and timely data to help you, it's next to impossible to get this process right.

Analytics is a term used to describe both the act of analyzing website data and the tools one uses to conduct this analysis. Unfortunately, when most artists think of analytics they envision complicated spreadsheets or complicated tools like the one below: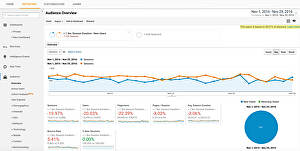 Sometimes having too much data is worse than having no data at all, especially if it wastes your time and leads you to make the wrong decisions. Fortunately, I'm here to tell you that analyzing your website doesn't have to be this complicated. There is a core set of data that you can focus on that will help you cut through the noise and answer these two important questions. Our artist website and marketing platform FASO comes with an easy to use analytics tool that zeros in on this set of data and makes the job of understanding what's working and what isn't that much faster and easier. We'll be using FASO in our examples throughout the rest of this article as we describe this set of data.
If you're not a FASO member, we highly encourage you to click here and give us a try.
We're actually running several promotions to make trying us easier, including a 60 day free trial of FASO and a migration offer to help you move from another hosting platform to FASO. If you're not ready to make the switch, don't worry. All of the data we'll be covering can be analyzed in tools like Google Analytics. You'll just have to work a little harder to get to this data.
Let's begin by trying to answer our first question, namely how much traffic does your site get? For that we'll want to take a look at how many visitors our website gets over a 30 day period. That's enough time to get a good sense of whether your traffic is going up or down. Here's an example of what this data looks like in FASO's analytics feature for one of BoldBrush Signature Artists Joseph Todorovitch: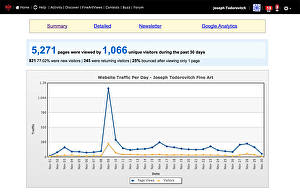 You can see in heading above the chart that Joseph's website received a total of 1,066 unique visitors in the last 30 days and these visitors viewed 5,271 pages of content. There's also a breakdown of these visitors that shows that 821 were new visitors to Joseph's website and 245 were returning visitors. The chart, which shows a daily breakdown of visitors and pages viewed, tells an even more interesting story. From November 1st to November 8th, Joseph's site received an average of 22 site visitors a day. Then on November 9th the number of visitors spiked to 230 visitors. And from November 9th to November 30th the average number of site visitors stayed higher than normal at 38.

So the obvious questions are what happened on November 9th and what caused a sustained increase in Joseph's website traffic for the rest of the month? Because whatever happened, Joseph will want to make sure that he can repeat and sustain this success. Another clue can be found by analyzing the sources traffic. Here's an example from Joseph's analytics report in FASO: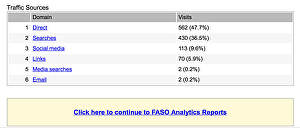 Direct visits to the website accounted for 47.7% of Joseph's website visits, which is up significantly over the previous month. Direct visits, by the way, is a bit of a misnomer. It can come from a variety of sources, the top three being:
Visitors who directly type in your web address in their browser

Visitors who bookmark your website and click on the bookmark to come back to your website

Links embedded in emails
It turns out that we published a spotlight article about Joseph in our Fine Art Views newsletter on November 9th. That explains the spike in traffic and subsequent increase in traffic throughout the rest of the month (emails, it turns out, have a longer shelf life than most people expect). It looks like Joseph should try to find other ways to work with Fine Art Views in order to keep his traffic numbers up.

As you can see, a lot of insight can be gleaned just by reviewing a couple of simple website analytics reports. Once you get into the habit of checking into your website analytics on a regular basis, this process should take you no more than 15-30 minutes a month. And you can now make more informed decisions on how best to invest your precious time on online marketing activities. So what are your waiting for? Dig into your data and start marketing smarter today.
Regards,
Dave Geada
CMO, FASO
P.S. If you're already a FASO member, be sure to check your website analytics in your control panel often to help you make informed decisions on how best to invest your precious time on online marketing activities.

P.P.S. If you're not using FASO, just take advantage of our free migration offer. Or if you're stuck where you are, or just don't want to deal with the hassle of moving your website, sign up for ArtistEdge today to tap into our great art marketing tools.