Informed Collector Recommends:
Mark Larson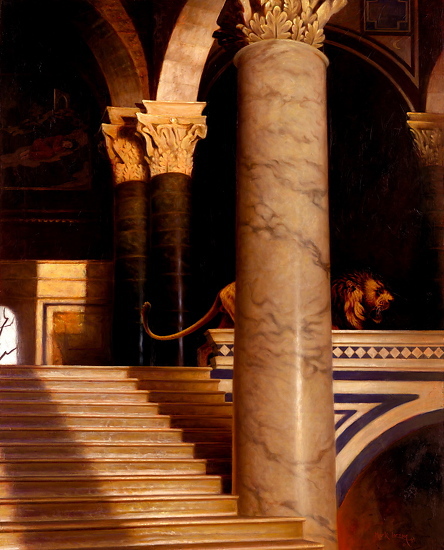 The Guardian by Mark Larson was selected as FAV 15% in the January 2017 BoldBrush Painting Competition.
Biography
Mark Larson, born in Portland, Oregon, has been an artist as long as he can remember. From his early days in school, winning statewide art contests, selling his first paintings to his teachers, having his first gallery show at the age of 18, and now showing his work internationally in Europe and all over North America, his rise in the art world has been a steady and rewarding progression.

Due to his love of nature, his early watercolor paintings of wildlife and nature developed an eager audience. After serving in the Air Force for four years in Alaska (and selling work at gallery shows while there), he went back to school at Portland State University where he finished his bachelors degree in painting, drawing, and print making. Once there, he was challenged to explore his inner landscape and develop his true voice. Inspired by his travels to Italy beginning in 1999 with his wife Andree, an art historian, Mark underwent a personal and artistic renaissance, literally overnight. Images of nature were suddenly transformed by the juxtaposition of architecture, symbol, and metaphor. As a result, Mark's work has developed a wide following from art lovers around the globe.

Described as a "surreal genius" by The Columbian newspaper, Mark has evolved into one of America's leading imaginary realist painters, having shown his work nationally and internationally in solo and group shows and exhibitions such as the Cianciano International Art Award exhibition at the Cianciano Art Museum in Cianciano, Italy, the Florence Biennale in Florence, Italy, the JayKay Gallery International Landscape & Dreamscape exhibition in Carouge, Switzerland, and the Art Essential Contemporary Art Exhibition in Calgary, Canada, where he won multiple best of show awards. His paintings are collected on several continents and are in numerous private and public collections such as Princess Cruise Lines, Leigh Yawkey Woodson Art Museum, and many others. Mark's paintings have also been included in a number of periodicals and books, including Best of America - Oil Painting, by Kennedy Publishing.