This post is by guest author, J.R. Monks. This article has been edited and published with the author's permission. We've promoted this post to feature status because it provides great value to the FineArtViews community. If you want your blog posts listed in the FineArtViews newsletter with the possibility of being republished to our 48,000+ subscribers, consider blogging with FASO Artist Websites. This author's views are entirely his own and may not always reflect the views of BoldBrush, Inc.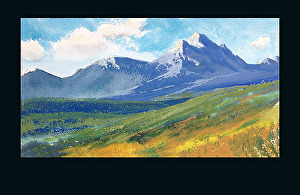 Simply Summer by JR Monks


Recently while painting at the entrance of Garden of the Gods in Colorado Springs, Colorado a curious art savvy visitor stopped and asked why I was using two watercolor palettes. Not fully knowing the knowledge base of this onlooker, and in the interest of time I told him they contained different paint. The now fully engaged visitor found some satisfaction in my cursory reply, but in true inquisitive fashion asked a follow-up question, "...so what kind of paint is it?".
What follows is a snapshot version of our great conversation. Watercolor is pigment suspended in a binder typically gum arabic and sometimes with a little honey added. When I paint in watercolor I have several hard plastic palettes I use. My colors, around 12-14 different colors, are arranged in wells around the edge of the palette with large flat mixing areas between the wells. Generally, I bring one palette outdoors and it sits on a flat bench affair I constructed to attach to my tripod. Occasionally I don't bring a second palette along and this was the case for my conversation with the curious onlooker.
Gouache is pigment suspended in water and gum arabic binder the same as watercolor; however, the pigment also includes a white, chalk pigment, and it is this chalk that separates watercolor from gouache. My second outdoor palette contains gouache pigments. My curious new friend was thrilled with the technical aspect of our conversation because as it turns out he was an engineer. Not knowing his capacity for art talk I pushed a little more and began to discuss why I sometimes use both.
Watercolor is transparent and the white of the paper combined with thin washes of watercolor paint is the most vibrant and living paint available to an artist (my opinion). A man by the name of Stephen Quiller turned me on to the unique differences of pure watercolor set against the more opaque gouache. When I look at the landscape some parts have the look of transparency and necessitate the use of watercolor, and some are more solid and dense and would be better stated in gouache. I rarely use just gouache in a painting because I prefer to set transparent watercolor against gouache. Here in Colorado I often see the sky in transparent watercolor and the ground plane in gouache. The painting, "Simply Summer" that I attached to this post highlights the transparent sky against the visual weight of the gouache used in the mountains and tree covered hills.
I also really enjoy using the textural quality of watercolor paper when finishing a watermedia piece where I have combined watercolor and gouache. If you look carefully in the middle portion of my painting Simply Summer you see where I dry brushed gouache to add even more textural effect. I feel color is a powerful tool for a painter, but color alone can become cliche and elements such as texture provide a means to speak a more powerful truth about the landscape. The viewer needs plenty to look at if he/she is to return time and time again to a painting and combining watermedia is an excellent manner in which to captivate the viewer.
Now my curious onlooker was satisfied, he asked for a business card, inquired about local galleries and continued his hike. I took out another sheet of paper and prepared to run the race, and try to capture the magic of the landscape in both transparent and opaque watercolor. I encourage you to try painting, the journey is well worth it!
Thank you for coming along for the ride.
JR Monks

We create to make better understandings of the world around us, and ultimately make our world matter.
----------------------------------------------
You can view J.R.'s original post here.
--------------------------------------------
Editor's Note:
What a better way to share your talents, than with a new gorgeous FASO Artist Website to display your art! We make it easy to put together, very easy to maintain, and there is a Positively Remarkable Support Team to help along the way. To sign up for a free, no obligation 30 day trial, click here.