This post is by guest author, Susan Flanagan. This article has been edited and published with the author's permission. We've promoted this post to feature status because it provides great value to the FineArtViews community. If you want your blog posts listed in the FineArtViews newsletter with the possibility of being republished to our 48,000+ subscribers, consider blogging with FASO Artist Websites. This author's views are entirely her own and may not always reflect the views of BoldBrush, Inc.
I have just finished the first week of the 30 Paintings in 30 Days Challenge and several of these small paintings have new homes. So what do you do with small pastels? In general, how do you frame pastel art?
Soft pastel has to be framed under glass. No amount of spraying fixative will change that! Please avoid using fixative because if it is not applied properly, it can dull and darken the colors. Some fixatives are better than others.
Frame pastels either with a mat or without a mat in a frame. Using spacers between the art and the mat or glass is a very good idea.
Framing Option #1

Here is a painting of a waffle with a mat. This is one of my daily paintings. It is a small 5 x 7 in. pastel. The framing was economical because you can buy ready made mats with appropriately sized openings and the perimeter of the mat is 8 x 10 in. which is a standard size for the frame. This is a black metal frame which is easy to assemble. These framing items are common in hobby and craft stores. Look for sales and use coupons.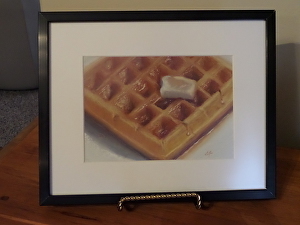 The waffle was photographed propped up on an easel which is one way to display small artwork. Easels can also be purchased in hobby/craft stores. However, I have this waffle painting hanging in a group in my kitchen above the cabinets. A group of small paintings can also be grouped within a larger frame with multiple openings.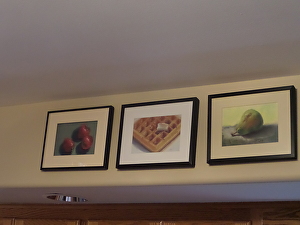 One thing you cannot see is that I have strips of thin foam core taped with double sided tape to the back of the mat. This keeps the mat off of the art and leaves a space behind the mat. If any pastel dust falls off, it most likely will fall behind the mat. This method avoids pastel pigment from falling on the mat which looks very tacky. And, it is a pain to take the frame apart to clean the mat.
Framing Option #2
You can frame pastel paintings without a mat and sometimes this gives the look of an oil painting especially if you buy more expensive anti-reflective or museum glass. Here is a small daily painting that I put in a wood frame. In this case, there is a plastic spacer that is applied to the edge of the glass. That 1/8th in. spacer keeps the glass off of the pastel painting.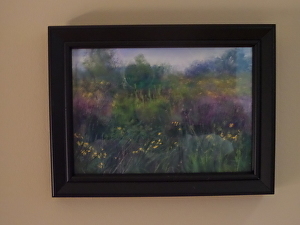 This small painting is perfect for those small areas in your house. This hangs near the front door above a light switch. A window is on the other side so this is the right size for a such a small space.
I put glass directly on a pastel painting only once. I painted "St. Anne's Church" in a workshop. I really like it but it is not a standard size for framing. So, I bought a custom made frame with the intention of always keeping it in that frame. This one is for me. It is not for sale.
Once the glass is in contact with the painting, do not let the glass slide because you will be moving pastel pigment along with it, ruining the painting. If you ever took it out of the frame, you would have to lift the glass straight up and off of the painting. You can see why, I recommend spacers.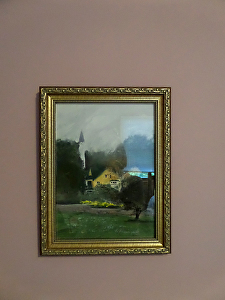 You can see the problem with regular glass in the above photo. There is a reflection in the upper right.
So, what do you do with small daily paintings? Put them in small areas on your wall, make a grouping or display them on an easel. I'll have more thoughts on framing next time.
Sue and Suzy
-----------------------------------------------
You can view Sue's original post here.
----------------------------------------------
Editor's Note:
A great way to share your artwork, is with a new gorgeous FASO Artist Website to display your talent! We make it easy to put together, very easy to maintain, and there is a Positively Remarkable Support Team to help along the way. To sign up for a free, no obligation 30 day trial, click here.