This post is by Luann Udell, regular contributing author for FineArtViews. She's blogged since 2002 about the business side--and the spiritual inside--of art. She says, "I share my experiences so you won't have to make ALL the same mistakes I did...." For ten years, Luann also wrote a column ("Craft Matters") for The Crafts Report magazine (a monthly business resource for the crafts professional) where she explored the funnier side of her life in craft. She's a double-juried member of the prestigious League of New Hampshire Craftsmen (fiber & art jewelry). Her work has appeared in books, magazines and newspapers across the country and she is a published writer.
The curse and blessings of many moves is, each studio is a life lesson.
A friend here in Santa Rosa has moved her tiny jewelry studio almost five times in the year I've known her. Last night, we moved her "best studio" into a delightfully bigger space, with a large display area. Armed with hand carts and three mighty men (husbands and friends), we moved all her stuff in two hours. (A little over the estimated "fifteen minutes", but we all knew better anyway.)
I've had many studios in my time.
In our tiny Baltimore apartment, I filled a small hallway with my knitting yarn. In our Boston apartment, our bedroom was filled with shelves of....not clothing, not bedding, but quilting fabric. Our "dining room" had what bemused visitors called "a wall o' yarn", dozens hundreds of skeins of yarn hanging from several dozens of those expandable wall coat/mug racks.
Fortunately, because of my tendency to arrange everything by color, my Dear Hubby found the shelves "cool-looking" and visitors found the yarn display "artistic". (I still have a tendency to sort everything—paints, beads, thread, buttons, artifacts, beach stones, shells, nails, mat board (er....am I revealing too much here??) by color, shape, and size. In hindsight, maybe I could have become an installation artist....??)
It was when we moved our small family to our first home in New Hampshire that I stepped up to the plate as an artist. I had the insight, inspired by my kids, that inside me was an artist screaming to be let out. It was the first time I realized I needed, not just dedicated storage space, but a dedicated workspace. Fortunately, my DH, again, also stepped up to the plate. We worked to figure out how to get me a studio.
My first "real" studio workspace was in our attic. It worked beautifully, for a few years. But then we needed the space for the kids when they couldn't share a bunk bed anymore. Then a rented room downtown, in a building due for development and renovation. Then another rented suite in another such building, a former dentist's office.
Each space got bigger and bigger, and the better each situation got, the more I worried about losing it. How could anyone ever improve on a dentist's office?! I had four tiny rooms and windows overlooking Main Street! It even had a darkroom.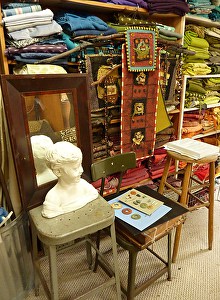 "The wall o' fabric is always with me."​
This fear, the idea that I would never have anything "better", and the knowledge that someday, the building would be developed and sold, gripped me. My mentor visited me and listened to my fears. And as I rattled on about "this studio" being my "best studio", she corrected me with the words, "Your NEXT studio."
It wasn't til several more years passed that I got it. Her point, I mean. I did indeed "lose" that space, less than two years later. Which led to no studio for a year, as we bought a house with an entire two-story barn for my studio. The best studio in the world.
When we moved to California, I had the same fears: In an area rife with sky-high home prices and rents, where on earth would I find my next studio?
But I did find one. Several, in fact.
Our home has a basement, rare in California, and I set up a studio there. But the ceiling is way too low for visitors (and I have the forehead bruises to prove it), and the layout doesn't allow for them to "free range", something I love to offer visitors.
I found a studio with public access, and moved in. Too small. Less than a year later, I moved into the space next door, with twice the space and a display window. Perfect! But it's too isolated, and has other issues. Now what?
Once again, another opportunity is in the works. I'll be moving again. Again!
There is a blessing in having a studio space that "stays put". The time spent packing, moving, unpacking, is spent on actually making art. It's easier to set up a routine that works, and stick to it. Everything is in its best possible place, and stays there. And you don't have to put tiny new address stickers on your business cards and postcards. People know where you are.
But there are blessings to "many moves", too. Mine were big/small/big/big/really big/small and now in multiple locations. (Which one has the frames and mats? Which one has the modeling supplies? Where the heck are all my seam rippers???)
Some "perfect studios" were inaccessible to visitors. My "perfect" dental office/studio? Inside a building locked at night, and up a massive flight of stairs. Not exactly open-studio friendly. The roof leaked, and destroyed a small roomful of paper supplies. And the FBI were quite upset with me during President Clinton's speech on the town square. (I'd inadvertently avoided the security lines, and opened a window to watch his speech, throwing their security team into a panic.) (They DID think my work was cool, though....)
My friend feels overwhelmed right now. During this busy holiday season, she now has to set up yet another space before she can get back to work. But I noticed how incredibly organized she was, as we moved her stuff. She has a "system" in place, one she's perfected over the last half-dozen moves. She has firm ideas on what will go where. She will be settled in, in no time.
As I contemplate my own "perfect studio", I find myself thinking once more about my NEXT studio. There are beautiful things here I will leave behind, but new, future aspects that are already speaking to me. I will miss much of the community I found here, but also relieved about not having to "go along" to "get along" so much. (I hope!)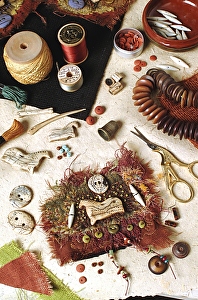 ​"One thing I can guarantee, in every studio, my workspace is ALWAYS cluttered."
I'm on a waiting list, which could last a few years—or a few months. Either way, I can deal.
The beauty, the real blessing of many studio moves, is nothing is ever going to hold you back for very long. You learn what to keep, and what you can let go of. You learn to enjoy the gift of each one, of what you gained, and what you can give up. What you need, and what you can go without.
Every studio is a life lesson. And me? I, a dedicated, eternal student of life, can only wonder what I'll learn next, with open heart and many, many moving boxes.
------------------------------------------------------
When seeking out new opportunities for your art, it's always a wise choice to have a website that displays your talent.
FASO Artist Websites
are beautiful, very easy to maintain, and there is a Positively Remarkable Support Team to help along the way. It'll be a snap to put together!
To sign up for a free, no obligation 60 day trial, click here
.