This post is by Luann Udell, regular contributing author for FineArtViews. She's blogged since 2002 about the business side--and the spiritual inside--of art. She says, "I share my experiences so you won't have to make ALL the same mistakes I did...." For ten years, Luann also wrote a column ("Craft Matters") for The Crafts Report magazine (a monthly business resource for the crafts professional) where she explored the funnier side of her life in craft. She's a double-juried member of the prestigious League of New Hampshire Craftsmen (fiber & art jewelry). Her work has appeared in books, magazines and newspapers across the country and she is a published writer.
OR your techniques, OR your process. Unless you tell me the reasons why I SHOULD care.
I had a conversation at the gym today with one of the assistants. I'd normally put it under my "Lessons from the Gym" series, except it's about wine. ("Lessons from the Vineyard"... ???)
This person works part-time at a winery, and really likes good wine. Mr. J is constantly encouraging me to try really good wines. I am actually clueless about wine, and don't even care for it very much.
Finally, I asked him, "What's your favorite brand of polymer clay?"
Huh?? Not only did he not have a favorite brand, he wasn't even sure what it is.
"See?" I told him. "I do have favorite brands, and there are other brands I'd never even dream of using. It's important to me, but won't matter to you at all—unless you love my work and want to purchase a piece. Then I can explain why I use the clay I use, and why it should matter to you."
Now, his customers at the winery may care very much about the types of wines, their characteristics, their history, etc. But trying to tell people who don't like wine, why they should buy a certain kind of wine, is barking up the wrong tree without a paddle. Or something.
As artists, we all have our preferences and favorites for materials, techniques, process, even the brands of oils, watercolor, pencils, canvas, etc. All of our selections and preference matter very much to us, because we believe these choices all contribute in some way to the work we do.
Many of us are happy to share our preferences, etc. too. But before we do, it might behoove us to figure out if that's what our potential customers really want to hear about.
As fine craft consultant Bruce Baker always says, "Telling a customer you use a cobalt glaze on your pottery and fire it at cone 10 means nothing to them. They want to know if there's lead in the glaze, and can they put it in the microwave."
Tell me WHY you chose that brand. WHY you choose wood panels over canvas, and linen canvas over cotton. Tell me WHY that specific shade of blue is so important to you, and WHY that effect excites you.
The next time you see the art of someone who works in wood, ask them the difference between marquetry, parquetry, and inlaid wood (aka intarsia--who knew??) You will learn a lot. See how much you remember the next day.
OR wait til you see a piece and fall in love with it. Then ask about the technique. You'll remember more, because you're already connected to the piece.
THEN ask them WHY they use this technique. If they've got a handle on it, it will bring tears to your eyes. Or at least stop you from complaining about the high price, encourage you to get out your checkbook, and leave you truly appreciative of this skill.
There's a paint color I love to use, when I can find it, called Van Dyke Brown. It's usually not a fun color, despite its association with the work of old masters. Its base was lignite coal, and it wasn't very light-fast. But it's the perfect color for the "scrimshaw technique" I use to "antique" my polymer artifacts. (It's a lot easier to find Raw Umber.) This is also the reason why I have a bag of dirt from New Hampshire. (Yep, you read that right!)
Even when there's a plausible "why", make sure you only share it when people are eager to hear more about your work. Many artists will say with pride that their materials are archival and will last a long time. Unfortunately, I've seen plenty of really awful work made with archival materials and acid-free papers. So that's not an automatic good selling point, unless they're ready to buy.
My approach with discussing materials, process, technique, etc. is to use them sparingly in conversation, and only when people comment on that aspect of my work. ("How do you get this bear to look so old?!") Even then, my focus is not on the what, or the how, but the WHY. (I tell them WHY I want the bear to look old.)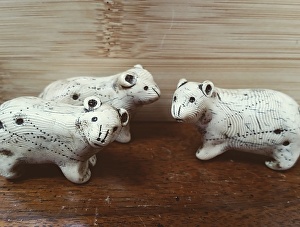 Every single bear is different. People are drawn to each one for a different reason, and THAT reason is the start of your selling process.
Just like a good artist statement, your explanation of your choices should make the client want to go back and take a closer look at your work.
Nobody buys my work because I use Van Dyke Brown and dirt from Keene, NH.
But many, many people buy my artifacts, and art made with them, because they are appealing, mysterious, have a an authentic look and a wonderful feel...
And each aspect—the materials, the technique, the process--has a powerful story, with as many answers to the WHY as there are people who ask.
-------------------------------------------
Each artist is inspired by different subject matter, different medium, different emotions. Finding that which truly speaks to you and hence contains the emotional content of your heart, may come easy or may not. To see some art from the heart, take a look at entries in the BoldBrush competition. You should enter one of your 'art from the heart' masterpieces! Remember, all FASO members get a FREE entry every month!

To sign up for a free, no obligation 60 day trial, click here.