This post is by guest author, Christine Marx. This article has been edited and published with the author's permission. We've promoted this post to feature status because it provides great value to the FineArtViews community. If you want your blog posts listed in the FineArtViews newsletter with the possibility of being republished to our 48,000+ subscribers, consider blogging with FASO Artist Websites. This author's views are entirely her own and may not always reflect the views of BoldBrush, Inc.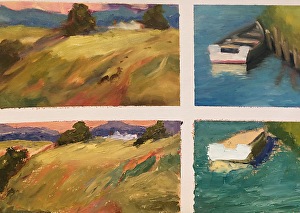 It's hard to believe 2016 is about to be a wrap. Two more weeks and then a brand new year....wow, where did 2016 go?? It's been a busy, wonderful year full of mostly ups and I can't complain. One daughter got married, and the one who has been married for two years is going to have our first grandchild in March. I feel so grateful for the year that has passed, as well as pure joy and excitement for the upcoming year. I have so much inspiration built up inside me from the past year that I hope I can carryover into 2017.
There are so many things I want to paint that inspire me, and it feels like not enough time, ever, to do it. I am sure you can all relate. How do I squeeze more creative time into my week? Not the paintings that are on my list to take to the galleries but time to experiment and really explore new painting methods, new products, different surfaces. Sometimes life gets in the way. The problem with working as an artist is I can't apply all of the wonderful tips I read about in my stack of "getting organized" books that I peruse for tips on squeezing more production out of a too short day. Creativity, for me, involves blocks of uninterrupted hours and they have been hard to come by lately. A theme in so many of the books I read is to just start something on your list...give it five minutes, set a timer. If you don't finish it come back to it the next day until it's done. That's fine and dandy for cleaning out a junk drawer, or my closet with no visible floor. Not so handy for painting or drawing.
So what I have done, when times are so busy that I can barely keep up with regular work hours and gallery work is try to incorporate a little art into my day when I'm stuck somewhere other than my home or studio. A visit to the doctor, with the usual minimum 30 minute wait in the waiting room, is a great time to work on perspective...all of those chairs lined up against walls and magazines strewn about at different angles. I have a small drawing pad that I keep in my car with a little bag of pencils. It fits in my purse and is a great way to make the 30 minutes fly by. I also have a small iPad that has some art painting programs on it that are fun, and I will sometimes take that with me to doodle on. The same goes for when I am waiting for my daughter in the parking lot at school and I have 10 minutes to draw my coffee cup while sitting in the car. I know it's not much time, but when you can't get 4 hours in a row to really get into it it's a great way to have mini-sessions. I think of it like doing scales on the piano. I don't know if it's helping my art, but it sure does make the time fly by.
One must be careful with what they choose for these mini sessions. One time when I was flying across the country I took some pastel pencils and a pad of paper with me to experiment with them on the plane. What a mess!! The sun was shining in the my window and I could see the dust going everywhere. The person sitting next to me started coughing and staring me down so I put them away and twiddled my thumbs for the next four hours. Live and learn. Knitting is a far less invasive creative project to take on a plane.
I would love to hear ideas from my fellow artists on how you fit creative time into your work schedules. Because as much as I love painting, really sometimes it is just work. I know you know what I mean. I'd love to hear your thoughts.
Happy painting Everyone!
-----------------------------------------------------
You can view Christine's original post here.
-----------------------------------------------------
Editor's Note:
A great place to see artists laying it all on the line and baring their artistic souls is FASO's BoldBrush Painting Competition. Awe inspiring works and amazing talent will surely inspire you to dig deeper and create that masterpiece that speaks to your collectors. Remember, all FASO members get a FREE entry every month! To sign up for a free, no obligation 60 day trial, click here.