Then in 1972, a wise and dear friend commented, "Susan, you are good at all of these things, wouldn't it be wonderful if you became an expert in one medium." At first, I was shocked!
"No!" I exclaimed! "I love them all!" However the more I thought about it, the more it made sense....So, I picked the one medium that could hold my interest and challenge me for many years. I became a professional watercolor artist, exhibiting in shows and galleries. At first I was painting animals and Native Americans. Little by little my subject matter expanded, so did my style.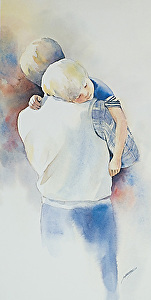 Turn Around and He's Grown by Susan Blackwood
I stayed with watercolors for 32 years, after all, watercolors was one medium that was darn hard to conquer. In 2003, I took up the self imposed challenge and inspiration of Oil painting.
Starting a new medium was awkward and frustrating. "Why am I doing this?" I thought over and over as I struggled to mix the right color.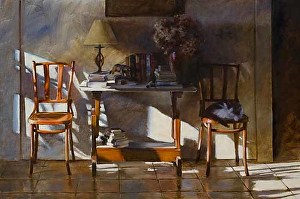 Among the Shadows by Susan Blackwood 24 x 36 oil
But, little by little my struggles got fewer and my successful strokes became more plentiful. Persistence, not talent, will win in the end. And so, my oils and my watercolors marched forward in my career. Today I paint and teach both mediums.
Over the 32 years as a watercolorist, my tight style became looser as I flung my passion into the fluid and often ornery paint. This is also happening with my oils. In 2013, when I was still figuring out how to hold the oil painting brush. My goal was to get an object to look like the object ... then as the paintings rolled off my brushes ... came the letting go of edges, adjusting the color harmonies, then the melting of values and then, using thicker paint.
Most watercolorists, as they transition from watercolors to oils, have the tendency to paint the oils very thin. Bingo, that was me, too!
Painting with thick paint was challenging.
My career, style and mediums sure have changed over the years. Right now I am taking up the challenge presented by artist Keith Bond in his blog, to create "Risky" paintings ... paintings that are way outside of my comfort zone, way outside of my typical subject matter, style and expression. These painting pull me to discover more about my self. They challenge me to push harder and climb higher.