Informed Collector Recommends:
Eric Bossik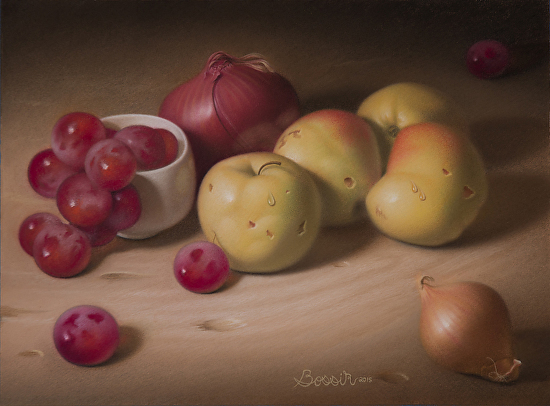 Still Life with Apples, Red Onion, Grapes & Shallot by Erik Bossik was awarded Outstanding Pastel in the December 2015 BoldBrush Painting Competition.
Biography
Eric Bossik is an accomplished artist who combines the vitality of the 21st century with the virtuosity of an 18th century master.
He has exhibited at the Albertson Peterson Gallery in Winter Park, Florida, the Coe Kerr and Master Eagle galleries in New York City, the Grand Armée Gallery in Palm Beach, Florida, and the Images Gallery in Boca Raton, Florida.
Eric's paintings have also been exhibited at the Society of Illustrators, the Salmagundi Art Club, the Art Director's Club of New York, the Heckscher Museum, the Roslyn Fine Arts Museum, the Boca Raton Museum of Art, and the Cornell Museum in Delray Beach, Florida.
His work has won the HTAL award of excellence at the Heckscher Museum and a Grumbacher award for portraiture. Eric was a recipient of an AAPL Grand National Award for oil painting. His still life art was showcased in the Armory Art Center 20/20 juried exhibition in Palm Beach, Florida. Two of Eric's oil paintings were exhibited at the Boca Raton Museum of Art's 57th Annual All Florida Juried Competition and Exhibition.
Military history paintings by Eric are featured on the covers of The Harper Encyclopedia of Military Biography and From Sea to Shining Sea, a military history of early America published by Harper Collins.
As a staff mural artist for Mode Works and Evergreene Studios, Eric has painted murals for numerous clients, including Planet Hollywood, as well as trompe l'oeil for the Beau Rivage casino in Mississippi.
Eric teaches oil painting classes as a faculty instructor at the Armory Art Center in West Palm Beach, Florida. He also teaches private art classes.
Eric is the author of the instructional oil painting e-book, How to Create an Underpainting Like the Old Masters: A Step-By-Step Guide.
He got his formal training at the School of Visual Arts, where he received a BFA. And he advanced his studies with John Frederick Murray, a fine artist whose instructional lineage can be traced back to the Ecole des Beaux-Arts and old master artist Jacques Louis David.
Eric paints commissioned portraits of adults, children and pets, as well as murals, trompe l'oeil and figurative art.