This post is by Luann Udell, regular contributing author for FineArtViews. Luann also writes a column ("Craft Matters") for The Crafts Report magazine (a monthly business resource for the crafts professional) where she explores the funnier side of her life in craft. She's a double-juried member of the prestigious League of New Hampshire Craftsmen (fiber & art jewelry). Her work has appeared in books, magazines and newspapers across the country and she is a published writer. She's blogged since 2002 about the business side--and the spiritual inside--of art. She says, "I share my experiences so you won't have to make ALL the same mistakes I did...."
Telling the "how" undoes all the magic you've created.
One of my favorite workshops to teach is how to write a powerful artist statement. I love 'digging in', like an archeological project, uncovering the inner motivations and yearnings of artists.
Someone suggested I should actually charge for individual services. And so I took on my first paying client, for the magnificent sum of what they would have paid for a class--$25.
My first client argued passionately for technique. They wanted a step-by-step of the process. They insisted that hardly anyone knows about it. (Inlaid wood. Got it? Good.) I spent some time trying to convince them otherwise, mostly because I was too tender-hearted to tell them most people didn't really care. But he was adamant.
I finally lost my temper. "Look", I snarled, "you know who REALLY wants to know all about your techniques? OTHER WOODWORKERS!!!!!"
In the end, they took my piece and paid me my $25. If I'd known it would include two hours of arguing, I would have charged $250.
Yes, sometimes--okay, often--people will ask you about your techniques. Yes, as an artist working in a fairly new but immensely popular medium, I get asked a lot how I achieve the effects I do. And sometimes I tell people a simplified version of the hours-long process it takes to create my time-worn, ancient-looking artifacts.
But I am here to tell you....
Most people don't really care.
And almost nobody really wants to know.
I can almost hear that collective gasp of astonishment and horror. Stay with me.
Focusing on the 'how' and the 'what' is not really what people want to hear, though they think they do.
Telling people in great detail how you make your work, and what you make it with, is like a magician telling you how he did his magic trick.
We all know there is no such thing as magic. We know magicians are masters at handling their materials, masters of misdirection, and masters of storytelling. But we love having our disbelief suspended for a few magical moments. Do you really think David Copperfield made the Statue of Liberty disappear? (If you do, please read no further, there is no point.)
And here's the real kicker. When I am told how the trick was accomplished, I am vaguely disappointed. I can feel the magic slip away. It's why the ending of movie or a book of, "...and then he woke up and it was all a dream" is so disappointing, and feels like a cheat.
In my own experience, I have found, time after time, that those people who are inordinately interested in my techniques over the story of why I came to make it, and what it means to me, fall into four categories:
1) They are artists themselves and want to make one, too.
2) They are teachers, and they want to teach it.
3) They really just want to know how it's made. That's it.
Very few of these people actually buy a piece of my work.
4) They are intrigued by my work, fascinated, moved deeply. And asking how it's made is their way of sussing out why they are so taken with it. It's the brain's way of trying to make sense of what pulls at our heart and soul.
And eventually, most of these people DO actually buy something (though not necessarily right away.)
When I talk about my techniques, I use metaphors ("…a process like puff pastry, or samurai sword making…") and shorthand ("…I use a scrimshaw technique to bring up the detail….") I always…always…use these brief explanations to segue into why this cave and why I do this work.
I've learned not to overwhelm my actual collectors with too much technical detail. Again, Bruce Baker puts it succinctly in his seminars: Potters want to tell about their titanium glazes and the firing cone of their clays. But their customers want to know if there's lead in the glaze, and if they can use it in the microwave.
And if the clay piece is by Janis Mars Wunderlich, you probably don't even care about that.
A few years later, I was thumbing through a regional magazine, and came across a featured artist piece. There was my woodworker! They'd added a bit about their process, and the photos of their work was lovely.
But when I read the sentences I'd originally penned, I almost cried—they were still that powerful. It made me go back and look at the work again, even though I'd written it. And that, my friends, is a sign of good writing, and a good artist statement. (As opposed to the ones that make you scratch your head and go, "Wha….??")
Be generous with your knowledge. Share your enthusiasm with your audience. Rejoice in your choice of media.
But never forget what is deep in your heart, where your true story is--the story that will resonate with the hearts of your true collectors.
It's not really about the (polymer) clay. The clay is just a way to tell my story.
Your Art Deserves Attention and FASO Can Help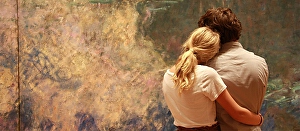 Get started today and we'll share your art with 50,000 art lovers tomorrow.