Clintavo's Musings on Art, Marketing, Wine and Fine Living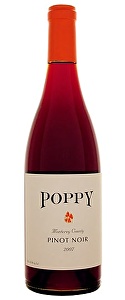 The wine bottle's bright orange label called out to me. Sure, you're not supposed to judge a wine based on the label, but the little placard that Costco [1] had placed next to the bottle of Poppy proudly proclaimed a 90+ rating. The price of $17 per bottle was a tad higher than I'd normally spend, but not unthinkable. "Try that one," my wife said pointing right at the same bottle of Poppy with it's orange label. Who am I to argue? Sold.
Poppy quickly became one of our favorites. As a fruity, easy-drinking Pinot Noir, Poppy quickly earned a favorite spot in our wine rotation. However, for everyday wines, I usually try to find "hidden" gems priced in the $9 - $12 range, so at $17/bottle, we didn't drink it quite as often as I would have preferred. After a few months, I noticed that it Costco had lowered the price of Poppy to $15 a bottle. A few more months went by and it was down to $13.50...and that trend continued until it stabilized where it is now, at $11 per bottle....perfectly within our "everyday drinking price range."
So, once Poppy hit $11/bottle, do you think that I marched down to my local Costco and demanded that they raise the price back to $17 or more, because how dare they ruin the value of my earlier Poppy "investments?"
Of course not.
I'm thrilled that the price has gone down, because I'm able to by more Poppy at $11/bottle than I could at $17/bottle. I wish it would go down to $5/bottle.
When we're talking about wine, milk, or movie tickets, this seems obvious. But people tend to get confused when we start talking about stocks [2] . . . or art.
Let me share something with you that I've been hearing people tell artists ever since I entered the art business in 1989:
"Be careful when raising your prices because once you raise them, you can never lower them."
Whenever anyone in the art business utters the above statement, everyone else in the room nods knowingly as if it's important, sage wisdom. It's as if it was written in ancient, sacred texts and passed down to us through generations of wise men and women. They nod as if thankful it has been decreed that "thou shalt never lower your art prices." So our enlighted generation doesn't have to make that mistake. So it is written. So it shall be.
Unfortunately for the nodders, however, it's BS.
I have a few pieces by an artist whom we'll call Vincent Manet. Vincent's work used to be extremely affordable and I purchased a piece. Then he became a bit more popular, and his works went up in price, but I found another one that I love, and acquired another painting. But then he hit the "big time", and even his little paintings are now $5,000 and up. I really, really love Vincent's art but $5,000 is a lot of money. So now, I must love them from afar.
If tomorrow, Vincent cut his prices in half, would I be upset? Nope, I would purchase more. Just like I did when Costco lowered the price of Poppy.
Sincerely,
Clint Watson
FASO Founder, Software Craftsman, Art Fanatic
PS - This article is not to tell you that you should lower your prices....nor is it telling you not to raise your prices. But I sometimes meet artists who feel that they made a mistake in their pricing and wish to lower prices but don't because of the old "never lower prices rule." This post is for those artists.
----------
Footnotes:
[1] Believe it or not, Costco has an excellent wine selection.
[2] Warren Buffet famously said that he likes it when a stock he owns goes down in price, so he can purchase more of it. If you believe in a company and want to own it, then it's OK when it's stock price goes lower because you can buy more of it. If you're simply hoping to sell your shares next quarter at more than you paid for them, then your speculating, which is a whole different discussion.
[3] Thanks to Lori Woodward's blog post, "State of Confusion", I remembered I had been wanting to write about this subject. Unfortunately, I can't seem to find the link to her original post.
36 Responses to Why it's fine for artists to lower their prices
Clint Watson
via clintavoblog.fineartstudioonline.com
42 months ago

You have a point, but, most people aren't in the $60,000 range.

I would rather an artist whose work I own lower their prices and stay in business and have a good career than just simply have to give up because they can't sell their work at the higher prices. Collectors must learn to consider the long term as well, even if it means their "investment" goes backwards in the short term.

I would also point out that the new people who got a Windbergs at $30,000 certainly weren't livid, and may not have bought at $60,000.

Most artists are in the under $10,000 (and even under $5,000) range, where this isn't going to be as big a deal as they think.

So my point isn't necessarily that it's always a good idea to lower prices, but that it's not a hard and fast rule as the old industry veterans make it out to be. It's something that can and should be considered if it's in the best interest of the artist's overall career.

Lastly, I do know artists who have done it and had little to no impact as far as people getting upset and did increase sales. So again, my main point is that it's not a hard and fast rule as artists are often told.