Email is an important tool for keeping in touch with your collectors. And a custom email address is a great way to communicate your professionalism and dedication to your craft. FASO makes it easy to create a professional looking email address. Here's how to get started.
1. Log into your FASO account. This will bring you to the FASO Control Panel screen, from which you manage everything on your FASO website. The Control Panel is made up of different sections, including the Header Menu, Main Menu, and Side Menu.
2. Click on the "Your Email Accounts" link.

3. This will bring you to the Manage Your Personalized Email page. Click on the "Click here to set up a NEW Personalized Email Account" link. Note: If you do not have a personalized domain, you will not be able to set up personalized email. Please see our FAQ on how to register a domain. http://faso.com/faq.asp?CATE=49#3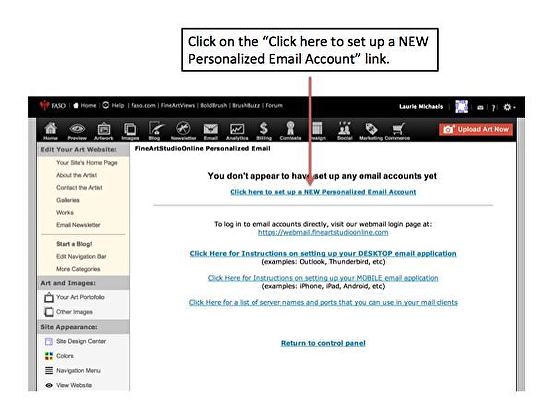 4. This will bring you to the Setup Email Addresses page.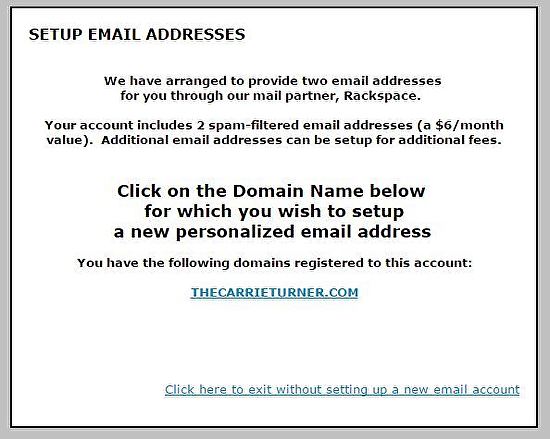 5. Here, you'll see the Terms of Use page. Click I agree to these terms.

6. Choose a username and password for your new email account. Be sure to pay attention to the password guidelines.
7. Congratulations! You've just set up your personalized email account!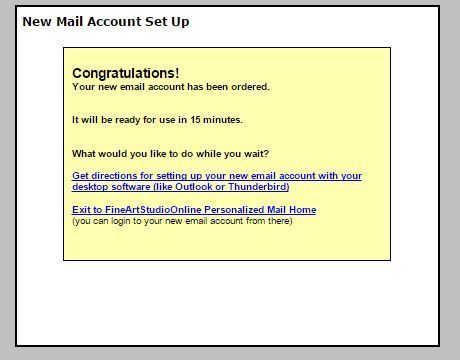 8. This is your email login screen. Click the link that says Log In to this email account. (You'll also notice, this is the page where you can set up mail programs or your mobile device.)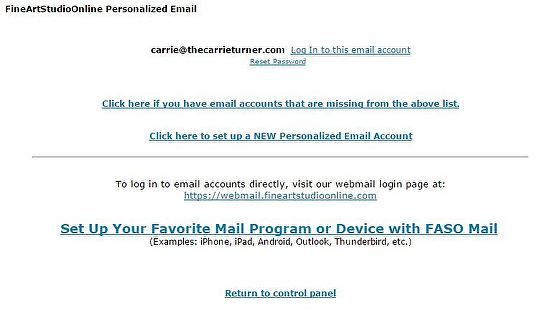 9. When click Login, you'll be taken to this screen where you're asked to input your login information. Remember: this is the login information you just set up and it may or may not match your FASO control panel login info.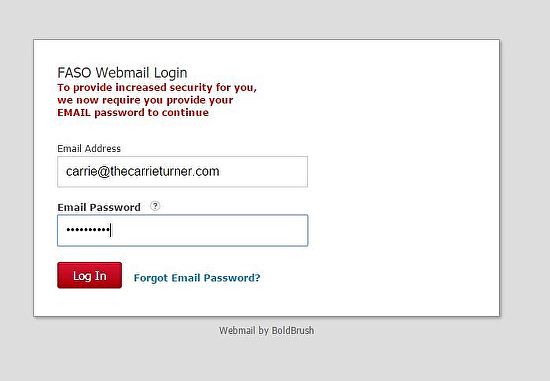 10. Your new email control panel screen. You can set up contacts, a calendar, tasks, etc. If you need assistance with any of these tasks, they have a great little knowledge base set up with the email program. Just click the settings button (3 dashes, upper right) and then support.

Having a personalized domain is really good for your art marketing. When you have an email like [email protected], it lets people know that you have a website and if they go to thecarrieturner.com, they'll find out more about you. Easy marketing, for sure, just by giving out your email address!
Take 15 minutes to set up your personalized email address and then get back to your studio - we're waiting to see your next masterpiece!