Congratulations! Many of you have just finished your latest piece of art and have (wisely) added it to your FASO website so the entire world can enjoy what you've created. Soon after, you're back in your studio, working on your next masterpiece.
But there are others of you who either skip the entire process of adding artwork or are plagued with fears your work will somehow be stolen or misappropriated in some way. It's a terrible feeling and does nothing to inspire you to create your next artwork. But, if you let fear of having images stolen grip you, then you are defeating the whole purpose of having a website. There are hundreds of thousands of artists and photographers who have websites with their prized images displayed who are gaining exposure and selling work because they were willing to take a chance with the Internet.
Unfortunately, where there's a determined thief, there's little to stop them from doing as they wish, however, putting attribution information and a watermark symbol on your art might deter some would be thieves and it can give you a small measure of peace. Because of this, we created a watermark editor to allow you add a watermark without having to do it in an expensive photo editing program. We've recently made some upgrades to this editor and wanted to go through it, option by option, to help you make the most of this feature.
To see this editor in action, follow these directions:
1. From your control panel home screen, click the Artwork button.
2. Click edit the works display.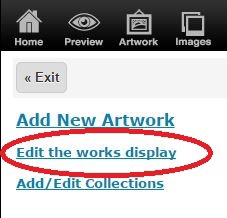 3. Click on the link that says Add Watermarks, Copyright Notices, and Attributions to your Images. If you don't see this option, you may need to enable it in your labs (control panel, gear icon/upper right, account settings, labs).

4. Here's a glimpse of what the entire editing screen looks like.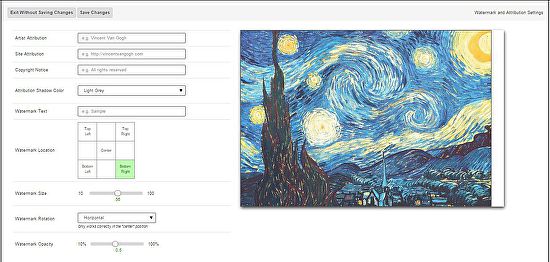 5. Artist Attribution - If you follow the red line, you'll notice your text is added in the lower left corner.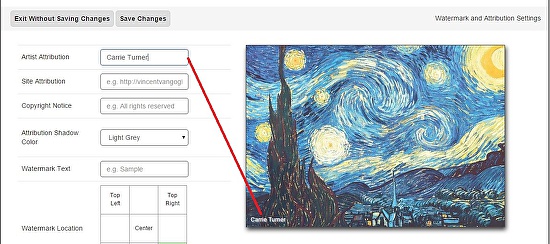 6. Site Attribution - This would be your website link. It's added just under the artist attribution info.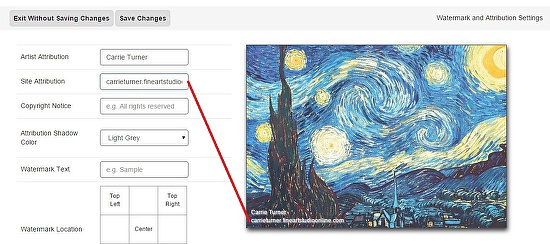 7. Copyright notice - Well, you know what this is. It's added right under the site attribution.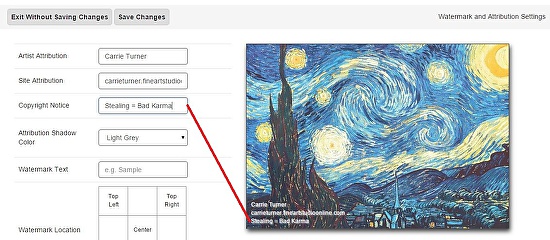 8. Attribution Shadow - this adds a shadow effect to your attribution text. Your choices are None, Light Grey, Dark Grey, and Black. If you wanted, you could stop here but if you want to add a watermark stamp on your art, read on.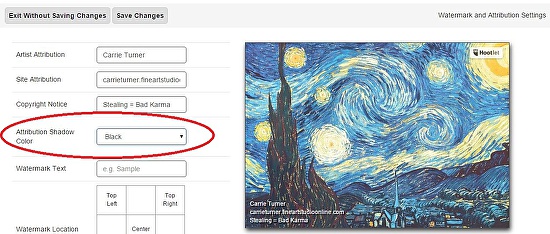 9. Watermark text and Watermark Location - Add your text and then choose where you want it located.

10. Watermark Location - See how I've chosen center and it's moved from lower right to the center of the image?

11. Watermark Size - Exactly what you think it is. You can make this watermark as large or as small as you'd like. At 100%, as I've chosen for this example, it stretches the entire span of the image.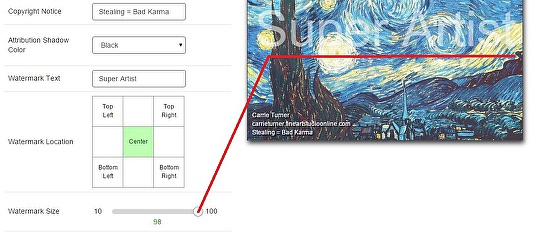 12. Watermark Rotation - Changes how the watermark text is rotated on the screen. You have several options to choose from.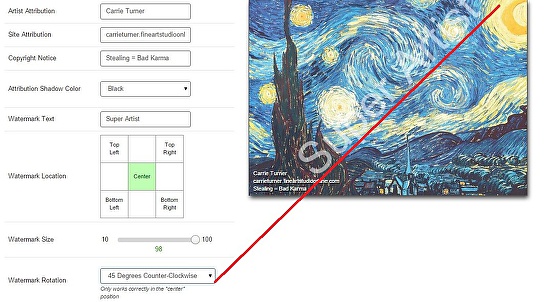 13. Watermark Opacity - how opaque do you want your watermark text to be?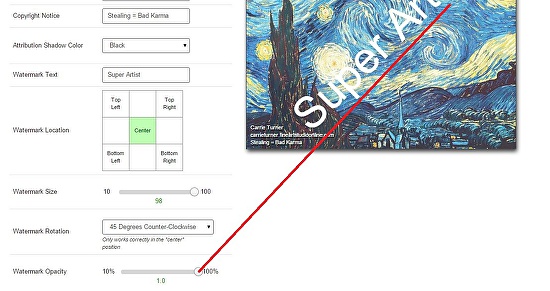 14. After all your edits, don't forget to hit save!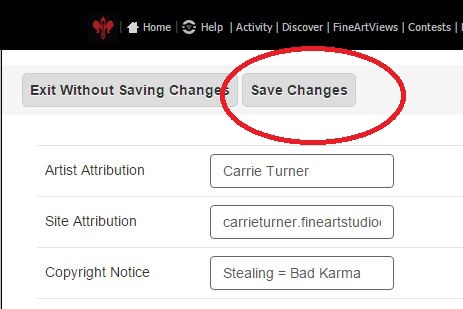 Many of you already have watermarks in place, but this could be a reminder to update any information or an opportunity to use some of the new features we've added.
If you need any assistance with this or any other part of your control panel, our positively remarkable support team is ready to help.
Happy creating!