In January of this year, we released Artful Mail 2.0 into public beta. We spent a lot time researching the needs of everyone who'd be using this feature and while we couldn't incorporate every single request before its release, it was still something we were very proud of.
We knew that Artful Mail 2.0 wasn't "finished" and in it's final stage of completeness but we also know Useful is better than perfect. And, when we're on to an idea that can help share art with the world, we want it out there as soon as it can be useful, even if not completely perfect. We know that in practice, achieving the ultimate in simplicity, beauty and empowerment means sharing ideas and collecting feedback from our customers so that each idea can be distilled down to it's most useful incarnation. [source]
That's why, as we learn more about what would make Artful Mail 2.0 the ultimate newsletter system for you, we'll add features and then make sure they're easy to use and are of a true benefit to you. The quotes featured was added because many of you requested a way to make your newsletters a bit more inspiring but also wanted a way to add quotes that would format as easily as everything else does with Artful Mail. If you feel this would make a useful addition to your next newsletter, read on to find out how simple it is to incorporate.
1. As you're composing your newsletter, think about where you want to add the quote. You can click the quote button (circled in red here) and add it to the bottom of your newsletter or you can click on it and drag it to where you want it.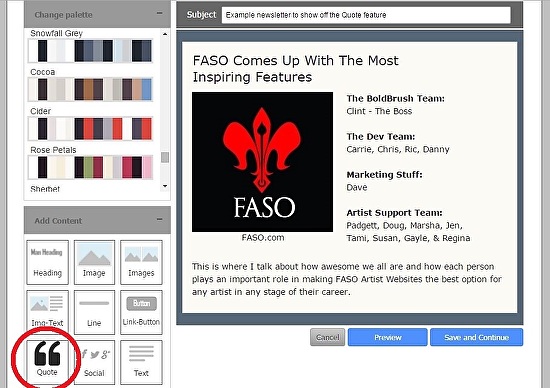 2. The quote widget automatically inserts a quote by Vincent van Gogh. Now Vince, he was a swell guy, but maybe this quote doesn't exactly match your intent. That's ok - we've got you covered. Read on.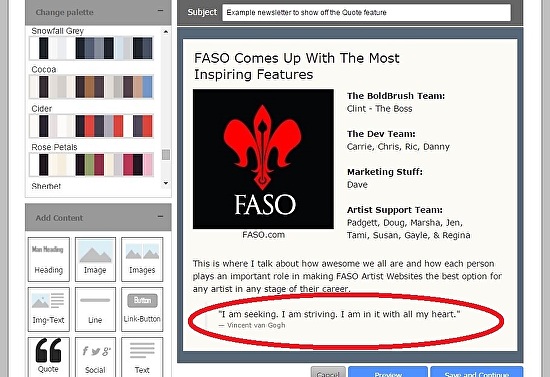 3. If you hover over the recently inserted quote, you'll see the regular options pop up for editing or trashing the quote. Click Edit.
4. This engages a list of ten (as of this publishing) quotes for you to choose from.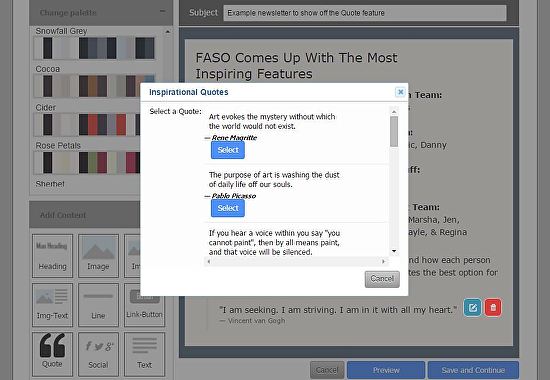 5. Make your selection or you can hit cancel if none of them work for your current newsletter.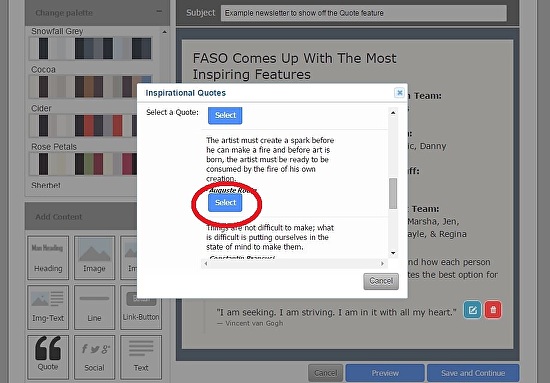 6. But if you choose one, you'll see it's automatically updated in your newsletter and formatted perfectly.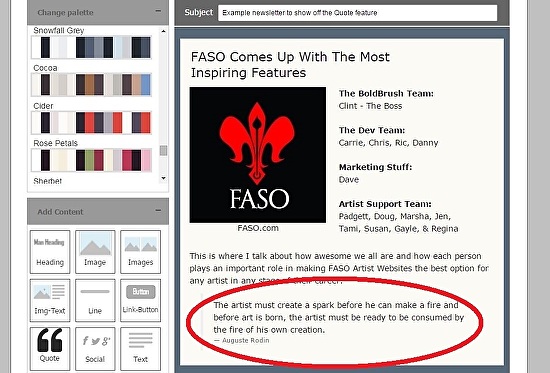 At this point, you can carry on as normal and create a newsletter that is sure to keep your readers excited about you and your art.
Why only ten quotes, you ask? We "hard coded" 10 of them to quickly release the feature. Eventually, we'll be able to take requests for more quotes but for now, we hope one of those original ten will fit with your message.
Empowering features made even more inspiring...share your art and transform the world.